HOGS: Reunited feels so good: Notes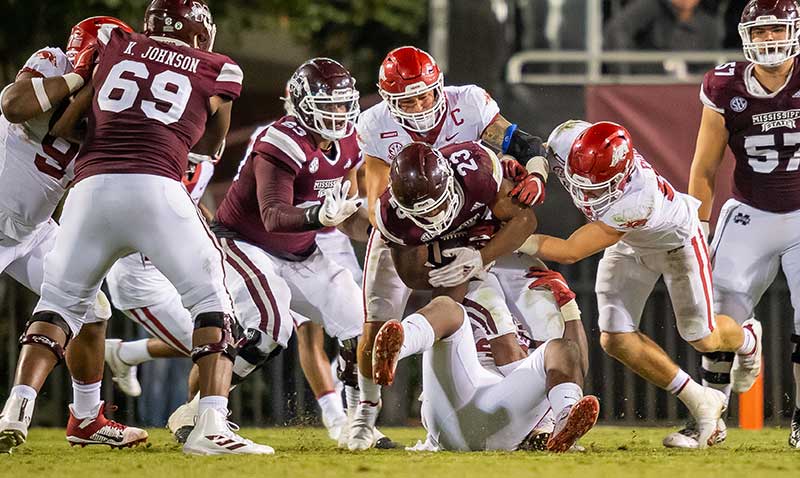 FAYETTEVILLE - On successive days former Missouri Tigers defensive linemen Markell Utsey and Tre Williams talked about rejoining Barry Odom at Arkansas.
Their former Missouri head coach from 2016-2019, Odom since 2020 serves Arkansas as defensive coordinator under Coach Sam Pittman.
Utsey, the Little Rock Parkview grad interviewed Tuesday, played in 2020 at Mizzou under Odom head coaching successor Eliah Drinkwitz, then entered the transfer portal.
A Columbia, Mo., native and graduate of its Rock Bridge High, Williams transferred in 2020 briefly to Houston before arriving in Fayetteville.
It didn't began as a mutual decision.
"My version of the story is I was at Houston, and the situation there just wasn't a good fit for me," Williams said.  "So, I was looking for a new home. I saw Arkansas and saw Coach Odom was here. They wanted me. Markell, I saw him in the portal and asked him where he wanted to go, and Arkansas happened to be a good fit for him."
Utsey said their reunion in Fayetteville evolved mutually even if it didn't begin mutually.
"I didn't even know that Tre was considering Arkansas until I talked to him," Utsey said. "After hitting the portal I'm just blessed to have him here. He was my roommate my freshman year at Mizzou. I've been playing with him ever since, and we're real tight so he made it easy for me adjusting to the whole program. Just having somebody here for me as close as we were. That's a big deal for me."
Defensive ends/tackles Williams and Utsey and 6-6, 320 transfer noseguard John Ridgeway via Illinois State all have impacted the defensive line rotation, Pittman and Odom have said.
SAME OLD ODOM
Williams was asked if being coached by defensive coordinator Odom is any different than being coached by head coach Odom.
"Just as dominant," Williams said. "Just as aggressive with getting us prepared. He's the same guy, same guy I met at Missouri, same guy who recruited me, same guy who brought me here. He's all that."
Williams and Utsey don't answer just to Pittman and Odom but to new defensive line coach Jermial Ashley.
"Coach Ashley has been a really good mentor as well," Williams said. "I go talk to him and learn the defense. Just get different drills that I can learn and self-teach the D-line, too. It's been pretty good."
STROMBERG ADJUSTS
While Williams and Utsey adjust at a new school, Tulsa native Ricky Stromberg continues to adjust, even after three years in the same place.
Chad Morris was the head coach and Dustin Fry the offensive line coach when Stromberg lettered in 2019 as a true freshman offensive guard.
Pittman and offensive line coach Brad Davis, now LSU's offensive line coach, replaced Morris and Fry in December of 2019 and immediately moved Stromberg to starting center and starting center Ty Clary to right guard.
The move paid off. Stromberg was voted Preseason All-SEC first team center by the SEC coaches, and Clary voted Preseason All-SEC third team guard on the SEC Coaches Preseason teams.
This preseason Stromberg has battled through a knee injury from which he has returned to practice after a two-weeks absence and to play for yet another offensive line coach. Cody Kennedy. Kennedy replaced Davis after Baton Rouge native Davis was called home to LSU.
"Another year, another coach," Stromberg said. "Coach Kennedy is awesome. I love him. He's a great teacher and he's a great coach."
Wednesday's practice marked the last of what Pittman segmented as the preseason practices since Aug. 6.
ON TO RICE
Starting Thursday through Saturday's mock game dress rehearsal and next week's game-week, the Razorbacks prep for their 1 p.m. Sept. 4 season-opener against the Rice Owls at Reynolds Razorback Stadium.
Any kind of practice must seem grueling this sizzling week, including Wednesday's 96-degree heat.
"The past three days have been hot obviously," Stromberg said.  "We have to attack it that way. Our game with Rice is at 1 o'clock. So we've got to be prepared for the heat."