HOGS turning their attention to Bearcats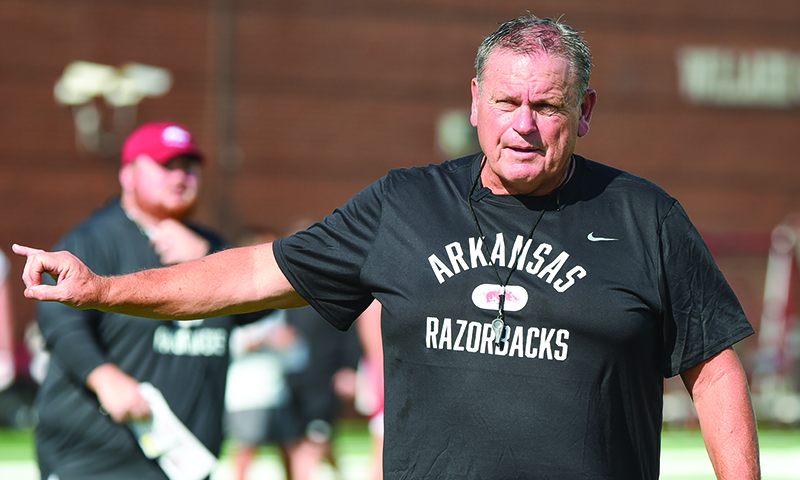 FAYETTEVILLE — The Arkansas Razorbacks' preparation for next Saturday's season-opener against Cincinnati began
in earnest Thursday afternoon, and Coach Sam Pittman said he approved of his team's mental approach during the 1 hour, 40-minute workout in shells.
              "I thought the kids were locked in," Pittman said.

MOCK GAME ON TAP
The Razorbacks will hold a mock game today, which entails going over various situations that might come up during the first game.
              "It's to get the guys to understand things like how we stretch on game day, and alignment on the sideline," said Pittman, also noting that unique situations will be addressed. "There will be some situations like kicking off after a safety, things of that nature that we have
to be prepared for."
              BANGED UP, NOT OUT
Potential starters such as Oklahoma transfer WR Jadon Haselwood (6-3, 211) and offensive guard Brady
Latham (6-5, 303) have missed the past couple of practices due to injuries, but Pittman (Craven Whitlow photo) said he believes strongly that both Haselwood and Latham, a returning starter, will be on the field for Cincinnati.
"Our goal would be to have them back by Monday, but of course we'll just have to wait and see  on that," Pittman said.
One Razorback who will not likely be ready for the opener, running back Dominique Johnson, returned to the field earlier this week after missing 29 consecutive practices.
              "The great thing is he hasn't had any swelling," Pittman said of Johnson, who has been recovering from an injury suffered in the Hogs' Outback Bowl victory over Penn State. "Hopefully that continues after today's practice and hopefully we can get him out there and move him around a little bit on Monday."
Haselwood (39 receptions, 6 TDs last season at OU), Johnson (575 yards, 7 TDs last season), and Latham (87.1 pass block grade last season) all look to play  vital roles this season.
 
HOME STATE CONNECTIONS.
Pittman talked about the positives of hiring two men – secondary coach Dominique Bowman and defensive line coach Deke Adams – who possess previous coaching experience in the state of Arkansas.
              "I love the fact that they already understand the state,'' Pittman said of Adams (Ouachita Baptist) and Bowman (Arkansas-Monticello). "That can certainly help in
recruiting with some of the relationships they've made." 

QUARTERBACK PREP
Cincinnati has yet to announce a starting quarterback for its Sept. 3 game against Arkansas at Reynolds-Razorbacks Stadium, but it will come down to senior Ben Bryant and
sophomore Even Prater. 
              Bryant started his career at Cincinnati but transferred to Eastern Michigan, where he became the starter last season. Bryant threw for more than 3,000 yards and 14 touchdowns, leading Eastern Michigan to a 7-6 record and a bowl appearance.
              Prater was the backup last season to the electrifying Desmond Ridder, who was taken in the third round of the NFL Draft by the Atlanta Falcons. Prater appeared in 5 games, passing for 38 yards and 2 TDs, and rushing for 102 yards and 2 TDs.
              Pittman said the Razorbacks are preparing for both.
"Both of them can run, and both of them can throw," Pittman said. "I honestly wouldn't be surprised if they played  both of them."

              ALL IN OR ALL OUT
              Pittman also commented on the possibility of other players leaving for the transfer portal before the season opener after wide receiver Jaquayln Crawford (3 catches, 27 yards in 2021) and defensive lineman Taylor Lewis (18 tackles, 1.5 TFL in 6 games) announced they would be transferring out of the program. Crawford, a former transfer from Oklahoma, made his decision on Aug. 20, and Lewis (6-3. 317) went public Thursday morning.
             "I feel like if they don't want to be here then they need to get in the portal," Pittman said. "We're not for everybody. If you don't like it, that's who we are and we're not changing."