Class 5A Hooten's Arkansas Football Rankings, Picks and Notes, Week 1, 2023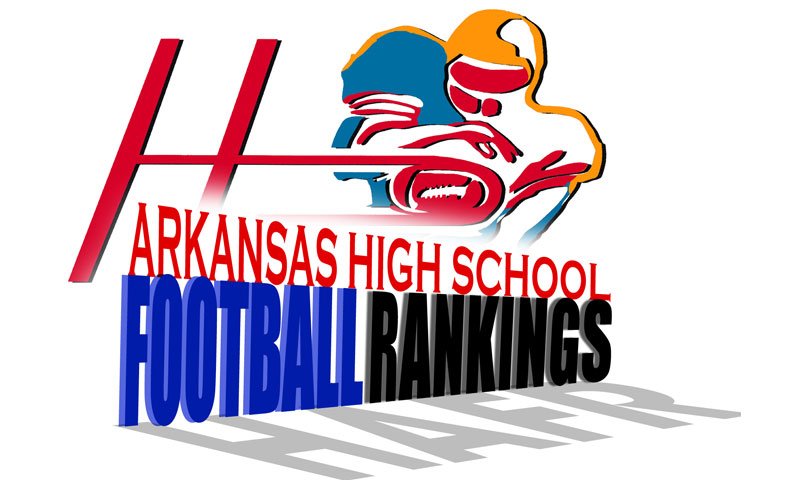 Hootens.com Class 5A Rankings
Week 1, 2023
Copyright Seventy Seven's Football Publishing, LLC
 
1. LR Parkview (1-0)
2. Pine Bluff (0-1)
3. Shiloh Christian (0-0)
4. Mills (1-0)
5. Valley View (0-1)
6. Farmington (1-0)
7. Joe T. Robinson (0-1)
8. Hot Springs (1-0)
9. Camden Fairview (1-0)
10. White Hall (1-0)
11. Prairie Grove (0-0)
12. Nettleton (0-1)
13. Harrison (1-0)
14. Wynne (0-1)
15. Morrilton (0-1)
16. Magnolia (1-0)
17. Southside (1-0)
18. Batesville (0-1)
19. Alma (0-1)
20. Maumelle (1-0)
21. Texarkana (1-0)
22. HS Lakeside (1-0)
23. Beebe (1-0)
24. Forrest City (0-0)
25. Vilonia (0-1)
26. Dardanelle (1-0)
27. Pea Ridge (1-0)
28. Brookland (1-0)
29. Hope (0-0)
30. Watson Chapel (0-1)
31. Clarksville (0-1)
32. Paragould (0-1)
33. De Queen (0-1)
 
LAST WEEK
Hootens.com correctly predicted 22 of 27 (81 percent) of games involving 5A teams.
HOOTENS.COM GAME OF THE WEEK
4A No. 2 WARREN (1-0) at No. 10 White Hall (1-0)
 
Warren has won 12 consecutive games, beginning with last year's 28-23 victory over White Hall. The Lumberjacks whipped Stuttgart 42-7 a week ago. Freshman quarterback Jackson Denton completed 11 of 26 passes for 319 yards and 5 TDs in his varsity debut, with junior Kam Davis hauling in 4 passes for 190 yards and 3 TDs.
White Hall defeated Sheridan 43-19 last week in an emotional game (first without former head coach Ryan Mallett). Interim coach Jason Mitchell says the Bulldogs never panicked after falling behind 13-0: "We've handled a lot of adversity around here in the last few months, and they proved to me again they're a very adverse bunch." Senior Jayden Smith ran for 132 yards and 3 TDs, while QB Noah Smith passed for 149 yards and 3 TDS. Senior Braeden Bell caught 4 passes for 137 yards and 3 TDs and intercepted a pass to set up another score.
WEEK 1 PREDICTIONS (favored team in ALL CAPS and highlighted in yellow)
 
5A CENTRAL
4A NO. 2 WARREN (1-0) at No. 10 White Hall (1-0): See Hootens.com Class 5A Game of the Week, above.
 
NO. 4 MILLS (1-0) at Class 4A Rivercrest (1-0): Hootens.com Class 4 Game of the Week. 
Mills' 16-point win over Rivercrest last season sparked the Comets to a 10-win campaign. The Comets beat Blytheville 34-14 a week ago, keyed by some big defensive stops and turnovers. Senior quarterback Achilles Ringo threw 3 touchdown passes, with Akyell Madison hauling in 2 of them. Jeremy Edwards led Mills' defense with 2 interceptions, including 1 he returned for a TD. Rivercrest could spring the upset. The Colts manhandled Manila 46-6 last week. Seniors Koby Turner (5-79 rushing, 2 TDs; 4 tackles, 1 interception) and Michael Rainer (29-yard TD run, 2-16 receiving, 60-yard TD on punt return) were the top contributors.
NO. 7 JOE T. ROBINSON (0-1) at Forrest City (0-0): Joe T. Robinson lost to Class 6A power Pulaski Academy by 24 points last week. Senior Nick Abrams returned the second-half kickoff for a TD and an interception 15 yards for another TD. Forrest City opens its season with 45 players on the roster. Coach Ronald Lewis says junior right tackle Kylin Daniels and senior left tackle Devin Brown performed well in the summer.
 
NO. 2 PINE BLUFF (0-1) at 7A LR Central (0-1): Pine Bluff quickly fell behind 9-0 last week at Grenada, Miss., and never recovered in a 30-7 setback. Zebras standout WR Courtney Crutchfield caught a TD pass to account for his team's only score. LR Central trailed LR Christian 35-0 in the first quarter of last week's 63-0 loss.
 
5A Vilonia (0-1) at GREENBRIER (0-1): Greenbrier trailed Farmington 13-0 in the first quarter of last week's 37-27 loss. Greenbrier QBs Kane Griffin and Kane Richardson combined to pass for 334 yards and 3 TDs, but the Panthers were held to 82 yards rushing at Farmington. Seniors Lawson Worthey (6-186 receiving, 2 TDs) and Miles Miller (8-145 receiving, 1 TD) were the top receivers.
Clarksville (0-1) at MORRILTON (0-1): Both teams coming off losses. Clarksville turned the ball over 8 times in a 35-7 setback to Ozark. Coach Khris Buckner says sophomore Nathan Powell ran the ball well, while receivers Talan Case and Gabe Kremers played well. Morrilton struggled to slow Class 6A Russellville's running attack last week (in 12-point loss).
 
Maumelle (1-0) at BATESVILLE (0-1): Batesville tailback Damieon Nelson, who moved from Allen, Texas in the spring, ran 13 times for 280 yards and 3 TDs in last week's 53-19 loss at Class 6A Searcy, while senior Conner Foree finished with 9 tackles and 1 interception. Maumelle sophomore QB Andrew Bjork impressed in last week's 20-0 victory over Sylvan Hills, while sophomore RB Bubba Johnson ran and passed for TDs. Junior Jonathan Frost caught a 50-yard TD pass, led the Hornets in tackles and intercepted a pass.
 
3A NEWPORT (1-0) at Beebe (1-0): Beebe gained nearly 400 yards and forced 3 turnovers in last week's 59-34 win over Class 6A Jacksonville. Newport sophomore Aamonii Wren (128 yards rushing, TD; 4-69 receiving, TD) keyed last week's 42-14 win over Osceola.
 
Watson Chapel (0-1) at 4A MCGEHEE (0-0): Watson Chapel, decimated by offseason departures, lost 58-0 Texarkana. McGehee's Ky Bell played well two weeks ago in a scrimmage against Magnolia. The Owls have 48 players on the roster.
 
5A EAST
JOE T. ROBINSON at Forrest City: See note in 5A Central.
 
Maumelle at BATESVILLE: See note in 5A Central.
 
Poplar Bluff, Mo. at NO. 5 VALLEY VIEW (0-1): Valley View hung with Class 4A Harding Academy before losing 55-40. Senior QB Carson Turley, who missed some time in the second half due to heat/cramps, completed 15 of 23 passes for 452 yards and 4 TDs, and ran 13 times for 34 yards and 1 TD. The Blazers had 3 receivers (Drew Gartman, Andrew Jones and Zahki Ervin) each finish with more than 100 yards.
 
4A Pocahontas (0-1) at NETTLETON (0-1): Nettleton has won 6 of the past 11 in the series. The Raiders trailed Class 6A Mountain Home by 2 points in the fourth quarter last week before losing 29-19. Junior QB Maddox Hampton completed 20 of 34 passes for 168 yards and 2 TDs, while T.J. Brown logged 21 carries for 149 yards an 1 TD. Pocahontas struggled to slow Class 5A Southside's running attack last week. 
  
4A Bald Knob (1-0) at SOUTHSIDE (1-0): Bald Knob piled up 451 yards (235 passing, 216 rushing) in last week's 32-16 win over Class 3A Melbourne. Senior QB James Holder impressed by staying in the pocket and hitting passes. Southside senior QB Savian Hall completed all 8 of 8 passes and ran for more than 120 yards in last week's 34-13 win over Pocahontas. Sophomore DB Braden Simpson (11 tackles, 1 interception, 1 fumble recovery) and junior LB Andrew Plummer (11 tackles, 1 sack, 1 forced fumble) were leaders on the defense.
 
Brookland (1-0) at 4A GOSNELL (1-0): Gosnell has won 9 of 11 games against Brookland (which started its football program 11 years ago). Gosnell senior Cam Williams played only 10 snaps in last week's 42-6 win over Piggott, but completed both of his passes for 22 yards and caught 2 passes for 88 yards and a TD. He also intercepted 2 passes, returning 1 for a TD. LB Vanterrues Lucas played 12 snaps (5 TFL, 1 sack; 55 rushing yards, TD). Brookland beat Jonesboro Westside 39-0 last week, its first shutout since beating the Warriors 6-0 in last year's opener.
 
3A Piggott (0-1) at PARAGOULD (0-1): Piggott, with 17 players, played hard in last week's 36-point loss to Gosnell. Paragould lost to rival Greene County Tech 6-4 last week. The Rams failed to score on 3 drives inside the Greene County Tech 10. Sam Hunt (8 tackles) and Zander Hinkle (6 tackles) led the Paragould defense.
 
OPEN Wynne
5A SOUTH
4A No. 1 Arkadelphia (0-1) at HOT SPRINGS (1-0) (Thurs.): Arkadelphia has won 15 of the past 20 in the series. The Badgers offense didn't perform to Coach Trey Shucker's expectations in last week's 43-27 loss to Class 5A Camden Fairview. Cornerback Kelbern Middleton finished with 5 tackles, 1 TFL, forced 2 fumbles, and returned 1 fumble for a TD. Hot Springs senior QB Matthew Contreras passed for 198 yards and 1 TD in last week's 39-13 win over Vilonia, with senior WR Octavious Rhodes hauling in 5 passes for 98 yards while limited with a hamstring injury. Defensive tackle Damarious Porter led the Trojans with 11 tackles and 3 QB hurries.
 
6A EL DORADO (0-0) at No. 9 Camden Fairview (1-0): Veteran coach Chris Hill makes his El Dorado debut in this 7 South Showdown game. Hill, who went 19-15 in 3 seasons at Sylva Hills, took Morrilton and Wynne to the state finals earlier in his career. El Dorado made some plays in a 22-9 scrimmage loss at Class 7A North Little Rock, but a handful of negative plays cost the Wildcats. Hill makes it a point to assign jersey Nos. 0 and 1 to players who show leadership during the offseason, and he gave junior linebacker Jacoree Lundsey No. 1 and Lamarion Clemons No. 0. Camden Fairview beat Arkadelphia 43-27 a week ago. Junior Trent Haygood tallied 127 yards (41 rushing, 58 receiving and 27 kick return), while sophomore Jordan Porchia ran 21 times for 93 yards and senior Jayden Goodwin caught 6 passes for 115 yards and 1 TD.
4A Crossett (1-0) at MAGNOLIA (1-0): Both teams are coming off impressive wins last week. Crossett, powered by senior WR Taylin Paskel's 7 catches for 245 yards and 2 TDs, upended Class 3A Glen Rose 39-38 in double overtime. Magnolia ran past Nashville 48-20 last week (42 carries for 501 yards). Junior QB Antonio Brooks had 6 carries for 126 yards and 2 TDs, and threw a TD pass to Dakota Dismuke, who also logged 5 carries for 67 yards. Magnolia's first-team defense allowed only 1 TD.
 
6A RUSSELLVILLE (1-0) at HS Lakeside (1-0): Russellville took the Battle of 1-40 Trophy with a 33-21 win over Morrilton. The Cyclones outgained the Devil Dogs 455-261 and recorded more first downs (21-13). The Cyclones rushed for 337 yards, led by all-state RB Tracey Daniels' school-record performance of 268 yards with 4 TDs.
Hope (0-0) at 4A NASHVILLE (0-1): Nashville has beaten Hope 17 of the past 22 seasons. Hope (6 wins over the past 7 years) opens the season. Nashville lost at Magnolia last week by 28 points. "We must play better as a complete team," Coach Mike Volarvich says. Senior tackle Kason Willard registered 18 pancake blocks.
 
De Queen (0-1) at 4A ASHDOWN (1-0): Ashdown has won 18 of the past 20 in the series. The Panthers beat Hamburg 18-15 a week ago. Junior Braeden Walton caught 2 passes for 68 yards and 1 TD, while junior C.J. Harris caught a 22-yard TD pass. De Queen had 4 turnovers in its 39-6 loss to Mena.
 
OPEN LR Parkview, Texarkana
 
5A WEST
Clarksville (0-1) at MORRILTON (0-1): See note in 5A Central.
 
No. 3 Shiloh Christian (0-0) at  6A NO. 1 LR CHRISTIAN (1-0): LR Christian scored 35 points in the first quarter last week and never looked back in a 63-0 rout of Little Rock Central. It was Christian's third shutout under Coach Eric Cohu, who took over in 2018. Senior QB and Auburn commit Walker White threw TD passes to Cade Bowman, Tristan Watson and Tate Collins in the first quarter, while tailback Ronny Anoyoke also scored.
NO. 6 FARMINGTON (1-0) at Class 7A Springdale:
---
 
HARRISON (1-0) at 6A Mountain Home (1-0): Harrison leads the series 55-17-3, including 18-5 since 2001 and 10 consecutive since Mountain Home won 49-34 in 2012. Mountain Home Coach Steve Ary took over the Bombers program in 2020 after a brief stint as an assistant at Harrison, which followed a Hall-of-Fame career in Missouri. The Bombers never trailed last week in a 29-19 victory at Class 5A Nettleton. The Raiders had won 8 of the previous 8 meetings over Mountain Home, but Bombers tailback Chris Hubbard rushed for 197 yards and 2 TDs, while QB Cade Yates passed for 211 yards and 2 scores. Mountain Home has advanced to the state quarterfinals every season under Ary.
 
PRAIRIE GROVE (0-0) at 4A Huntsville (0-1): Prairie Grove opens its season against a former conference foe. The Tigers have won 16 consecutive games over Huntsville. Senior halfback/CB Conner Hubbs and junior halfback/WR Jace Edwards both looked sharp in preseason camp. Huntsville hung with Lamar (trailed 14-0 in the third quarter last week) before losing 35-0. Junior QB Marcus Shepherd passed for 57 yards and ran for 78 yards.
 
6A Siloam Springs (0-1) at ALMA (0-1): Alma has won 13 of the past 15 meetings with Siloam Springs, and the Panthers have not beaten the Airedales since a 30-27 overtime victory in 2014. Siloam led Class 7A Heritage 13-10 last week into the third quarter before the War Eagles scored the game's final 28 points in a 38-13 victory. QB Johnathan Hyde and tailback Jed Derwin scored TDs against Heritage.
4A GENTRY (1-0) at Pea Ridge (1-0): Gentry ran for 315 and 6 TDs in last week's 47-22 victory at Westville, Okla. QB Addison Taylor completed 5 of 9 passes for 108 yards and 1 TD, and ran 7 times for 79 yards and 2 TDs. Jared James led the defense with 10 tackles, while sophomore Talan Williams intercepted a pass to stop a Westville drive near the goal line and returned it to midfield. Pea Ridge QB Gavin Dixon threw 3 TD passes and ran for another in last week's 38-14 win over Gravette.
---
DARDANELLE (1-0) at 4A Pottsville (0-1): These are former conference rivals. Dardandelle has won 13 of the past 16 in the series, including 35-0 a year ago. Dardanelle sophomore QB Creed Vega ran 11 times for 108 yards and 2 TDs, and threw a TD pass last week to spark the Sand Lizards' 38-7 victory over LR Hall. Jace Finkenbinder (11 tackles, 1 sack), Brendon Kerns (11 tackles) and Jacob Freeman (10 tackles) led the defense. Pottsville trailed Elkins 10-0 in the second quarter last week before wearing down and losing 51-0.