HOGS: D lineman out vs. Rice; Notes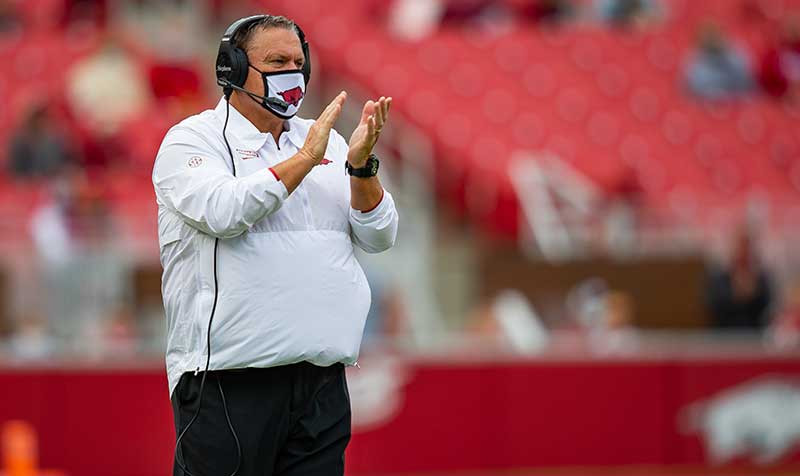 FAYETTEVILLE - Cause for the hospital visit, reportedly an appendectomy, will likely prevent graduate transfer noseguard John Ridgeway from starting in Arkansas' 1 p.m. season-opener Saturday against visiting Rice.
Ridgeway, the 6-6, 320-pound transfer from Illinois State, was set to start, but UA coach Sam Pittman said Monday that fourth-year junior Isaiah Nichols of Springdale, starting seven games last season, and third-year sophomore Taurean Carter rate one-two at nose for Saturday's game. Versatile defensive end/tackle Eric Gregory can also play noseguard.
"Doesn't look good for that (Ridgeway playing against Rice) to happen," Pittman said. "He's doing fine, but I don't look for him to be ready this week."
Pittman was asked minus Ridgeway if the Hogs have sufficient interior D-line depth to substitute on what could be a sweltering Saturday afternoon.
NICHOLS AND CARTER
"I think we do," Pittman said. "We have Isaiah Nichols and Taurean Carter. I think they'll be fine if he's not able to play. And Eric Gregory could also move into that spot if we needed him to."
Pittman said Nichols is among the team's veteran leaders and that Carter ran first-team noseguard in spring ball when Ridgeway was at Illinois State.
Both know what they need to do in defensive coordinator Barry Odom's scheme, Pittman said,
"So I have really good confidence we can do whatever Barry's game plan is there," Pittman said. "I don't think we're going to end up not doing anything we had planned for this game because Ridgeway may not be able to go."
Pittman remains uncertain if preseason first-team All-SEC receiver Treylon Burks, not practicing recently, will be fit to play against Rice.
"I still think that's day by day," Pittman said. "He's progressed over the weekend. I think we're going to progress him a little bit today (Monday's practice), probably a little bit more tomorrow. And then we'll see what happens.  We're going to play if he's ready, and if he's not, we're not."
PICK 'EMS DECIDED
Jaquayln Crawford, the transfer via the Oklahoma Sooners, is listed to start if Burks can't play.
At the other two receiver posts, senior De'Vion Warren and freshman flash Ketron Jackson are listed 1-2, and senior Helena native and Fayetteville High grad Tyson Morris starts ahead of junior Trey Knox.
"He (Morris) had a really good camp," Pittman said. "He's gotten a lot stronger. He's catching contested balls."
And catching them consistently.
"Tyson was non-consistent," Pittman said. "You just didn't know what you were going to get each day at practice with him a year ago. This year, he's attacked every day. I've been really proud of him. We talked about if he's ever going to get on the field on a consistent basis, you've got to be consistent in practice. And he certainly did that."
At some positions that Pittman has listed highly contested, senior Ty Clary, moved throughout the offensive line because of injuries to others, will start at right guard ahead of third-year sophomore Beaux Limmer while incumbent third-year sophomore Brady Latham starts at left guard ahead of fourth-year junior Luke Jones.
On defense, fourth-year junior right cornerback LaDarrius Bishop of Ashdown lists ahead of third-year sophomore corner Hudson Clark.
Pittman doesn't fret who starts. Bumper Pool and Hayden Henry, stellar senior weakside linebackers with Henry also spelling senior All-America middle linebacker Grant Morgan, are destined to play plenty. 
RATING RICE
Pittman assessed the strengths of Coach Mike Bloomgren's Owls of Conference USA, who went 2-3 last year while playing just five games because of covid cancellations. Rice posted a 20-0 victory at then 7-0 and 15th-ranked Marshall.
"They've got a physical team, a lot of starters coming back," Pittman said. "They're going to try to run the ball. I call it bully ball. They'll probably try to bully us a little bit with their offensive line. They have a lot of experience there. Defensively, they play multiple fronts. They fly to the football. Really good on special teams. I thought they got better as the last year went on, and they were very competitive in almost every game they played."