HOGS: Captains Jefferson, Catalon eager to lead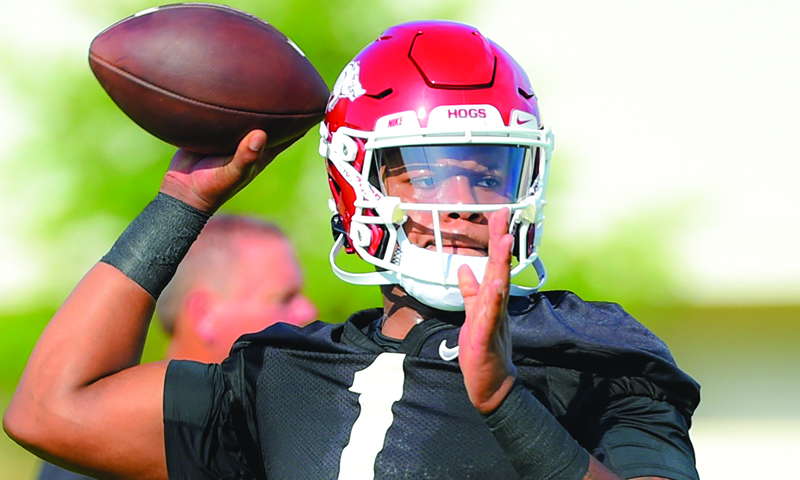 FAYETTEVILLE — Arkansas Razorbacks fans are looking forward to Saturday's season-opening game with No. 23 Cincinnati at Reynolds Razorback Stadium.
And beyond that.
UA players like quarterback KJ Jefferson (Craven Whitlow photo) and safety Jalen Catalon don't have the luxury of looking at anything but Saturday.
 "We're not looking forward to Week 6 or Week 9, we're looking straight at Cincinnati," Jefferson said. "We're taking it one week at a time and one day at a time."
Jefferson and Catalon spoke with media members after practice on Tuesday, the same day it was announced they had been named as two of the Razorbacks' four captains. Offensive Lineman Dalton Wagner and middle linebacker Bumper Pool were also announced as team captains.
Catalon, speaking like a true captain, echoed the words of his head coach, Sam Pittman, when discussing the team's approach to Saturday's 2:30 p.m. kickoff.
"Have the same mindset every single week just to be 1-0," Catalon said. "Whoever we're playing, that's who we're focused on, and it's Cincinnati this week, so that's who we're focused on."
CAPTAINS ON BOARD
Jefferson, a redshirt junior who rushed for 664 yards (6 TDs) and passed for 2,676 yards (21 TDs), praised redshirt senior Wagner (6-9, 337).
"He's been here for quite some time now," Jefferson said. "He's seen a lot and been through a lot, so being able to go to him when you're going through adversity and even facing tough struggles off the field, Dalton is a guy that you can always call on."
Catalon, an All-SEC player in 2020 and a preseason All-America candidate last season, appreciates the experience and perseverance exhibited by Pool, who led the Razorbacks with 125 tackles.
"Having him in the linebacker room and have him run things on the field as far as in the box, it doesn't get any better," said Catalon, who played in six games in 2021 before undergoing season-ending shoulder surgery. "I'm glad he's back for one more year with us and I'm excited to play with him."
Jefferson and Catalon said they are proud to be honored by their peers.
"Just to gain the trust from my teammates and the confidence from my teammates to even vote me captain and to actually become a second-time captain at the University of Arkansas is an extremely big deal," Jefferson said. "I take pride in it. I don't take it lightly."
 "It's a blessing for sure to know that my teammates think of me in that way," Catalon said. "There's a lot of guys that we could have named as captain but to just be chosen as one is definitely an honor and is something I'll remember for the rest of my life."
QUARTERBACK IN QUESTION
One of the unknowns for fans and players leading up to Saturday is the status of the Bearcats' quarterback battle between last season's backup, Evan Prater, and Eastern Michigan transfer Ben Bryant.
Pittman has already stated that the team will be preparing for both quarterbacks as he believes both athletes bring something unique to the table.
The Razorbacks appear to be well-versed on both.
 "With the Eastern Michigan guy [Bryant], he's more of a thrower," Catalon said. "He can read and make the throws, so we just got to cover up and make sure we know our assignments. And with the other guy [Prater], I feel like he's more of a runner."
Bryant spent three seasons as a backup quarterback at Cincinnati before starring at Eastern Michigan in 2021, throwing for more 3,000 yards this past fall. His only start for Cincinnati came on the road at No. 18 Memphis in 2019, where he played in place of Desmond Ridder in a 34-24 loss, throwing for 229 yards.
Prater served as the backup the past two seasons behind starter Desmond Ridder, who was a third-round draft pick of the Atlanta Falcons.
"But we haven't seen him since last season," Catalon said of Prater. "We'll be ready for both when the game comes.