Class 6A Hootens.com Rankings, Picks and Notes, Week 1, 2023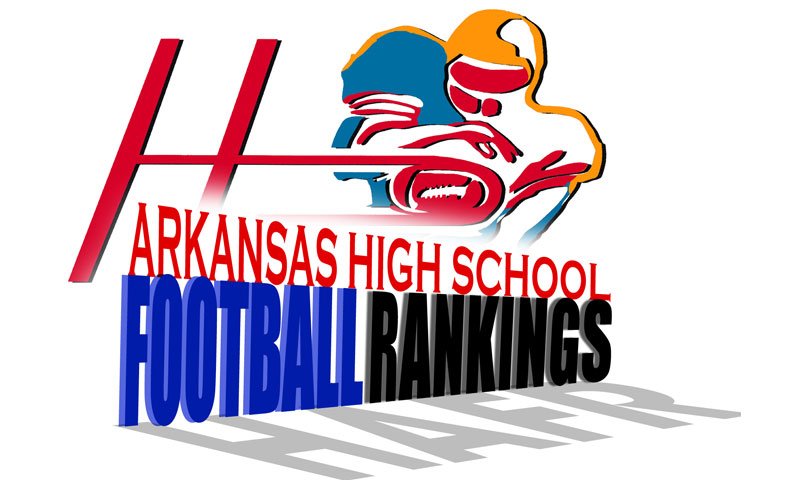 Hooten's Arkansas Football Rankings
Class 6A, Week 1, 2023
Copyright Seventy Seven's Football Publishing, LLC
1. LR Christian (1-0)
2. Greenwood (1-0)
3. Pulaski Academy (1-0)
4. Benton (0-1)
5. LR Catholic (1-0)
6. El Dorado (0-0)
7. Marion (1-0)
8. Searcy (1-0)
9. West Memphis (0-1)
10. Russellville (1-0)
11. Mountain Home (1-0)
12. Lake Hamilton (0-1)
13. Van Buren (1-0)
14. Sylvan Hills (0-1)
15. Greenbrier (0-1)
16. Sheridan (0-1)
17. Siloam Springs (0-1)
18. Greene Co. Tech (1-0)
19. Jacksonville (0-1)
HOOTENS.COM GAME OF THE WEEK
Class 5A HARRISON at Mountain Home (1-0)
Friday's game marks the 77th meeting between schools separated by 51.1 miles of Arkansas Highway 412. It's the state's second-longest continuous rivalry (behind Fayetteville-Springdale) and Harrison leads the series 55-17-3, including 18-5 since 2001 and 10 consecutive since Mountain Home won 49-34 in 2012. Mountain Home Coach Steve Ary took over the Bombers program in 2020 after a brief stint as an assistant at Harrison, which followed a Hall-of-Fame career in Missouri.
The Bombers never trailed last week in a 29-19 victory at Class 5A Nettleton. The Raiders had won 8 of the previous 8 meetings over Mountain Home, but Bombers tailback Chris Hubbard rushed for 197 yards and 2 TDs, while QB Cade Yates passed for 211 yards and 2 scores. Mountain Home has advanced to the state quarterfinals every season under Ary.
LAST WEEK
Hootens.com correctly picked 14 of 17 games (82 percent) involving Class 6A teams.
6A EAST
NO. 6 EL DORADO (0-0) at 5A Camden Fairview (1-0): Veteran coach Chris Hill makes his El Dorado debut in this 7 South Showdown game. Hill, who went 19-15 in 3 seasons at Sylva Hills, took Morrilton and Wynne to the state finals earlier in his career. El Dorado made some plays in a 22-9 scrimmage loss at Class 7A North Little Rock, but a handful of negative plays cost the Wildcats. Hill makes it a point to assign jersey Nos. 0 and 1 to players who show leadership during the offseason, and he gave junior linebacker Jacoree Lundsey No. 1 and Lamarion Clemons No. 0. Camden Fairview beat Arkadelphia 43-27 a week ago. Junior Trent Haygood tallied 127 yards (41 rushing, 58 receiving and 27 kick return), while sophomore Jordan Porchia ran 21 times for 93 yards and senior Jayden Goodwin caught 6 passes for 115 yards and 1 TD.
OPEN Jacksonville, Greene County Tech, Benton, Marion, Searcy, West Memphis, Sheridan, Sylvan Hills and Little Rock Catholic.
6A WEST
NO. 2 GREENWOOD (1-0) at 7A Fort Smith Northside (0-1): Greenwood avenged a 2022 loss last week when it rolled over Stillwater, Okla. 49-21. Heralded sophomore QB Kane Archer completed 23 of 31 passes against Stillwater for 288 yards and 4 TDs, including 2 to senior receiver L.J. Robins. Senior tailback Braydean Davis rushed 12 times for 104 yards and 2 scores. Greenwood's victory snapped Stillwater's 14-game winning streak and extended Greenwood's home winning streak to 57 games.
MADISON-RIDGELAND, MISS. (3-0) at Pulaski Academy (1-0): Third-ranked Pulaski Academy topped Joe T. Robinson 37-13 last Friday night despite playing without QB Brandon Cobb (hand injury). The Bruins are also without last year's state title game MVP Kenny Jordan, who has moved to Tennessee and is playing for Stewarts Creek High School in Smyrna. PA won its opener behind a defense that held Joe T. Robinson to 8 first downs and 1 of 11 on third-down conversions. PA QB Patton Whicker completed 30 of 48 passes for 252 yards and 3 TDs, including 13 completions to John Mark Charette, who covered 137 yards with 2 scores. Madison-Ridgeland has outscored its opponents 153-46 in 3 games.
5A Shiloh Christian (0-0) at NO. 1 LR CHRISTIAN (1-0): LR Christian scored 35 points in the first quarter last week and never looked back in a 63-0 rout of Little Rock Central. It was Christian's third shutout under Coach Eric Cohu, who took over in 2018. Senior QB and Auburn commit Walker White threw TD passes to Cade Bowman, Tristan Watson and Tate Collins in the first quarter, while tailback Ronny Anoyoke also scored.
Lake Hamilton (0-1) at JONESBORO (1-0): Lake Hamilton rallied in the second half last week but lost to Hot Springs Lakeside 49-42 for the first time since the series resumed in 2018. Lakeside led 28-6 at halftime. Junior RB Hayden Barton (20-215 rushing, 4 total TDs) and senior QB Easton Hurley (12-21 passing, 200 yards, 2 TDs) led the offense. Senior Riley Poole topped the Lake Hamilton tackle chart with 12 stops.
5A Vilonia (0-1) at GREENBRIER (0-1): Greenbrier trailed Farmington 13-0 in the first quarter of last week's 37-27 loss. Greenbrier QBs Kane Griffin and Kane Richardson combined to pass for 334 yards and 3 TDs, but the Panthers were held to 82 yards rushing at Farmington. Seniors Lawson Worthey (6-186 receiving, 2 TDs) and Miles Miller (8-145 receiving, 1 TD) were the top receivers.
RUSSELLVILLE (1-0) at 5A HS Lakeside (1-0): Russellville took the Battle of 1-40 Trophy with a 33-21 win over Morrilton. The Cyclones outgained the Devil Dogs 455-261 and recorded more first downs (21-13). The Cyclones rushed for 337 yards, led by all-state RB Tracey Daniels' school-record performance of 268 yards with 4 TDs.
HARRISON at Mountain Home: See Hootens.com Game of the Week.
7A FS SOUTHSIDE (1-0) at Van Buren (1-0): Southside has won the past 7 meetings with Van Buren, including 47-32 a season ago. Van Buren beat Alma 51-28 last Thursday night, winning the Battle of the Bone. Senior QB Bryce Perkins (337 passing yards, 5 TDs; 68 rushing, 1 TD) led the way. Van Buren led Alma 30-7 at halftime. Senior Peyton Pschier caught 2 TD passes against Alma and intercepted a pass.
Siloam Springs (0-1) at 5A ALMA (0-1): Alma has won 13 of the past 15 meetings with Siloam Springs, and the Panthers have not beaten the Airedales since a 30-27 overtime victory in 2014. Siloam led Class 7A Heritage 13-10 last week into the third quarter before the War Eagles scored the game's final 28 points in a 38-13 victory. QB Johnathan Hyde and tailback Jed Derwin scored TDs against Heritage.