Class 7A Hooten's Arkansas Football Week 1, 2023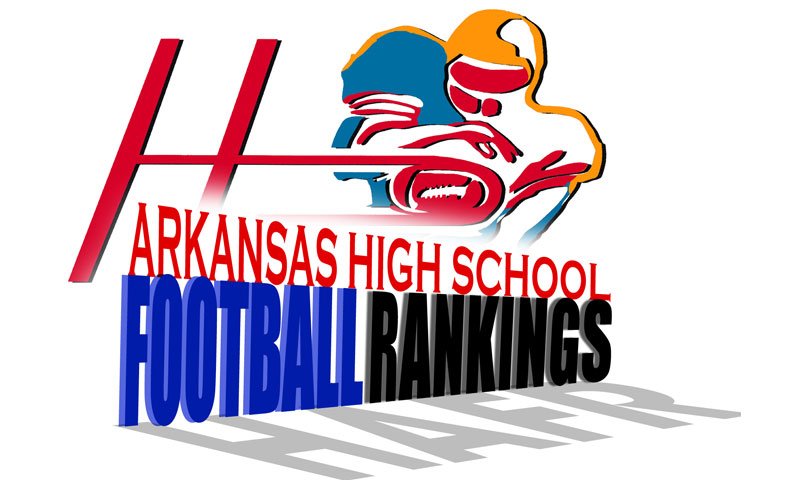 Hooten's Arkansas Football Rankings
Class 7A, Week 1, 2023
By Kevin Kelley
Copyright Seventy Seven's Football Publishing, LLC
 
1.  Bryant (1-0)
2.  Conway (0-0)
3.  Bentonville (1-0)
4.  Fayetteville (1-0)
5.  Rogers (1-0)
6.  Bentonville West (1-0)
7.  Cabot (0-1)
8.  FS Southside (1-0)
9.  North Little Rock (0-1)
10.  FS Northside (0-1)
11.  Jonesboro (1-0)
12.  LR Southwest (0-1)
13.  Har-ber (0-1)
14.  Springdale (0-1)
15.  Heritage (0-1)
16. LR Central (0-1)

LAST WEEK
I went 11-1 in my first week picking games for Hootens.com. Even better is the feeling of communities getting together to pull for their teams and kids. High school football is back, and we have it through December. 

HOOTENS.COM GAME OF THE WEEK
7A No. 2 Conway (0-0) at 7A NO. 3 BENTONVILLE
    As Conway had Week 0 off this past week giving new Coach Buck James an extra week to prepare, Bentonville had a tuneup for the Wampus Cats. As mentioned last week, two keys to Bentonville, QB Carter Nye, and WR C.J. Brown (Arkansas commit), made me look really prophetic by connecting 4 times in the first half for 166 yards and 2 TDs. Nye completed his first 12 passes and ended the night 13 of 14 for 267 and 4 TDs, all in the first half. Bentonville pulled its starters after that and ended up winning 41-0. The Tiger defense was perfect. The only weakness the team showed was 11 penalties for 88 yards, which could be simply a happening of this being the first game of the year.
Coach James had to wait an extra week to unveil the new-look Conway team. I spoke with Coach James and asked him about his new squad. He loves the work ethic of the coaching staff he inherited and of the football team. He said he really likes the physical toughness they have and that they have shown flashes of really good football. Going forward, though, he wants them to be able to practice like the game should be. Coach James and I think the same way on this, but these days, with all the cameras from ESPN on college and pro practices, the HS players don't see intensity in the practices so they have a hard time seeing what practices should really look like. What they don't know is that the teams shut it down a lot when the cameras are rolling because I have seen the intensity in practice and the great ones treat it like a game. Coach James also wants to see more football discipline in his guys. He knows this game will definitely show the Wampus Cats where they are in regards to all of these things. 
     Conway's offense will be led by returning all-state QB Donovan Omolo, who had 27 TDs passing and 10 more rushing. Senior receiver Cris O'Neal had 10 TD receptions last year and looks to be the main target for Omolo. The defense will be led by all-conference senior Ben Chandler, who had 96 tackles and 6 TFL. That defense will need to be strong as Bentonville has the ability to strike quickly. 
Coach Jody Grant's team picked up where it left off last year, when it allowed 14 points per game in its final 11 games. Bentonville wants to get back to the state title game that it played in back in December. This game with Conway could go a long way to showing that it is ready to take the next step, and not just get there, but win it. Coach Grant told me that his biggest concern this week was about Coach James taking over and not having played a real game. It is tough to know what differences his team will see in Conway from last year to this one. He is also worried about the fact that Conway has 19 days to prepare for them.  
        Offensively, Coach Grant loves the 8 returning starters on offense, including 4 on the offensive line. The defense is young but really talented, and he loves where it is right now as well.

COACH KELLEY'S PICK:
    Bentonville has the advantage of a home game, but even more, a game under its belt. I have long felt that the single biggest improvement for a team is between game 1 and game 2. It's partially because it gives the players a chance to see how they functioned as a unit without the seniors that graduated and partially because the coaches got a chance to finally see their team against a different team.  A coach can not simulate the adrenaline, game changes, emotions, and the other things that are so different in a game than they are in practice.  Conway does not have that until next week. Both coaches are really good at their craft, and I think both teams have solid quarterbacks. One big difference will be WR CJ Brown, who he can score a TD from anywhere. He showed that last week. Again, another is that one game that Bentonville has already played. Coach Grant and staff know what they need to correct already and Conway will have to try to do that in-game. Coach James and his crew will be rapidly doing that. If this game were played later, I might have a different thought. but right now, I believe the No. 2 and No. 3 teams in Class 7A will switch next week after a Tigers win over the Wampus Cats.

Christian Brothers, Mo. (2-0) at 7A NO. 1 BRYANT (1-0) 
    Christian Brothers comes in after a 53-0 win against Sheffield, Tenn. Bryant beat rival Benton 35-6 last Saturday in the Salt Bowl, but it did not go how I thought it would. Bryant led 7-6 at halftime before pulling away in the second half when Mytorian Singleton scored 2 TDs and Brandon Bennett picked up a blocked punt and ran it in for a TD to change the game. Benton star RB Braylen Russell had 79 yards rushing and 28 yards receiving for Benton in the first half, but he took a hit to the knee and is fine now, but did not play in the second half.
I believe Bryant will be even more of a defensive-minded team under first-year head coach Quad Sanders. The Hornets held Russell, a very good running back, to less than 4 yards per carry, scoring off a blocked and leading at the half despite putting up only 7 points. Its hard to get a gauge on Christian Brothers. I watched a little "film" on them and they were sacking quarterbacks and scoring on special teams, but the opponent didn't look great. Saturday's win over Benton will give the Bryant coaches a lot to work on and some direction in which to start. They will be even better this week. Always rooting for any Arkansas school against one from out of state. We have awesome high school football, and I think Bryant shows another out-of-state opponent just that.

NO. 4 FAYETTEVILLE (1-0) at No. 9 North Little Rock
The Bulldogs played in the Hootens.com Game of the Week last week and showed out with a 43-21 win over then fourth-ranked Cabot Panthers. Fayetteville scored the game's first 33 points, including 3 safeties (which sounds like it should be a record of some sort). Fayetteville Coach Casey Dick had to be pleased that his team scored on offense, defense, and special teams. 
North Little Rock lost a defensive battle with Little Rock Catholic. Catholic and head coach John Fogelman picked up right where they left off last year, extending their regular-season unbeaten streak to 12, dating back to 2021. North Little Rock hired a new coach this summer and may need some time to show its personality as a team.
Fayetteville will be a completely different team than North Little Rock saw last week. The Purple Dogs will throw the ball more with QB Drake Lindsey and WR Jason Delamar, and on defense Fayetteville will create pressure situations. Lindsey threw for 348 yards last week, with Delemar catching 9 passes for 86 yards, and Lindsey will be looking for him again, possibly  even more this week. Eli Rose led the Bulldogs defense with 10 tackles while Garrett Lindley and Kaden Spencer each had 2 TFLs. 
The Charging Wildcats moved the ball, turning it over on downs inside the 10 and throwing an interception at the 1 on another trip inside the red zone. QB Tyson Braddon threw a TD pass for North Little Rock's only score. If Clint Reed's Wildcats get behind, Braddon will be the one who has the pressure squarely on him and will have to lead them down the field.
Fayetteville has won 9 of the last 11 against the Charging Wildcats, and I think it gets to double digits this week.

Bishop Kelley, Okla. (1-0) at NO. 5 ROGERS (1-0)
Bishop Kelley (no relation to me) lost its season-opener to Poteau, Okla., 24-21 while Rogers was beating Little Rock Southwest 63-21. Senior QB Dane Williams ran and threw for TDs last week and looks to do more of the same this week in what could be a good test. The Mounties also scored on defense, which really leads to a good winning percentage in games where that happens. Rogers has to have some confidence after playing well on both sides of the ball and Coach Chad Harbison will make adjustments to help them improve and get Arkansas High School football another win over an out-of -state team.

NO. 6 BENTONVILLE WEST (1-0) at No. 7 Cabot (0-1)
Bentonville West jumped Cabot in this week's poll after a win over Tulsa Washington while Cabot lost, trailing badly at the half, at Fayetteville last week. I have no doubt Coach Scott Reed will help his team fix a lot of mistakes, but the Panthers have their work cut out coming off a loss in which their offense didn't get going like they wanted and 3 bad snaps cost them 3 safeties. I am sure that Wolverines Coach Bryan Pratt found a few things to work on himself. Quarterback might not be one of the areas, after senior Dalton Rice threw 2 TD passes last week. One of Coach Pratt's goals coming into the season was to run the ball better after averaging under 100 yards per game last year, and the Wolverines did that with166 yards rushing last Friday night. Senior Jaxon Brust had 1 receiving TD and junior Harris Vinson also scored, while leading his team with 82 receiving yards. Six different Wolverines carried the ball in that newly committed running game. 
Cabot Sophomore Maddox Bing threw 2 TD passes against Fayetteville including a 56 -yarder play to RB Carter Bing. Gabe Lynch scored a TD late to make the final score a little closer. 
TDs will be at a premium this week with Bentonville West looking for revenge after losing to Cabot 32-10 last year. Cabot went undefeated at home last year and that home-field advantage will be needed this week. This should be a great game and a tough one to pick, so I'll go with the higher-ranked team off the win over the home winning streak.

6A Van Buren (1-0) at 7A NO. 8 FS SOUTHSIDE (1-0)
The Mavericks beat FS Northside 42-35 last Friday, their first win over their rivals in 7 years, and seeing the looks on the players' faces made me appreciate again the passion this game brings. Head Coach Kim Dameron's Mavericks rushed for 401 yards and had 538 total yards in a game that had more than 1,000 yards total in it. 
Senior RB Amari Tucker, who injured his knee in warmups before the same game last year and was out for the entire 2022 season, finished with 229 yards on 18 carries and 4 touchdowns. A fourth-quarter 70-yard TD pass from Carter Zimmerman to George Herrell put Southside in front, then Zimmerman found Herrell again for the 2-point conversion to give the Mavericks a 7-point lead, much better than a 6-point lead had they kicked the PAT. 
Southside has beaten Van Buren 7 times in a row, but Van Buren comes off a 51-28 upset win over Alma.  It is tough trying to keep your team up the week after a rival win like Southside had and Van Buren comes in themselves off a high. I expect a sluggish start, but then both teams pick up the scoring. Fort Smith Southside continues its streak and makes it 8 in a row over Van Buren.

6A GREENWOOD (1-0) at 7A No. 10 FS Northside (0-1)
Greenwood Coach Chris Young had to be happy with his team's 49-21 season-opening win over Stillwater, Okla., which gives Greenwood a 7-4 lead in the series since 2001. Greenwood had 491 yards of total offense while sophomore Kane Archer passed for 286 yards and 4 TDs while rushing for another 60 yards and a fifth TD. Greenwood was led by 100-yard receivers Karnes Grant and Landen (LJ) Robins. Brayeden Davis rushed for more than100 yards and scored 2 TDs. 
    Northside comes in off a streak-breaking loss against rival Southside last week, 42-35. The bright spot is that the Grizzlies fought back after being down 34-21 and took the lead in the fourth 35-34 before losing in a thriller. There were some huge sparks as QB McLane Moody threw for 343 yards and 4 TDs. WR Camron Massey had 12 catches for 143 yards and 2 TDs. A personal favorite highlight of mine was that the Grizzlies executed a successful onside kick during their fourth-quarter comeback and scored a TD off of it to take that 35-34 lead they had before losing late. 
    This game should be close early with the tradition of Greenwood vs a Northside team that will have to really push to get back up after an emotional loss. But I think Greenwood, which who leads the series 7-4, will take control of the game and win it.

6A Lake Hamilton (0-1) at 7A NO. 11 JONESBORO (1-0)
    The Wolves and the Hurricanes will line up against each other in Northeast Arkansas Friday night. The Wolves are coming off a crushing 49-42 loss to Lakeside Rams, their longest nemesis. The Wolves showed that toughness instilled by Coach Tommy Gilleran as they fought back after trailing 28-6 at halftime. Hayden Barton's 215 yards on 20 carries with 4 TDs led the rushing attack. Senior QB Easton Hurley completed 12 of 21 passes for 200 yards and two scores. Senior Riley Poole topped the Hamilton tackle chart with 12 stops.
    Jonesboro comes in off what I consider an upset win over West Memphis and they lead this series 3-1. Quarterback Terrance Brown threw for 252 yards and 3 TDs in a 30-16 win that was tight early before the Hurricane took control. Those 3 TDs came to 3 different receivers — Myreion Taylor, Kelen Smith, and Jordan Daniels. The defense was led by linebackers Markeice Stafford, Trayshon Crawford, and Christian Stafford who had 5 tackles each. 
    The Wolves need to eliminate that first half from memory to have a chance this week and to pick up some momentum before they begin play in what might be the toughest conference play in the state. Jonesboro needs to start a little faster after a scoreless first quarter last week and play like it did from that point on. 

 7A No. 13 Springdale Har-ber (0-1) at BIXBY, OKLA. (2-0)
    Har-ber comes in this week looking for a win after losing to 5A defending champ, Little Rock Parkview. Har-ber score the games's first TD and battled for much of the first half before Parkview scored 2 TDs before the half to take control. Har-ber highlights ncluded TD catches by Hayden Wood and Evan Curry. Wood, the son of former coach Chris Wood, is following his older brother, who also played receiver at Har-ber. He was one of the best I have coached against. New Coach Brett Eckley, a very successful coach in Missouri for many years, will try to build on last week vs. a Bixby Spartans team that won 42-16 last week. 

5A FARMINGTON (1-0) at 7A No. 14 Springdale (0-1)
Farmington QB Cameron Vanzant injured his knee last week against Greenbrier and didn't play in the second-half of a 37-27 win. Expect Ayden Lester to take most of the snaps this week. Springdale unveiled its Flexbone offense in a 24-20 loss at Class 5A Harrison.

7A NO. 15 ROGERS HERITAGE (1-0) at Louisburg, Kan.
Rogers Heritage comes in after beating Class 6A Siloam Springs 38-13 last week. The offense put up some good drives as well as some quick-strike plays. The defense pressured the quarterback and forced fumbles. Coach Eric Munoz's team looks to go 2-0 for the second time in 2 years, and I think they will do just that.

5A PINE BLUFF (0-1) at 7A No. 16 LR Central (0-1)
 Little Rock Central began the Coach Anthony Robinson chapter with a tough first game against 6A favorite Little Rock Christian. LRCA scored 35 points in the first quarter on the way to a 63-0 win over the Tigers. Central looks to right the ship against 5A Pine Bluff, which is coming off a 30-7 loss against Grenada, Miss.