HOGS: 2 QBs vs. Rice possible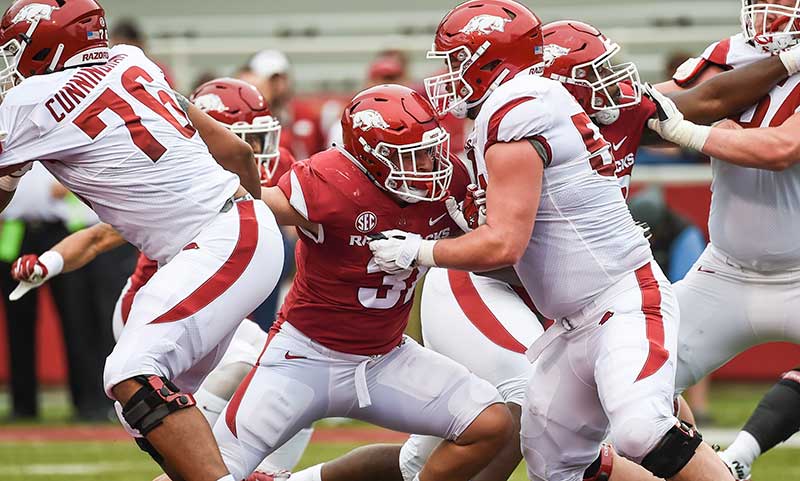 FAYETTEVILLE - Sam Pittman doesn't need nor want an Arkansas quarterback controversy with his Razorbacks opening the season at 1 p.m. Saturday against visiting Rice.
However, with injury risk always one play away from removing third-year sophomore KJ Jefferson, Pittman needs real confidence in his backup QB.
Pittman has expressed so much confidence lately in mobile redshirt freshman backup Malik Hornsby that Rice coach Mike Bloomgren took note.
"KJ, obviously, has already been named as the starter," Bloomgren said, "but I think the Malik kid -  gosh - he could be a running back. He could play about any position on offense, not just quarterback. So both those guys bring so much to the table."
Frankly, Hornsby's spring ball passing accuracy looked more running back than QB, too.
Pittman asserts the accuracy of both QBs improved in August. Deemed a more running than passing QB upon Jefferson's arrival in 2019 from Sardis, Miss., Jefferson completed 18 of 33 for 274 yards and three touchdowns without a turnover in his lone 2020 start at Missouri.
"I was concerned about Malik Hornsby's accuracy," Pittman said before the Hogs practiced Wednesday afternoon. "Where is his accuracy going to be?' I was concerned at some point about KJ's accuracy, as well."
However, upon repeatedly watching tape of practices, Pittman said his skeptical eyes had deceived him of perhaps the preseason's biggest surprises.
"The accuracy of Malik and the accuracy of KJ were quite higher throwing the football than what I believed," Pittman said. "That would be probably the biggest surprise. As I'm tallying up targets, it was much, much higher than what I thought it was."
ARE YOU READY?
Pittman admitted Hornsby proved he "wasn't ready" yet when inserted into a goal-line situation last season.
But he's ready now, Pittman said.
Pittman doesn't have an announced plan to play both QBs Saturday as  Bloomgren does with Rice QBs Wiley Green and Nebraska transfer Luke McCaffrey, but Pittman doesn't rule that out.
"Yeah, I think I would," Pittman said if he felt interspersing Hornsby would help Arkansas' offensive flow. "Malik certainly brings some some speed. We can roll out with him. Hopefully he gets to the outside and he has the two options - run or throw. He's a very good runner."
KJ PROVEN READY
Meanwhile, after two years in reserve, Jefferson seems especially ready to start.
"I think the greatest thing that happened to him was he started and played a game last year," Pittman said. "Not only for himself but for the team, you know. I think the team really, really believes in him. I know I do."
INJURY REPORT
Third-year sophomore preseason All-America safety Jalen Catalon,  senior linebacker Hayden Henry and senior tight end Blake Kern, in and out of recent practices because of injuries or illness, both should be ready for Saturday's game, Pittman said.
He's all but ruled out transfer defensive noseguard John Ridgeway (appendix) and expressed doubt about injured backup safety Myles Slusher and injured preseason All-SEC receiver Treylon Burks, who has not practiced with contact since the Aug. 14 scrimmage.
ALTERNATE PLANS
Pittman said he likes the receivers rotation, bolstered by freshmen Ketron Jackson and Bryce Stephens, Oklahoma transfer Jaquayln Crawford  and Florida State transfer Warren Thompson. They join returnees De'Vion Warren, Tyson Morris, Trey Knox and John David White.
"I feel better about our receivers," Pittman said.
Even minus Ridgeway, Pittman said for Saturday's projected 92-degree sizzler he's comfortable with eight quality defensive linemen to rotate in defensive coordinator Barry Odom's scheme that will switch three- and four-man fronts.
It would be fine with Pittman for the Hogs to hog the ball against the clock-conscious Owls to alternate some offensive linemen in the heat.
"Very comfortable," Pittman said. "We've rotated tackles. We've rotated guards. We know who our backup center (starting right guard Ty Clary) and who our third center (Shane Clenin) are."
Redshirt eligible players can play up to four games and still retain their 2021 eligibility status for 2022.
PRECOCIOIUS FRESHMEN
True freshmen, who Pittman said could play Saturday, include running backs Raheim "Rocket" Sanders and AJ Green, and receivers Ketron Jackson and Bryce Stephens.
Even on a senior-laden defense, precocious true freshmen Chris "Pooh" Paul, a linebacker, and safety Jayden Johnson should play, Pittman said.
Of course, it behooves the Hogs Saturday to provide ample opportunities for true freshman place-kicker Cameron Little.