Class 5A Week 1 Rankings, Notes & Picks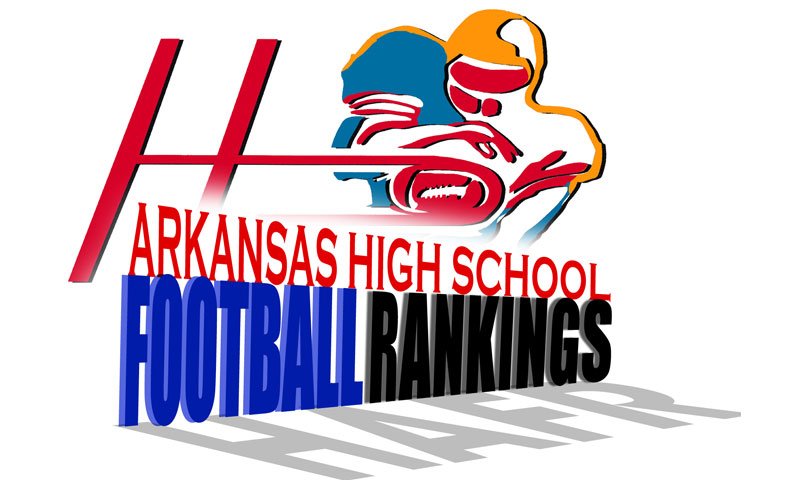 Hootens.com Rankings
Class 5A, Week 1, 2019
Copyright Hooten Publishing, Inc. 

1. Pulaski Academy (1-0)
2. Harrison (1-0)
3. LR Christian (1-0)
4. LR McClellan (1-0)
5. Morrilton (0-1)
6. Wynne (0-0)
7. Greenbrier (1-0) 
8. LR Parkview (0-0)
9. Texarkana (1-0)
10. Batesville (0-1)
11. Camden Fairview (0-0)
12. Alma (0-0)
13. White Hall (0-0)
14. HS Lakeside (0-0)
15. Valley View (1-0)
16. Watson Chapel (0-1)
17. Nettleton (1-0)
18. Maumelle (0-0)
19. Vilonia (0-0)
20. Forrest City (1-0)
21. Farmington (0-0)
22. Magnolia (0-1)
23. Clarksville (1-0)
24. Hot Springs (0-0)
25. Blytheville (0-1)
26. Beebe (0-1)
27. Hope (0-0)
28. Greene County Tech (0-1)
29. De Queen (0-1)
20. Paragould (0-0)
31. Huntsville (0-0)
32. LR Fair (0-0)

HOOTENS.COM GAME OF THE WEEK
Class 6A No. 4 El Dorado at No. 11 Camden Fairview
El Dorado has beaten Camden Fairview 12 times since 2000, including six straight seasons by an average of 31-15. Camden Fairview's last win in the series was 49-21 in 2012. 
El Dorado committed 15 penalties, including 12 illegal procedures, and had four turnovers in last week's 10-point loss to Class 7A Conway. El Dorado junior QB Eli Shepherd completed 22 of 31 passes for 295 yards and a pair of touchdowns against Conway. Coach Steven Jones says El Dorado's defense had zero loaf's (lack of effort) plays.
Camden Fairview junior QB Gunner Branch tore his ACL last week in a scrimmage against Monticello and will miss the remainder of the season. Cardinal junior running back Erik Hall (1,027 yards and nine TDs in 2018) should get more carries as the Cardinals break in a new QB. Camden Fairview has five linemen who weigh at least 270 pounds.

LAST WEEK
Hootens.com correctly predicted 14 of 16 games (88 percent) last week.

WEEK 1 PREDICTIONS (favored team in ALL CAPS)
5A CENTRAL
LR PARKVIEW (2) at Springdale: Springdale trailed Class 4A Joe T. Robinson 20-0 at halftime last Friday but opened the second half with 76- and 56-yard TD drives. Springdale didn't force a punt and was out gained 432-274 in total yards. Springdale senior quarterback Conner Hutchins passed for three TD passes to junior wide receiver Ladarius Wonsley. Little Rock Parkview plans to dress more than 70 players, and the added depth could help this fall. Junior QB Landon Rogers passed for 545 yards and six TDs last season, while senior fullback Thomas McCauley compliments with a power running attack.
LR Fair at LR HALL (6): These teams have split the past two meetings, with LR Fair winning 36-26 last year. LR Fair will dress fewer than 20 players.
Dumas at WHITE HALL (7): White Hall has beaten Dumas two of the past three seasons, with Dumas winning a year ago by 13 points. White Hall first-year coach Bobby Bolding inherits a defense that gave up two TDs or less in four games last year. Dumas all-state QB Chris Harris ran passed for 1,807 yards and ran for 1,539 yards a year ago. For more on White Hall watch Coach Bobby Bolding interview HERE.
Vilonia at LR CHRISTIAN (20): Defending state champion Little Rock Christian throttled Batesville last week by 31 points, scoring on its opening seven possessions. LR Christian senior Kendel Givens ran for 158 yards and QB Colin Cooper completed 10 of 11 passes for 176 yards at Batesville. Vilonia all-state running back Draven Smith ran for 1,700 yards a year ago. For more on LR Christian watch Coach Cohu interview HERE.
Maumelle at PEA RIDGE (2): Pea Ridge played well last week but endured a mercy-rule setback to Class 5A No. 2 Harrison. Senior QB Tate Busey (101 yards) and senior running back Sam Beard (62 yards) played well in the loss. Maumelle playmaker Zyon Slade caught eight TD passes last year, while averaging 10 yards per carry and 40 yards per kickoff return. For more on Maumelle watch Coach Horton's preseason interview HERE.
Monticello at WATSON CHAPEL (23): Watson Chapel led No. 2 ranked Nashville in the fourth quarter a week ago before losing by seven points. The Wildcat D held Nashville to 8 yards passing. Senior Kevin Compton (offer from UL-Lafayette on Sunday) is a shutdown safety. Longtime assistant Randy Harvey becomes Monticello's third coach in as many seasons after the Billies went winless last year for the first time since 1959.
Pulaski Academy is open.
Beebe is open.

5A EAST
JONESBORO (13) at Batesville: Jonesboro has won all seven meetings since the series resumed in 2012 by an average of 18 points. Batesville trailed LR Christian 52-7 in the fourth quarter a week ago before scoring a pair of late TDs. Jonesboro trailed LR Catholic by four points at halftime last week, but rallied for a five point win.
Wynne at MARION (3): These teams have split the past six meetings, with four of them decided by four points or less, including Marion's 24-23 overtime thriller a year ago. Marion receiver Slade Webb caught three passes for 194 yards last week against Blytheville but broke his collarbone playing defense in the fourth quarter.
Blytheville at OSCEOLA (1): Blytheville has beaten its Mississippi County rival (on the field) the past five seasons by a combined 126 points. Blytheville first-year coach Lance Stone took over the program in the summer, and former coach Ben Fisher will stay on staff as an assistant after getting an administration position. The Chickasaws jumped on Class 6A Marion 14-0 in the first quarter last week but failed to score again in a 30-point setback. Osceola hung with Valley View a week ago, but missed too many big plays in the passing game.  
VALLEY VIEW (25) at Bald Knob: Bald Knob failed to score in the second half of last week's 35-point loss at Harding Academy. Seven Valley View running backs combined for 218 yards in last week's 17-point win over Class 3A No. 2 Osceola in the Arkansas Blue Cross and Blue Shield Kickoff Classic, while senior Connor Watson caught a TD pass and made five tackles.  
Brookland at GREENE COUNTY TECH (10): GCT won the inaugural meeting between these teams last year by four points. Eagle junior David Williams ran nine times for 53 yards and caught four passes for 92 yards, including an 89-yard TD catch, in last week's three-point setback to Jonesboro Westside. Brookland gave up six first half TDs last week at Riverview, but forced a pair of fumbles in the second half. 
Pocahontas at NETTLETON (1): Nettleton scored on all but one possession (threw an interception with 19 seconds left in the first half) of last week's 37-point blowout at Gosnell. Senior QB Cade Carter passed for 182 yards and three TDs at Gosnell. Pocahontas vaults to No. 11 this week after beating Valley View in a scrimmage game and slamming Southside Batesville 42-18 a week ago. Junior QB Dawson Chester scored four TDs (two passing, two rushing) while completing passes to six different receivers. Senior linebacker Brian Lem paces the Redskin D. 
Paragould at RIVERCREST (13): Rivercrest has won three of the past five over Paragould, including last season by 18 points. Rivercrest senior Riley jones nailed a 41-yard field goal as time expired I in last week's 19-16 triumph at Lewisburg, Miss. Kam Turner, a transfer from Osceola, threw a TD pass and a two-point conversion. Paragould hopes improved team speed bolsters a program that was gone 1-9 in three of the past four years. 
Forrest City is open.

5A SOUTH
EL DORADO (8) at Camden Fairview: Hootens.com Class 5A Game of the Week.
HS Lakeside at LAKE HAMILTON (6) (THURS.): This is the second meeting since the rivalry renewed last year for the first time since 1999. HS Lakeside's defense struggled to slow Sheridan in a scrimmage game, and Lake Hamilton plans a power running attack.
De Queen at ASHDOWN (7): Ashdown has won 14 of the past 16 in the series. The Panthers struggled to slow Hamburg last week (trailed 23-7 in fourth quarter). De Queen failed to score last week against Mena, trailing 36-0 in the second quarter. 
Crossett at MAGNOLIA (1): Magnolia has won four of the past seven in the series. Panther senior QB Braelyn Beasley left last week's loss to Warren with cramps, but should be healthy this week. Senior running back Amir Cooper ran for 112 yards and a TD against Warren. Watch extended highlights of Magnolia's loss last week to Warren HERE. Crossett hung with Louisiana power Bastrop in last week's benefit game, trailing 20-13 at halftime. The improved Eagle defensive line could carry it to the playoffs this fall.
HOT SPRINGS (14) at Fountain Lake: These teams meet for the second time in 12 years (Fountain Lake won 18-0 last season). But they trended separate directions in the summer. Hot Springs impressed in team camps and its scrimmage with team speed. Former Fountain Lake coach Brandon Barbaree resigned two weeks ago, along with another assistant coach. Former assistant coach Kenny Shelton will serve this fall as Fountain Lake's interim coach. 
Hope at NASHVILLE (24): Nashville has won 12 of the past 13 over Hope, including the past three by a combined 144 points. Nashville attempted just six passes, but ran for 467 yards, in last week's seven-point win over Watson Chapel. Junior QB Keyshawn Stewart, taking direct snaps out of the Wildcat formation, ran 25 times for 203 yards and three TDs. Senior linebacker Davont'e Whiterspoon tallied 10 tackles.
TEXARKANA, TEXAS (4) at Texarkana: Texarkana junior Braylon Bishop won the QB spot in fall camp, then took the Razorbacks to an 11-point win last week against Liberty-Eylau (Texas) by running for a TD and passing for 162 yards and two TDs. Texarkana, Texas rolled up 343 yards in last week's 14-point loss at Pflugerville Hendrickson.
LR McClellan is open.

5A WEST
Alma at VAN BUREN (7): Alma has won seven of the past eight in the "Battle of the Bone." Shiloh Christian transfer Jaiden Henry returned a kick 99 yards, caught a 57-yard TD pass and intercepted a pass to end a scoring threat in last week's 35-21 win at Siloam Springs. Van Buren finished with 430 yards offense, including 220 yards passing by QB Garry Philli.
HARRISON (42) at Mountain Home: Harrison has won six straight over Mountain Home and 10 of the past 13. Harrison all-state running Gabe Huskey ran for 97 yards in last week's 35-point win at Pea Ridge, only the third time in his career Huskey failed to gain at least 100 yards (Mountain Home has held him under 100 yards in 2017 and 2018). Mountain Home tallied 153 yards last week against Sheridan.
RUSSELLVILLE (2) at Morrilton: Russelleville has won 10 of the past 13 in the series, including last year by five points. Morrilton led Searcy 35-31 in the fourth quarter last week but lost 44-42. Senior QB Jacolby Criswell ran for three TDs and passed for another.
Paris at CLARKSVILLE (17): These teams were members of the same conference from 1991-2001, with Clarksville winning nine of the past 11. Clarksville's Single Wing attack produced 41 points last week against defending Class 3A champion Booneville, with the Panthers rushing for 337. "They are hard to stop," an opposing coach says, "They don't make the silly mistakes and have bad snaps like they have in the past." Paris snapped a 12-game win streak last week against Bigelow. 
PRAIRIE GROVE (3) at Farmington: The opener for both teams. Farmington's expected QB Tate Sutton will miss the season after labrum surgery in August. Farmington senior receiver Drew Sturgeon caught eight TD passes last fall. Prairie Grove junior QB Knox Laird played well in fall camp.
Vilonia at LR CHRISTIAN (20): Defending state champion Little Rock Christian throttled Batesville last week by 31 points, scoring on its opening seven possessions. LR Christian senior Kendel Givens ran for 158 yards and QB Colin Cooper completed 10 of 11 passes for 176 yards at Batesville. Vilonia all-state running back Draven Smith ran for 1,700 yards a year ago. For more on LR Christian watch Coach Cohu interview HERE.
Huntsville at GENTRY (14): These teams have split the past 10 meetings, with Gentry winning the past two (including by 29 points a year ago). Gentry led Dardanelle in the third quarter last week before giving up the winning TD late in the fourth quarter. Gentry QB Brandon Atwood ran 25 times for 176 yards and passed for 113 yards against the Sand Lizards. Huntsville first-year coach Matt Williams was the defensive coordinator the past four years.
Greenbrier is open.