HOGS rally past Rice 38-17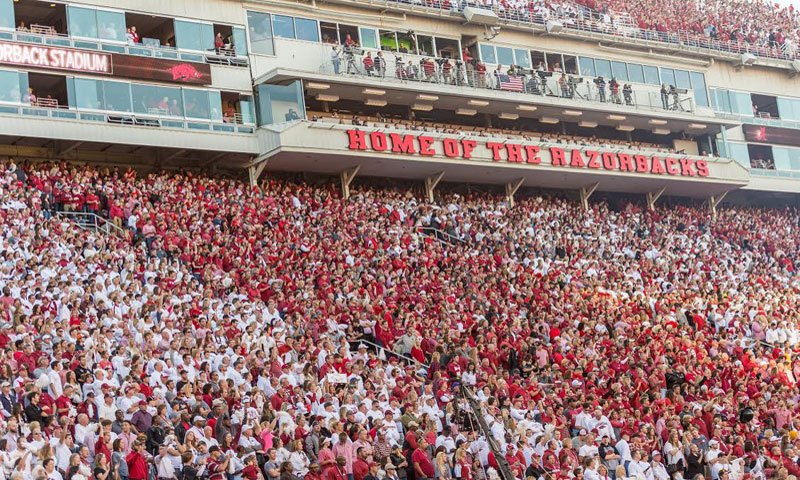 FAYETTEVILLE - Down 17-7 at 10:28 of the third quarter Saturday to revved Rice compounded by a morass of penalties, offensive miscues and shoddy special teams play, Arkansas finished with a flourish in the season-opener.
Greatly aided by three second-half interceptions, two by safety Jalen Catalon and one by cornerback Montaric "Busta" Brown, the Razorbacks scored 31 consecutive points and beat not only the Owls but Las Vegas' 19-point spread, 38-17 before 64,065 at Reynolds Razorback Stadium.
Arkansas second-year coach Sam Pittman asserted it sure didn't look early into the third quarter that he would be celebrating his first non-conference win after last year's 3-7 season was an entirely SEC slate.
Pittman had predicted it wouldn't be easy against Arkansas' old Southwest Conference opponent now in Conference USA, but he didn't think his Hogs would so nearly derail themselves.
"I told the team that we're going to face adversity," Pittman said.  "But I didn't know it was going to be the entire first half. But it was, and give Rice credit, they were really prepared. They did a nice job. I'm so happy we won, but we didn't field a very good football team today, and we've got to get a lot better."
Mainly offense and special teams must get better.
"The defense did a really good job in the first half," Pittman said.  "They (Rice) had field position the whole time, because we couldn't get any first downs. We just didn't play well at all. But we came back in the second half. We still had way too many penalties, we caught the ball a little bit better, KJ (Jefferson, the starting quarterback) started making some plays."
Jefferson rushed for a 34-yard touchdown for the game's first score at 8:23 of the first quarter, but he otherwise struggled in a the first half by completing just four of 11 for 21 yards with an interception.
His receivers, including preseason All-American Treylon Burks rusty after just two practices this game week since injuring his leg, didn't help with "too many drops," Pittman said 
Starting with a 31-yard pass to Helena native/Fayetteville High grad Tyson Morris on Arkansas' first third-quarter TD drive that Jefferson finished with a 5-yard TD run, Jefferson responded to finish 12 of 21 for 128 yards and a touchdown, 9 yards to Morris, and two TDs on 89 net yards rushing. There would have been a third TD and more than 100 yards rushing, if not for a holding penalty that negated a 64-yard TD run.
Jefferson also quarterbacked drives capped by 2- and 3-yard TD runs by 'backs Trelon Smith, the game's leading rusher netting 102 yards on 22 carries, and third-team running back Dominique Johnson and a drive closed by freshman Cameron Little's 34-yard field goal.
Big freshman backup running back Raheim "Rocket" Sanders, debuted well with seven carries for 47 yards,
The one-handed 31-yard catch by Morris was deemed Arkansas' pivotal offensive play.
""Well, I thought it was a pretty good catch," Pittman understated. "I think the guy was on him. He only had one hand to catch the ball with, and he did it. I think it gave us juice."
Catalon concurred from an Arkansas defensive perspective on Arkansas' offensive flow.
"T. Mo has had a really good camp, and I'm just glad he got his number called," Catalon said. "He made a play during the game that honestly got the offense going and it was kind of like the first little spark that got things going outside of KJ's touchdown."
Catalon, 11 tackles and 83 yards returned from his two interceptions, played huge with Arkansas minus fellow defensive captain/All-America middle linebacker Grant Morgan.
Morgan was penalized for a targeting hit at 8:03 of the first quarter and ejected for the rest of the game but will return for next Saturday's 6 p.m. game against Texas.
Fourth-linebacker Andrew Parker filled Morgan's spot the remainder of the first half because senior Hayden Henry, also deemed a first-teamer with Morgan and weakside 'backer Bumper Pool, had to sit Saturday's first half from a second half targeting penalty finishing last year's final game against Alabama.
Henry will start Saturday against Texas because Pool, 14 tackles to lead Arkansas against Rice, must miss the first half against Texas because of a late second-half targeting penalty against Rice.
"You need your good players to play well, and that's what Cat did,"Pittman said. "And I really loved the interception that Montaric Brown had because he cut that corner off. He drove on that ball. That was a heck of an interception, too."
However, Pittman said the co-stop by Pool and nickel back Greg Brooks of Rice running back Jordan Myers turned the game as much as any play.
Not as deep or as big as Arkansas, the Owls appeared to wear out with repeating cramping in the 94-degree heat while the Hogs liberally substituted on a defensive line that pressured Rice quarterbacks Will Green and Luke McCaffrey. Green completed 12 of 25 passes for 153 yards with three interceptions and a 41-yard TD to receiver August Pitre on the Hogs' lone major coverage bust,  and  and Luke McCaffrey, 5 of 10 for 75 yards.
Starting with lineman Austin Nix's fumble recovery having to rescue kick returner LaDarrius Bishop on the game's opening kickoff, the Razorbacks special teams first-half floundered with penalties and suffering a blocked punt.
"At half, I said Rice was kicking our butts in special teams," Pittman said. "They were more urgent than us. They blocked a punt on us. We just missed a block on the outside, that's all it was. But people go through games and don't get punts blocked, and we need to be those people. There was a lot of bad stuff out there that looks like as a head coach this wasn't a very well-coached football team. That's on me."
But ultimately they did win convincingly.
For a program under that was embarrassed 45-19 in 2019 by Western Kentucky of Conference USA, that marks major progress. 
Fifth-year senior offensive tackle Dalton Wagner cited the difference between Saturday's comeback and those non-conference embarrassments.
"Coming out in the second half, I think you look at it two years ago, guys would have rolled over," Wagner said. "But Coach Pittman, playing for him, playing for the seniors who came back, playing for everybody on this team, the fans, the state of Arkansas, guys have bought in."