HOGS: Jefferson leads the way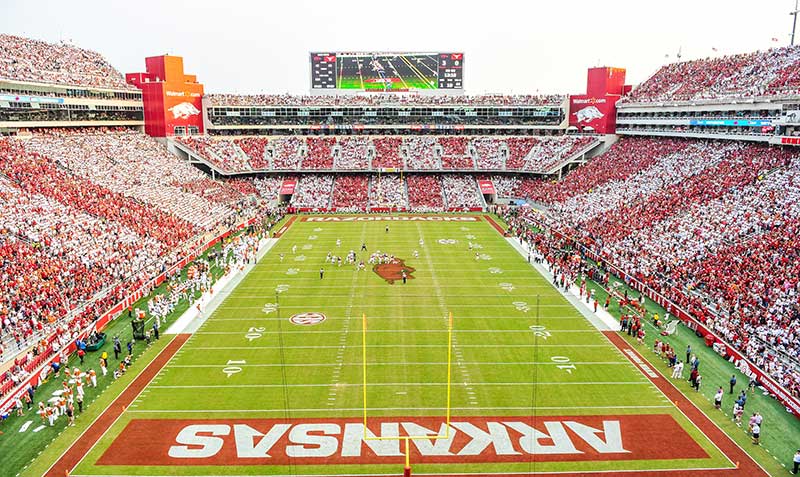 FAYETTEVILLE — Arkansas quarterback KJ Jefferson kept the Razorbacks moving when things got sticky Saturday afternoon at Reynolds Razorback Stadium.
Jefferson, picking up where he left off last season, accounted for all four of Arkansas' touchdowns – rushing for one and passing for three – to lead the No. 19 Razorbacks to a hard-earned 31-24 victory over No. 23 Cincinnati in front of 74,751 fans.
Jefferson, a 6-3, 245-pound redshirt junior, gave the Razorbacks the lead with a 15-yard run midway in the first quarter.
It was an advantage Arkansas (1-0) never relinquished on a steamy 81-degree day.
Arkansas led 14-0 at halftime, but Cincinnati scored on its first possession of the second half, and later cut Arkansas' lead to 21-17 with 4:44 to play in the third quarter.
Jefferson and the Razorbacks responded each time.
"Seems to me like when the game gets a little tighter, a little closer, when he's really got to take over the game, he's got the knack to do it," Arkansas Coach Sam Pittman said. "Seemed to me like most every time we need him to win the game, he makes some kind of play."
Jefferson (18 of 26 passing, 223 yards, 3 TDs; 18-62 rushing, 1 TD) threw two of his touchdowns to senior tight end Trey Knox (6-72 receiving, 2 TDs).
Jefferson connected with Knox just before halftime, lobbing a jump pass to Knox, who made the catch in the back of the end zone.
Knox's second score came on a 32-yard play with 9:26 to go in the fourth quarter, and it gave the Razorbacks some breathing room at 31-17.
"Just being able to have a guy like Trey, a guy you know is going to be in the right spot and run the right routes and just being able to have a connection," Jefferson said. "When the defense throws a different coverage, I know what he's thinking and he knows what I'm thinking."
Arkansas passed for 223 yards and rushed for 224, a balanced attack that kept the Bearcats defense off balance. 
Sophomore Raheim "Rocket" Sanders (20-117 rushing; 3-12 receiving) led the backs, but sophomore AJ Green (3-18 rushing) and true freshman Rashod Dubinson (2-16 rushing, 1-29 receiving) made notable contributions.
It was Dubinson's 13-yard run for a first down with 1:45 to play that allowed Arkansas to run out the clock.
The Hogs defense held the Bearcats scoreless in the first half, but Cincinnati picked up 179 yards and drove into Arkansas territory four times.
A key defensive play came on Cincinnati's first drive. The Bearcats had first down at the Hogs' 26 when LSU transfer cornerback Dwight McGlothern stepped in front of a Ben Bryant pass and returned it 51 yards to the Bearcats' 29.
Jefferson scored three plays later.
Cincinnati kicker Ryan Coe missed field goals from 25 and 48 yards in the first half.
 The second half was different, as the Bearcats scored 17 third-quarter points, gaining 188 yards on 24 plays.
Bryant (26-43 passing, 325 yards, 2 TDs) was 11 of 17 in the third quarter, racking up 178 yards.
A big defensive play in the second half came early in the fourth quarter with Bearcats trailing 24-17 and driving at the Arkansas 37. Georgia Tech transfer Jordan Domineck (6-3, 251) sacked Bryant and recovered the ball at the Arkansas 49.
"That was our first game since last season, so you don't realize it's a four-quarter game," said senior linebacker Bumper Pool, the Razorbacks' leading tackler with 13. "With heat like it is, it's going to be a battle. You got to be able to play as good as you can in the first quarter as you are in the fourth quarter. We just got to continue to find that energy and spark in the second and third quarters."
One uncertainty coming into Saturday concerned who would be the Bearcats' quarterback.
Bryant ended up passing for 325 yards, with 234 coming in the second half.
He was sacked three times — once by Domineck and once by Alabama transfer linebacker Drew Sanders (5 tackles). Half sacks were credited to Texarkana, Texas sophomore Landon Jackson and Zach Williams, a senior from Little Rock's Joe T. Robinson, who also was credited with a tackle for loss.
The Hogs enter SEC play next Saturday in Fayetteville against South Carolina, which defeated Georgia State, 35-14.