HOGS: From season-opener to SEC opener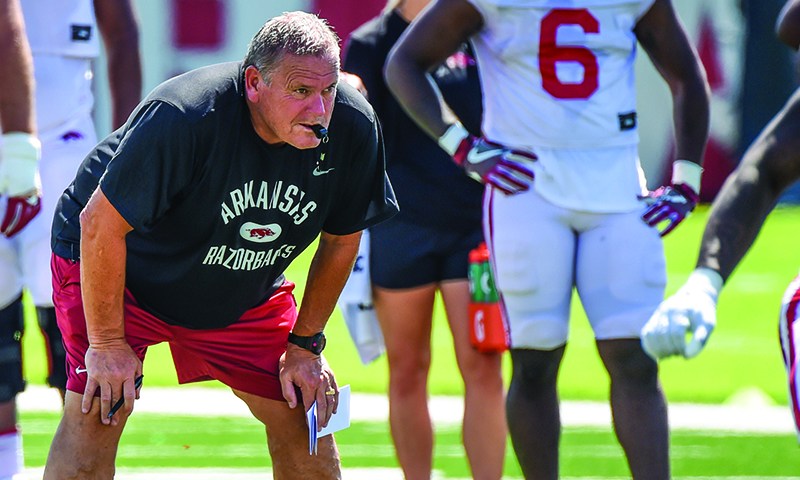 FAYETTEVILLE — Last Saturday's 31-24 victory over No. 23 Cincinnati is in the books for the Arkansas Razorbacks, but there is no time to revel in it.

Arkansas must turn the page to South Carolina, an SEC opponent the Hogs have not played since 2017.
It will be the 24th meeting between Arkansas and South Carolina since they entered the SEC together in 1992.
Arkansas holds a 13-10 edge in the series, but the Gamecocks have won the three most recent meetings — in 2012, 2013 and 2017.
This will be the first time the teams have played under their current coaches – Sam Pittman (Craven Whitlow photo) and Shane Beamer.
The Gamecocks started their season with a 35-14 win over Georgia State, using two blocked punts and a fake field goal to pull away.
Pittman said he knows that Beamer will bring a mentally and physically prepared team to Fayetteville for Saturday's 11 a.m. kickoff at Reynolds Razorback Stadium.
"South Carolina has a really good team, a hard-playing team," Pittman said. "Coach [Shane Beamer] has done a really good job there, and they're playing with a lot of passion."
South Carolina finished 7-6 in Beamer's first season, including a win over North Carolina in the Duke's Mayo Bowl. 
DEFENSE LINE RISES

Arkansas' defensive line more than held its own against Cincinnati, which had five returning starters on its offensive line.
Arkansas limited Cincinnati to 113 rushing yards, recorded 3 sacks, including a forced fumble by Georgia Tech transfer Jordan Domineck (6-3, 251) in the fourth quarter helped seal the deal for a Razorback victory.
"I thought Landon Jackson, Terry Hampton, and Jordan Domineck all played well," said Pittman. "We've got something there [at defensive line]. We got a little more depth there."

LSU transfer Landon Jackson led all defensive linemen with 5 tackles, including assisting on a sack. Arkansas State transfer Terry Hampton had 3 tackles and Domineck had 2 tackles to go along with his forced fumble and sack.
INJURIES HIT DEFENSE
Arkansas did not emerge from Saturday's game unscathed. 
Safety Jalen Catalon and nickle back Myles Slusher both left the game and did not return after getting shaken up.
Pittman did not talk about what injuries the two defensive players sustained in the game or even a timetable for their possible return
"We're not ready really to figure out exactly Catalon's situation," Pittman said. "Slusher is in the same boat there." 
A third defender, lineman Isaiah Nicholls, also left the game due to an apparent injury, but Pittman believes he will be "fine."
Losing players like Catalon, one of the Hogs' captains and an All-SEC player in 2020, isn't ideal, Pittman said, but the Razorbacks have no choice but to adapt.
"We don't know what's going to go on with Cat. We don't know what's going to go on with Slush," Pittman said. "But I told the staff, we've got to be concerned about the ones that are going to be there. We've got people that we can move if we need to."
Pittman said that junior Khari Johnson (6-0,192) can be expected to move positions if Catalon or Slusher are unavailable to play next week. 
It could also mean more playing time for senior Trent Gordon (5-11, 188) and Georgia transfer Latavious Brini (6-2, 215) if Catalon and Slusher are unable to play.
EARLY BIRD GETS WORM

The Hogs will play at 11 Saturday morning against the Gamecocks, an early game start for any college football team. The Razorbacks played in five 11 a.m. games last season, going 2-3 with all three losses coming from SEC opponents.
Pittman is urging the fans to show up early and be loud.
 "We need them here," Pittman said. "I know a year ago we went to Georgia and it was one of the loudest places I had ever been in. It bothered us, so certainly we hope we get that same crowd Saturday like we did the first game of the year."