HOGS: Linebackers stay on target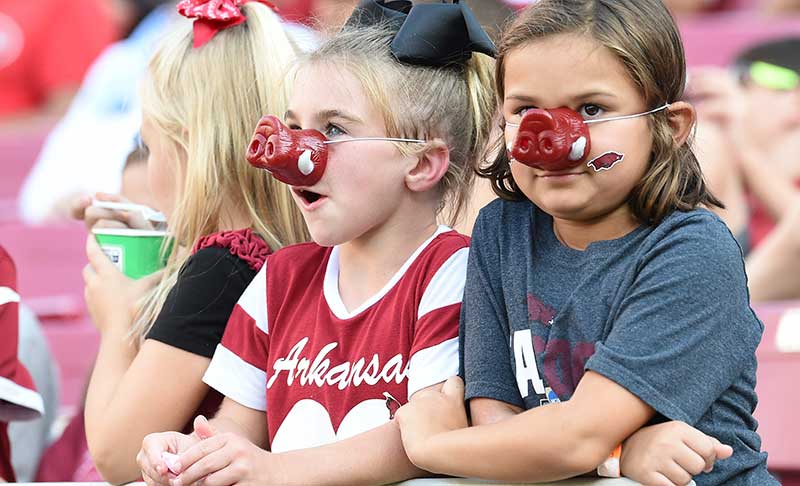 FAYETTEVILLE - For Arkansas bonus-year senior linebacker Hayden Henry and younger brother, sophomore tight end Hudson Henry, it's all in the family when it comes to loathing the Texas Longhorns. 
Arkansas plays host to No. 15 Texas at 6 Saturday night on ESPN. A standing-room sellout crowd at Reynolds Razorback Stadium awaits the hated 'Horns.
The Henry's grandfather, Skip Coffman, played basketball in the early 1960s when Arkansas and Texas were arch rivals in the defunct Southwest Conference.
In their sport, their dad Mark Henry annually played Razorbacks center or guard vs.Texas from 1988 and 1991, including Arkansas winning its final SWC game vs. Texas.
Oldest brother and current NFL tight end Hunter Henry   helped the 2014 Hogs rout Texas 31-7 in the Texas Bowl in Houston.
"I remember growing up that my dad did not like Texas very much," Hayden Henry said Tuesday. "That was their big rivalry. They did not like Texas. For me, it's a big game because it means a lot. We have to be tough and physical, and we can do it."
DO NOT TARGET
Indeed. The Hogs must be tough, but they must not target.
Before the Longhorns opened 1-0 Saturday afternoon by defeating then-23rd ranked Louisiana Ragin' Cajuns 38-18, Hayden had to sit the first half of Arkansas' 38-17 season-opening victory over Rice. He was penalized for an automatic game-ejection carrying over from the second half of the 2020 season finale.
Henry was activated for last Saturday's second half, but starting senior weakside linebacker Bumper Pool late second half was targeted for a targeting penalty. It benches Poole  for Saturday's first half vs. Texas.
Henry will start at weakside 'backer vs. Texas, while Pool paces until the second half. 
Henry finished the Rice game at middle linebacker because senior All-America linebacker Grant Morgan was targeted for targeting at 8:03 of the first quarter. Morgan can start against Texas, having fulfilled the second-half penalty vs. Rice.
DO NOT HESITATE
Does all the targeting make Hayden hesitant?
"Doesn't slow me down at all," Hayden said. "I know that Bump went down, and I've got to step up and play my game. I promise you that."
What can he tell Pool how to handle being first-half idle?
"I mean there's nothing I can tell him that Coach (Michael) Scherer (the linebackers coach) can't tell him," Hayden said. "He's got to prepare this week like he's playing in the whole game, just like I did last week. It sucks he's got to sit out, but I know he'll be locked in and ready to play the second half."
MORGAN ON GO
Meanwhile, Morgan seethes over three quarters of idleness.
"He is ready to play, and he's been practicing like it," Hayden said. "So, I am pumped to go to war with him on Saturday."
RESPECTING ROBINSON
While they strive to keep their helmets and shoulder pads from colliding with Longhorns headgear, it seems impossible to cautiously hit a moving target like Texas Heisman candidate running back Bijan Robinson.
"He hits the hole downhill," Henry said. "He's not afraid to run you over, but he's also got a great cut. He can juke you out.  He also lines up at wide receiver and makes plays for them there. He's a very dynamic player."
WD-40 NO. 16
UA bonus senior receiver Tyson Morris was asked Tuesday about star receiver Treylon Burks' practices this week.
With just two practices last week since an Aug. 14 injury,  Burks (16) was rusty against Rice and dropped passes he doesn't drop.
"Treylon looks great," Morris said. "I feel like he's back to himself again."
Morris made his mark Saturday with a one-handed 31-yard catch to ignite the Hogs' rally from down 17-7 to rolling, 38-17.
"It was a catch that had to be made," Morris said Tuesday. "We needed a spark on offense, and I'm just glad I was the one who was able to get it for us."
WRONG NO. 5
Two starring Texas Longhorns wearing No. 5 led to UA head coach Sam Pittman's case of mistaken identity Monday.
At his Monday press conference, Pittman spoke of running back's Bijan Robinson's versatility as a punt returner and kick returner.
Robinson was just named the Walter Camp Award Offensive Player of the Week for his 176 all-purpose yards in the 38-18 victory over Louisiana in Austin, Texas.
Robinson's yards came without return. He netted 103 yards rushing and a touchdown and 73 yards receiving with a TD. 
It's defensive back D'Shawn Jamison, wearing No. 5 as does Robinson, who is Texas' outstanding kickoff returner/punt returner. Jamison last season returned a kickoff for a 100-yard TD and last Saturday popped a long return negated by penalty.
Pittman isn't the first confused by the two No. 5's. It was reported in Austin that publications variously have credited the wrong No. 5 for the other's achievements.