QB Starkel sparks but Hogs lose 31-17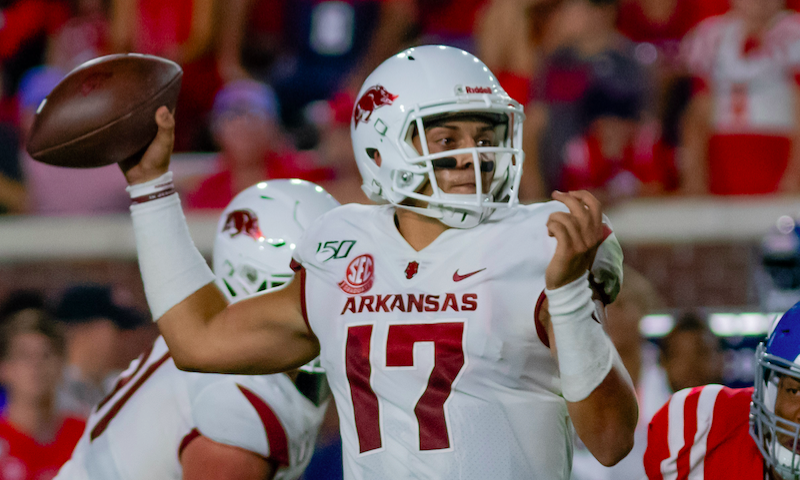 OXFORD, Miss. -  Changing quarterbacks from Ben Hicks to Nick Starkel at half and trying some razzle-dazzle and Wildcat formations couldn't change Arkansas' losing ways in the SEC.
The Ole Miss Rebels beat Arkansas 31-17 in front of 47,915  Saturday night at Vaught-Hemingway Stadium. It was Arkansas' 12th consecutive SEC loss.
Fan bases called the game a must win for their rebuilding programs. Ole Miss finished 1-7 in SEC play last year, beating only Arkansas 37-33 in Little Rock.
"That was fun out there," Ole Miss head coach Matt Luke said. "That's as much energy, the best we've had here in a long, long  time."
 Ole Miss (1-1) finished with 483 yards and 23 first downs but committed two turnovers. Arkansas totaled 361 yards and 18 first downs, including Starkel (17 of 24 passing for 201 yards in the second half).
"This isn't the time or place right now to address (who the starting QB will be next week)," Morris said. "We'll get back and evaluate like we always do. I thought we needed a spark to start the second half. I thought it was unfair to Ben at times. We had a couple of busts on some routes. We had a couple of drops. We missed Devwah (Whaley) right down the middle. I thought it was time. We needed a spark and I wanted to see who could kind of give us a kick-start in our offense in the second half."
Last year as a sophomore transfer vs. Ole Miss, Arkansas running back Rakeem Boyd netted 109 yards on just seven first-half carries then missed the second half injured 
Boyd played both halves Saturday. He posted some good runs but the yards came hard, 67 net on 17 carries. Ole Miss stopped him for 1 yard on a key fourth-and-2 attempt.
"Our big emphasis this week was stopping the run," Luke said. "We had guys in the right spots at the right time."
Arkansas, winning its non-conference opener 20-10 last week, plays Colorado State at 3 p.m. Saturday in Fayetteville.
Starkel, formerly of Texas A&M, had a TD taken away on Arkansas' second possession of the third quarter. An ineligible receiver downfield penalty erased a 38-yard TD toss to freshman receiver Trey Knox.
Starkel did engineer a seven-play, 81-yard fourth-quarter drive, completing a 6-yard TD toss to receiver Koilan Jackson with 1:21 remaining. Starkel completed 13-yard passes to Koilan Jackson and Mike Woods and a 22-yarder to Treylon Burks and 26-yarder to Knox on the series.
Knox's six catches for 88 yards led Arkansas receivers, while Woods caught for 84.
The trick plays Morris tried to spark the offense mostly failed to ignite. A direct snap to Boyd and a Boyd handoff to receiver De'Vion Warren and handoff to Hicks ended in sack.
"You always take a few specials into every game," Morris said. "When they hit, they look great, when they don't, they don't."
Arkansas' lone third-quarter TD came via its defense. Junior safety Kamren Curl stripped the ball and returned the fumble for an improbable 69-yard TD. Earlier Curl had slipped and missed a tackle allowing Ole Miss tight end Octavious Cooley to run 18 yards for a first down on a Rebels' scoring drive.
Ole Miss redshirt freshman Matt Corral completed 16 of 24 passes for 246 yards and two TDs. Elijah Moore caught one pass for 2 yards and one for 46. He totaled seven catches for 130 yards.
Ole Miss running back Scottie Phillips carried 26 times for 143 yards and two TDs on a wearying Arkansas defense.
Arkansas' improved defense and struggling-to-score offense looked much like last week.
Corral's 2-yard TD pass capped a 13-play, 85-yard drive at 8:41 of the first quarter, and Luke Logan's 33-yard field goal with 3:06 left in the second quarter accounted for the Rebels' first-half scoring.
Arkansas' Conner Limpert had a 36-yard field goal hammer the upright but drop through for its three first-half points. Limpert, 19 of 24 on field goals last year with one streak of 10 in a row, missed wide on a 43-yard attempt with 50 seconds left in the half.
Arkansas' biggest play of the first half, a Ben Hicks pass nearly intercepted by Ole Miss safety Jaylon Jones, turned into a 46-yard reception by freshman receiver Trey Knox before Limpert's miss. 
Arkansas totaled three first downs and 38 yards rushing in the first half. Hicks was seven of 16 passing for 99 yards.
Corral threw passes of 21 and 26 yards to Moore and Ontario Drummond on Ole Miss first-half TD drive with Corral tossing the 2-yard TD to Moore.
A 30-yard Hicks to Mike Woods pass marked the big gain of Arkansas' field goal drive.
Arkansas started true freshman Ricky Stromberg at right guard and moved junior Myron Cunningham to left guard because of senior left guard Austin Capps' ankle injuries last week.
Senior starter Gabe Richardson was Arkansas lone upperclassman defensive end with true freshman Mataio Soli starting and rookies Zach Williams and Collin Clay playing considerably with seniors Dorian Gerald (out for the season) and Jamario Bell out with injury.