HOGS: Gamecocks come callling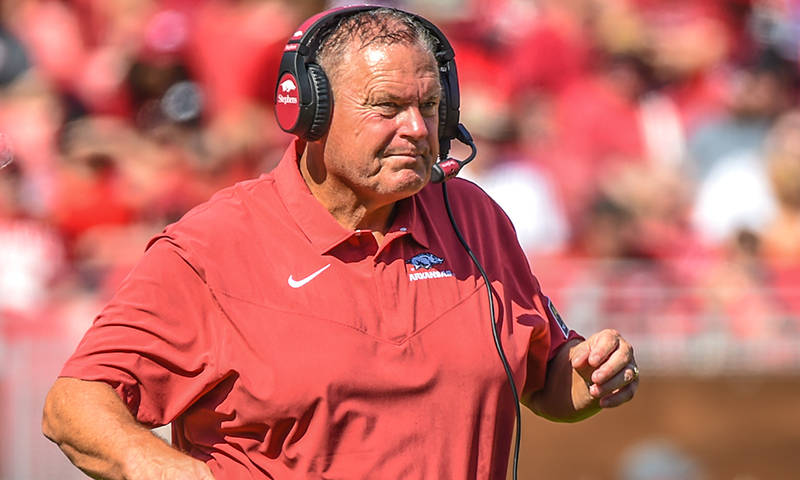 FAYETTEVILLE — Two teams on parallel upward paths – Arkansas and South Carolina – open SEC play Saturday morning at Reynolds Razorback Stadium.

Sam Pittman's Razorbacks (1-0) appear to be a step ahead of Shane Beamer's Gamecocks (1-0), boasting a No. 16 ranking in this week's Associated Press poll after going 9-4 last season in Pittman's second season.
Beamer's first South Carolina team finished 7-6, including a win over North Carolina in the Dukes Mayo Bowl. The Gamecocks are not ranked, receiving two votes in this week's poll.
The teams met 22 consecutive seasons after joining the SEC together in 1992, but have not played since 2017. Arkansas holds a 13-10 lead in the series.
The teams may not be familiar with each other recently, but the coaches certainly are, having worked together on Kirby Smart's Georgia staff from 2016-2018.
Beamer coached tight ends and special teams, while Pittman worked with the offensive line.
They gained respect as well as familiarity during that time.
"South Carolina played an extremely good game, especially on special teams," Pittmans said of South Carolina, which defeated Georgia State 35-14 in their opener. "They have a veteran team that is well coached, and they are hot right now and have been since the last half of last year."
Arkansas defeated No. 23 Cincinnati 31-24 last week.
"They play really hard and really physical," Beamer said of Pittman's Razorbacks. "It will be a challenge, but our guys are ready to get out there and are looking forward to playing them."
Arkansas is an 8.5-point favorite for the 11 a.m. kickoff.
UNICORN IN COLUMBIA

South Carolina quarterback Spencer Rattler, a transfer portal pickup from Oklahoma, might be the Gamecocks' most well-known player, but junior tight end Jaheim Bell (6-3, 232) is someone who will be on the radar of Barry Odom's Arkansas defense.
Listed at tight end on the Gamecock depth chart, Bell lined up all over the field against Georgia State. 
Bell (30-497 receiving, 5 TDs; 7-40 rushing in 2021) rushed 7 times for 39 yards and caught 4 passes for 18 yards last week.
Beamer said this week Bell's role will continue growing.
"Jaheim is a guy who can do a lot of things," Beamer said. "He's a guy that is hard to bring down in the open field, and he has shown that. One person rarely does, so the more we can get the ball in his hands the better."
Bell's talent is not lost on Pittman.
"He plays everything," Pittman said of Bell's impact. "They have a lot of trust in him and he has earned that because of his athletic ability. He makes it a little bit of a nightmare because you don't know where he's going to line up. We're going to have to know where he is and be physical whenever he gets the ball because he's a hard guy to bring down."
UPDATE ON JOHNSON

Junior running back Dominque Johnson was seen at practice without a green jersey this Tuesday, the first time he has been full-go since returning from a knee injury suffered in the Outback Bowl.
Pittman would not commit on the status Johnson (575 yards rushing, 7 TDs last season) for Saturday's game. 
"I still think it's up in the air on whether we play him or not this week," Pittman said. "He has certainly improved over the last week and a half. He looked to me like he's ready to go, but we'll have to see how he feels about it before we make a decision."
Johnson, 6-1, 247 from Crowley, Texas, is seen more as a power back compared to the speedier play style of running backs Raheim Sanders, AJ Green, and Rashod Dubinion.
Pittman said Johnson's return will shake things up at the running back position.
"Obviously there's only so many plays you have out there," Pittman said. "It's going to affect all three guys [Dubinion, Green, Sanders] because we believe in Dominque. We're going to give some carries to Dominque when he gets back. It's just how many I don't know."
Sanders (20-117 rushing; 3-12 receiving) was the No. 1 man in the Hogs' backfield against Cincinnati, with Green (3-18 rushing) and Dubinion (2-16 rushing, 1-29 receiving) chipping in.
PRAISE FOR POOH

Senior Bumper Pool (13 tackles vs. Cincinnati) and Alabama transfer Drew Sanders (5 tackles, 1 sack) formed a solid tandem at inside linebacker in the opener, and their play was enhanced by the contributions of backup Chris "Pooh" Paul (6-1, 230).
Paul was credited with 5 tackles while playing 17 snaps.
"I think he's going to be a really good linebacker," Pittman said. "As it goes on through the season, we're going to need him more and we'll be able to do that."