Class 3A Week 2 Rankings, Notes & Picks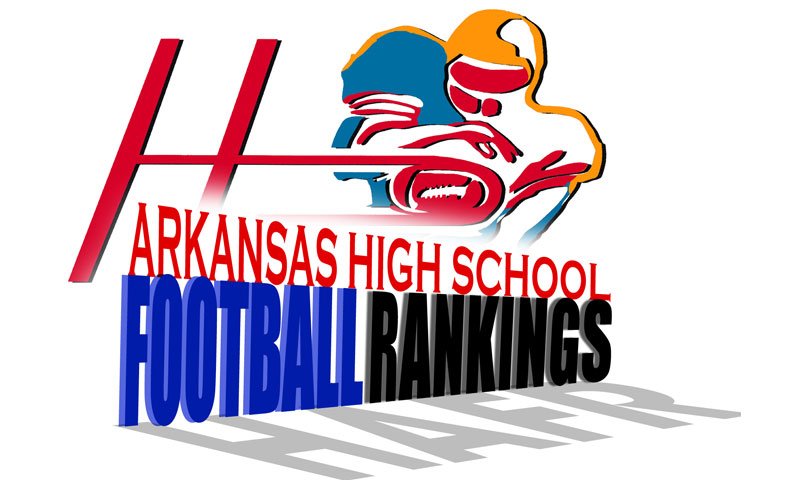 Hootens.com Rankings
Class 3A, Week 2, 2019
Copyright Hooten Publishing, Inc.

1. C. Harmony Grove (2-0)
2. Rison (1-1)
3. Prescott (0-2)
4. Osceola (1-1)
5. McGehee (1-0)
6. Smackover (1-1)
7. Mansfield (2-0)
8. Newport (1-0)
9. Harding Academy (2-0)
10. Hoxie (2-0)
11. Lamar (1-0)
12. Clinton (1-0)
13. Booneville (0-2)
14. Glen Rose (0-1)
15. Atkins (2-0)
16. Walnut Ridge (1-0)
17. Jessieville (1-0)
18. Melbourne (2-0)
19. Harrisburg (1-0)
20. Cedarville (2-0)
21. Danville (1-1)
22. Centerpoint (2-0)
23. Barton (1-0)
24. Mountain View (1-1)
25. Charleston (0-2)
26. Piggott (0-1)
27. Greenland (1-0)
28. Dollarway (0-1)
29. Bismarck (2-0)
30. Fouke (1-0)
31. Baptist Prep (0-1)
32. Lake Village (1-0)
33. Corning (1-0)
34. Perryville (1-1)
35. Yellville-Summit (0-1)
36. Mayflower (1-1)
37. Genoa Central (0-1)
38. Paris (1-1)
39. Drew Central (0-1)
40. Two Rivers (1-1)
41. Palestine-Wheatley (0-1)
42. West Fork (0-1)
43. Rose Bud (1-0)
44. Horatio (0-1)
45. Manila (0-1)
46. Cedar Ridge (0-1)
47. Marshall (0-2)

HOOTENS.COM GAME OF THE WEEK
Class 2A No. 2 Fordyce at No. 1 Camden Harmony Grove
These state title contenders have split their past four meetings with Harmony Grove rallying last season for a 30-28 victory which "ultimately sparked us," second-year Harmony Grove coach Ernie Horstkamp says. "It got us rolling right before conference play and everything started clicking for us." The Hornets would advance to the state quarterfinals, losing at eventual state champion Booneville.
Harmony Grove senior playmaker Xaylon Falls returned a pair of punts for TDs and ran 32 yards for a score in last week's 54-0 win at Class 2A Bearden. Jermaine Edwards and Zach Smith added scores for the top-ranked Hornets. Watch highlights of Harmony Grove's win over Junction City HERE.
Fordyce last week beat its long-time rival Rison 14-8. Junior Quartey Shelton dashed 40 yards for a score and junior QB Jahiem Brown scored on a 2-yard sneak to account for the Redbugs' offense. The Redbugs logged four sacks against Rison.

LAST WEEK
Hootens.com correctly predicted 32 of 42 (76 percent) games involving Class 3A schools a week ago. For the season, Hootens.com has correctly predicted 46 of 63 (73 percent) of games involving Class 3A schools.

WEEK 2 PREDICTIONS (favored team in CAPS followed by point spread)
1-3A
Booneville at POTTSVILLE (3): Booneville managed just 44 first-half yards in last week's 28-6 loss to Class 4A Ozark. Booneville logged three sacks against Ozark and sophomore Randon Ray scored a TD.
CEDARVILLE (42) at Bigelow: Cedarville ran for 358 yards on 29 carries (12.3 yards per carry) in last week's 46-0 win against Class 2A Mountainburg. Class 2A Bigelow lost a 35-34 decision last week at Perry County rival Perryville. Bigelow won this game 25-20 in 2018.
West Fork at ELKINS (6): West Fork has beaten Class 4A Elkins six of the past nine meetings. Elkins won this matchup 54-0 last fall. West Fork absorbed a 41-0 loss last week at Class 4A Berryville and the Tigers are 2-30 in their last 32 outings. 
Mountainburg at GREENLAND (17): Greenland downed Class 2A Mountainburg 53-39 last season. Mountainburg managed just 42 yards in last week's 46-0 loss to Cedarville. Greenland junior QB Gabe Wilson accounted for five TDs in last week's 31-20 victory at Class 4A Elkins. 
Subiaco Academy at LAMAR (23): Lamar did not allow a point to Danville last week until the third quarter of a 35-13 win. Senior Josh Salinas scored three times for Lamar, while Jacob Parmenter and Broadi Richardson also scored. 
Lavaca at MANSFIELD (38): Mansfield leveled Class 2A Lavaca 47-0 last fall. Mansfield last week rallied from a 22-12 halftime deficit for a dramatic 38-34 victory last week against Class 4A Waldron. Mansfield senior QB Ethan Stovall completed 19 of 27 passes for 265 yards and three TDs to three receivers Senior receiver Layton Howard snagged nine passes for 133 yards and a score.
WALDRON (8) at Paris: Class 4A Waldron downed Paris 54-28 last season. Waldron senior QB Braden Williams passed for 319 yards and three scores in last week's 38-34 loss at Mansfield, which limited Waldron to just 24 rushing yards. Paris did not score in last week's 63-point loss at Class 5A Clarksville, the first time the Eagles were shut out since Week 7 last year.
Charleston is open.

2-3A
MELBOURNE (22) at Cave City: Melbourne is 6-1 against Class 4A Cave City all time, including a 40-14 conquest in 2018. These schools are 25 miles apart. Melbourne rolled Class 2A Midland last week 56-6, scoring on offense, defense and special teams. Senior QB Gabe Lawrence completed six of seven passes for 143 yards and two scores against Midland. Lawrence's top target was junior Riley Gray, who caught a pair of passes for 74 yards and a TD. 
HARRISBURG (42) at Cedar Ridge: Harrisburg ripped county-line rival Cross County 44-6 a week ago, highlighted by promising sophomore QB Drew Wright's 80-yard TD pass to Daniel Woodson. Jacob Wallace and James Pender added scores for the Hornets. Cedar Ridge's 57-0 loss last week at Jessieville was its first shutout since Week 2 2018 (35-0 at Harrisburg). 
CLINTON (24) at Conway Christian: Clinton won its fourth consecutive Battle of the Little Red River last week, stuffing the game-winning two-point conversion against Class 4A Heber Springs. Clinton senior fullback John Riley Hinchey rushed for two TDs, while Logan Moudy ran for another. Senior QB Weston Amos fired the game-winning TD pass with five minutes remaining to Austin Drake. 
CUTTER M. STAR (10) at Rose Bud: Class 2A Cutter Morning Star rolled Rose Bud 46-12 last season. Rose Bud won its first game since Week 5 2017 last week with a 40-22 victory over Class 2A Marvell. The Ramblers racked up 12 tackles for loss and forced three turnovers. 
Yellville-Summit at SALEM (14): Class 2A Salem has won four straight in this series, including 52-6 last fall. Yellville opened its 50th season of football last week with a 39-12 loss to Class 4A Green Forest. Salem rolled Class 3A Mountain View 52-14 a week ago.
Marshall and Mountain View are open.

3-3A
Brookland at PIGGOTT (7): Piggott and Class 4A Westside were scoreless into the fourth quarter last week before Westside fullback Tyler Ray (96 rushing yards against Piggott) scored the game's only two TDs in a 13-0 decision. Opponents have outscored Class 4A Brookland 77-46 this year.
HARRISBURG (42) at Cedar Ridge: Harrisburg ripped county-line rival Cross County 44-6 a week ago, highlighted by promising sophomore QB Drew Wright's 80-yard TD pass to Daniel Woodson. Jacob Wallace and James Pender added scores for the Hornets. Cedar Ridge's 57-0 loss last week at Jessieville was its first shutout since Week 2 2018 (35-0 at Harrisburg). 
Rector at CORNING (10): Corning scored the final 22 points in last Friday's 30-8 victory at Class 2A Rector, snapping the state's longest losing streak (42 games). Clay Smith scored two TDs for the Bobcats.
E. Poinsett County at WALNUT RIDGE (10): Walnut Ridge topped Class 2A East Poinsett County 41-18 last season. Walnut Ridge mauled Class 2A Marked Tree 42-6 last week behind junior playmaker Cole Manning's 290 yards and five TDs. Walnut Ridge forced three turnovers. 
Gosnell at OSCEOLA (16): Osceola beat Class 4A Gosnell 35-30 in 2018. The Seminoles executed better offensively in last week's 33-18 victory over Mississippi County rival Class 5A Blytheville. Senior QB M.J. Vance threw a 60-yard TD pass to classmate Greg Hooks on the first play from scrimmage.
Greene County Tech at NEWPORT (14): Promising Newport sophomore QB Eli Alcorn logged five TDs in last week's 53-42 victory over Class 4A Pottsville. Junior playmaker Tharon Davis was Alcorn's favorite target, snagging five passes for 138 yards and two scores. Watch extended highlights of Newport's win last week over Pottsville HERE.
WESTSIDE (1) at Hoxie: Class 4A Westside won this game 44-21 last September, its third straight in the series. Hoxie is 2-0 this season against Class 4A competition after last week's 49-22 victory at defending 3-4A co-champion Trumann. 
Marked Tree at MANILA (3): Manila slipped Class 2A Marked Tree 27-24 last September. Marked Tree 3-2A rival East Poinsett County mauled Manila 43-12 a week ago and Manila surrendered 459 total yards. 

4-3A
Magnet Cove at ATKINS (14): Atkins led Class 4A Dover 24-7 last week at halftime in a 46-21 win. Atkins senior QB Eli Roberson and playmaker Rylee Bowden scored TDs. Atkins beat Class 2A Magnet Cove 20-0 last season. 
CAC (18) at Baptist Prep: Baptist Prep led at Bismarck 12-7 in the second quarter last Friday before losing 32-18. Baptist junior Mitchell Leavitt (6-2, 170) returned a kick for a TD with 6:30 left in the third quarter. Baptist Prep threw four interceptions and allowed Bismarck to convert on a fourth down with a fake punt. CAC had last week off after mauling Mayflower 48-0 Week 0. Junior QB Palmer Gilbrech passed for 309 yards and four TDs with no interceptions against Mayflower.
Glen Rose at BAUXITE (7): Glen Rose managed just 255 yards in last week's 20-7 loss at Class 4A Malvern, including 69 rushing yards on 28 carries (2.5 yards per rush). Class 4A Bauxite is 1-1 after escaping Class 2A Des Arc 32-28 last Friday night. 
Perryville at HECTOR (7): Perryville ran 35 more plays last week than Class 2A Bigelow in a 35-34 victory. Perryville senior QB Reid Standridge racked up 400 tandem yards and five TDs against Bigelow. Junior Blake Kennedy stacked 14 tackles, including four for losses. Class 2A Hector (1-1 in 2019) won this game 39-7 last fall. 
JESSIEVILLE (30) at Mount Ida: Class 2A Mount Ida has won four straight in this series, including 21-6 last season. Jessieville beat Cedar Ridge 57-0 last Friday night as five Lions scored TDs. Jessieville sophomore QB Carson Hair completed six of eight passes for 194 yards and four scores and ran for 133 yards and another TD. Mount Ida fumbled nine times last week and lost three in a 39-14 loss against Magazine. 
J.C. WESTSIDE (1) at Two Rivers: Class 2A J.C. Westside toppled Two Rivers 48-6 in 2018. Two Rivers trailed Class 2A Quitman 6-0 a week ago at halftime of a 35-6 defeat. Two Rivers committed three turnovers and surrendered two sacks at Quitman. 
Danville is open.

5-3A
Fordyce at C. HARMONY GROVE (6): See Hootens.com Game of the Week. 
Bismarck at POYEN (12): Class 2A Poyen blasted Bismarck last season 58-27. Bismarck converted on fourth down with a fake punt in last Friday's 32-18 win over Baptist Prep. Bismarck ran for 271 yards and five TDs against Baptist Prep, keyed by sophomore Brett Williams' 112 yards.
Fouke at MINERAL SPRINGS (2): Fouke scored the final 14 points of last week's 41-34 victory over Class 2A Gurdon. The Panthers trailed 14-0 at halftime. Fouke blitzed a lot from its base 4-4 defensive scheme to spark the rally. Mineral rolled up 426 yards in a 40-32 victory last week at Mountain Pine.
Lafayette County at GENOA CENTRAL (2): Genoa Central's only 2018 win came at Class 2A Lafayette County 17-0. The Dragons surrendered 350 yards in last week's 24-0 loss to Class 2A Foreman. Genoa committed five turnovers and allowed two sacks. Opponents have outscored Lafayette County 70-14 in its 0-2 start. 
Horatio at MURFREESBORO (34): Class 2A Murfreesboro downed Horatio 24-14 last fall. Class 2A Dierks smashed Horatio 44-0 a week ago, the third time in four games that the Lions have not scored. 
Smackover at SHILOH CHRISTIAN (21): Shiloh Christian's Truitt Tollett had 132 receiving yards and ran for a TD and returned a punt 66 yards for a TD against Moore Haven, Fla. At Disney's Wide World of Sports Complex in a 41-6 Week 0 victory. 
Centerpoint and Prescott are open.

6-3A
EARLE (8) at Barton: Class 2A Earle battered Barton 36-16 in 2018. Barton turned away Class 2A McCrory 20-15 a week ago, when the Barton defense surrendered just 213 yards (nine rushing), stacked eight tackles for loss, including three sacks. Barton senior fullback Kavein Davis ran 10 times for 126 yards before leaving in the second quarter with a rib injury. Junior Hykeem Hancock relieved Harley Wright at QB after Wright sustained a concussion. Barton rushed for 418 yards (7.7 YPC) against McCrory. Earle dropped its opener to Class 4A Helena 20-8. 
FORREST CITY (4) at Dollarway: Class 5A Forrest City downed Dollarway 46-8 a year ago. Dollarway managed just 94 yards and committed two turnovers in an 18-14 Week 0 loss to Class 5A power McClellan. Seniors Terrance Brown and Reggie Lee scored TDs against McClellan.
Joe T. Robinson JV at DREW CENTRAL (9): Drew Central managed just 114 yards in last week's 20-6 loss to Class 2A Poyen. Senior Travarus Shead caught three passes for 83 yards, including the lone Drew Central TD. 
Dumas at MCGEHEE (1): Class 4A Dumas has won four straight in this series, including 30-6 a year ago. Just 19 miles separate these Desha County towns. McGehee was sharp in a 61-15 Week 0 victory over Class 2A power Conway Christian. McGehee surrendered just 95 yards offense to Conway Christian and scored TDs on its first two plays from scrimmage. Dumas lost 36-20 last week at Class 5A White Hall despite senior QB Chris Harris posting more than 200 yards and three TDs. Watch highlights of Dumas' loss at White Hall HERE.
Strong at LAKE VILLAGE (17): Lake Village slipped Class 2A Strong 20-6 a season ago. Four Lake Village Beavers ran for 76 yards or more in last week's 52-43 victory over Greenville Christian (Miss.), led by senior Malakai Armour's 105 yards on four carries and senior Anthony Jones' 103 yards on 16 carries. Armour snagged four passes for 105 yards and two TDs.
PALESTINE-WHEATLEY (10) at Marvell: Palestine-Wheatley managed just 217 yards in last week's 12-6 overtime loss against Class 2A Clarendon. Class 2A Marvell's 19-game losing streak is the state's longest.
Rison is open. Watch highlights of Rison's win over Prescott HERE.