Class 6A Week 2 Rankings, Notes & Picks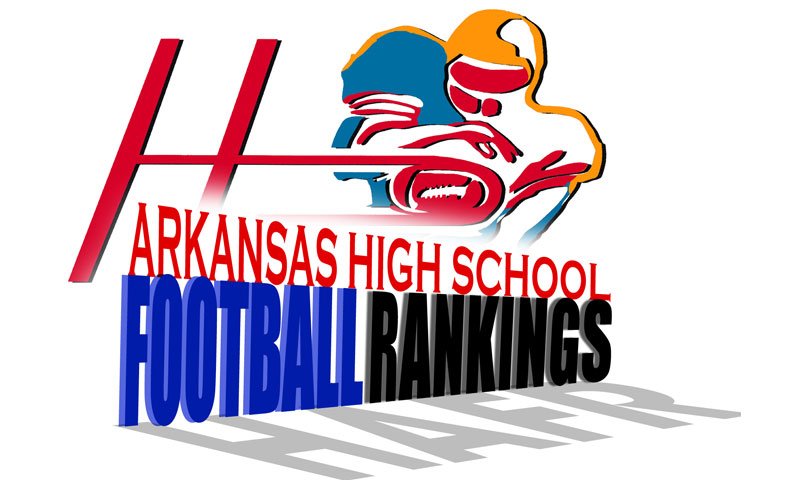 Hootens.com Rankings
Class 6A, Week 2, 2019
Copyright Hooten Publishing, Inc.

1. Greenwood (1-0)
2. Benton (0-2)
3. West Memphis (0-1)
4. El Dorado (1-1)
5. Jonesboro (2-0)
6. Marion (1-1)
7. Russellville (0-1)
8. Searcy (2-0)
9.  Siloam Springs (1-1)
10. Sylvan Hills (0-2)
11. Pine Bluff (0-1)
12. Lake Hamilton (1-0)
13. Sheridan (1-1)
14. Mountain Home (0-2)
15. LR Hall (1-0)
16. Jacksonville (0-1)

HOOTENS.COM GAME OF THE WEEK
No. 5 Jonesboro at Class 7A No. 5 Conway
Class 7A Conway has won eight of nine in this series, including 37-16 last fall. 
Jonesboro scored on five of its first six possessions in last week's 35-7 victory at Class 5A Batesville. The Golden Hurricane rolled up 424 yards of offense and limited the Pioneers to 233 yards. All-state QB Cross Jumper could develop into a Power 5 prospect. The junior has passed for 383 yards and three TDs this season. Junior running back Albert George averages more than 8 yards per carry and senior Dryden Bartels emerged as Jumper's top target (eight receptions for 210 yards and two scores in 2019). All-state performers Jashaud Stewart and Jamaricus Wright anchor the stingy Jonesboro defense (allows 10 points per game). Stewart, who committed to Arkansas in the spring, paces the Golden Hurricane defense with 16 tackles and four sacks this season. Wright is a three-year starter at linebacker. 
Conway managed just 197 yards in last week's 17-10 loss at state title contender Bentonville. Bentonville limited Conway to 77 first-half yards as it fashioned a 10-0 lead at halftime. The Conway defense recorded four sacks and forced two turnovers at Bentonville. Sophomore running back Manny Smith (253 yards rushing this year) anchors the Conway rushing attack while junior Bryce Bohanon (six receptions for 111 yards) is the team's top wideout. Senior Reed Hughes leads Conway with 21 tackles. 

LAST WEEK
Hootens.com last week correctly picked 12 out of 15 games (80 percent) of games involving Class 6A teams. For the season, Hootens.com has correctly picked 20 out of 24 games (83 percent) of games involving Class 6A teams.

WEEK 2 PREDICTIONS (favored teams in CAPS followed by point spread)
6A EAST
Jonesboro at CONWAY (14): See Hootens.com Game of the Week.
Batesville at SEARCY (24): Searcy won 40-15 in 2018 at Class 5A Batesville. Searcy senior QB Bryce Dixon completed 22 of 33 last week for 367 yards in last week's 39-7 victory at Sheridan. Dixon's three TDs went to senior Tanner Leonard, who caught four passes for 162 yards. Johnson Guthrie ran for 123 yards for Searcy. Opponents have outscored Batesville 87-28 in 2019. 
Blytheville at WEST MEMPHIS (20): West Memphis has not played since a season-opening 24-18 loss to Class 7A Little Rock Central. The Blue Devils ran for just 68 yards against Central. Class 5A Blytheville is 0-2 and opponents have outscored the Chickasaws 77-32 this fall. 
LR CATHOLIC (35) at Jacksonville: Class 4A Mills scored the first 35 points of last week's 35-8 win over Jacksonville. The Titans scored their TD with 4:12 left in regulation. Catholic registered TD drives of 90, 75, 54, 40 and 22 yards in last week's impressive 35-15 win over Sylvan Hills. 
MCCLELLAN (2) at Sylvan Hills: Sylvan Hills has won six of nine in this series. Sylvan Hills managed just two first-half first downs and trailed Class 7A LR Catholic 35-0 at halftime in last Friday's 35-15 loss. Catholic outgained Sylvan Hills 281-27 in the first half.
Marion at LR PARKVIEW (1): Marion won this game 20-19 in 2018 when it stuffed a potential game-winning two-point conversion late in the fourth quarter. Class 5A Wynne ran for 290 yards and controlled the clock last week in a 27-21 victory. The Patriots drove to the Wynne 2-yard-line with less than two minutes in the game, but fumbled a completed pass into the end zone where the Yellowjackets recovered. 
Mountain Home at NETTLETON (34): Class 5A Nettleton mauled Mountain Home 43-7 in 2018. Class 5A Harrison knocked off Mountain Home 42-9 a week ago, but Gage Hershberger ran for a 19-yard TD for the Bombers. Mountain Home gets a boost from all-conference center Aidan Richey and senior Vin Le's return from injury this week. 
PINE BLUFF (2) at Watson Chapel: Pine Bluff led Class 7A Cabot 13-12 last week at halftime, but committed a pair of third-quarter turnovers and surrendered 31 points in the second half of a 43-19 loss. Pine Bluff senior QB Tyler Foots threw for 97 yards and two TDs in the loss. Class 5A Watson Chapel improved to 1-1 in last week's 49-10 victory over Monticello. Watch highlights of Chapel's win at Monticello HERE. Watch highlights of Pine Bluff's loss to Cabot HERE.
Searcy is open.

6A WEST
El Dorado at CABOT (7): El Dorado senior running back Alex Hicks ran for 270 yards in last week's 16-13 victory at Class 5A Camden Fairview. Hicks scored the game-winning TD with 10:27 left in regulation. Class 7A Cabot dominated the second half of last week's 43-19 win at Pine Bluff, scoring 31 unanswered points. Cabot beat El Dorado 27-10 last fall. Watch a few late game highlights of Cabot's win at Pine Bluff, including Coach Scott Reed's post-game celebration HERE.
FS Southside at GREENWOOD (31): No. 1-ranked Greenwood forced three turnovers in last week's win against Class 7A Fort Smith Northside. Greenwood senior QB Jace Presley impressed in his first varsity start, completing 21 of 33 passes for 274 yards and four TDs. Bentonville West whipped Fort Smith Southside 37-13 last Friday.
LAKE HAMILTON (9) at Malvern: Lake Hamilton has won three straight in this series. Lake Hamilton pulled away from Class 5A Hot Springs Lakeside in the second half of last week's 49-21 victory. The Wolves rushed for 386 yards (8.6 yards per carry) and seven TDs. Class 4A Malvern beat Class 3A Glen Rose 20-7 a week ago. 
MILLS (3) at LR Hall: LR Hall senior QB Braelon Adams fired two TD passes in last week's 24-13 victory at Fair. Wa-li Johnson and Jeremiah Walker also scored for Hall. 
Russellville at HAR-BER (15): Class 7A Har-Ber beat Russellville 27-7 a year ago. Russellville rushed for just six yards (.4 YPC) in last week's 33-17 loss to Class 5A Morrilton. Har-Ber has not played since absorbing an 84-68 loss August 29 at Class 5A power Pulaski Academy.
Siloam Springs at HARRISON (10): Class 5A Harrison beat Siloam Springs in 2018 42-7. Harrison last week outgained Mountain Home 410-210. Harrison senior running back Gabe Huskey ran for 145 yards and three TDs last week on six carries. 
Sheridan and Benton are open. Watch extended highlights of Benton's loss last week to Arkadelphia HERE.