HOGS vs. No. 15 Longhorns preview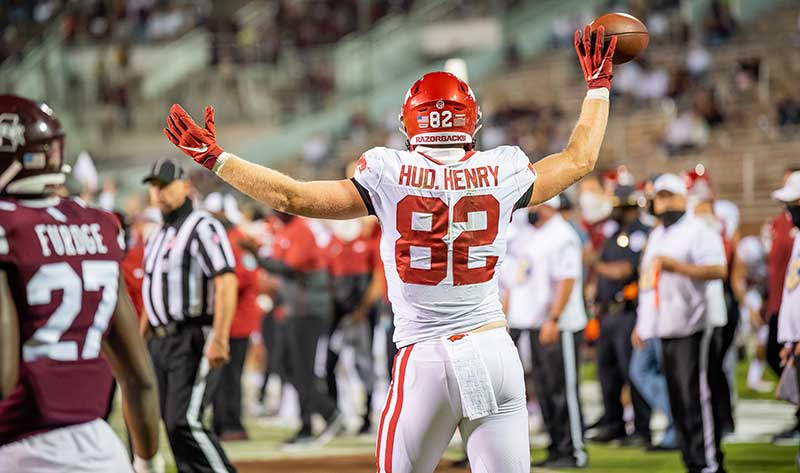 FAYETTEVILLE - If a Louisianan can get caught up in the Arkansas vs. Texas rivalry, then Arkansas coach Sam Pittman figures his history lesson mission accomplished.
Pittman has cram-coursed Arkansas vs. Texas history all week as his Razorbacks (1-0) battle No. 15 Texas (1-0) on ESPN at 6 p.m. Saturday at Reynolds Razorback Stadium.
The UA vs. UT Southwest Conference storied past started during the 1960s Frank Broyles Arkansas and Darrell Royal Texas heydays, but continued with Lou Holtz vs. Fred Akers coached Arkansas vs. Texas epics in the 1970s and Ken Hatfield vs. Akers and David McWilliams Arkansas vs. Texas battles in the 1980s.
Reynolds Razorback Stadium's 76,000 seats are standing room only sold out for Saturday night. The SEC Nation TV crew televises its Saturday morning pregame from the game site leading into ESPN's national game coverage.
Former native-born Razorbacks and Texan Hogs relay stories of Arkansas vs. Texas to current Arkansas-born and Texas-born Razorbacks.
Pittman was particularly impressed to hear senior safety Joe Foucha of New Orleans sounding like it was LSU week.
"Joe Foucha was talking about, 'We need to perform well and do a good job for the state of Arkansas." Pittman said. "And he's not from here. So, I think they understand what it means to our fans. Certainly it's standing room only Saturday night. And we haven't had that in a while around here. I think our kids understand it. I really do."
Understanding their fans want them whip Texas is one thing. Actually beating Texas is another.
Though former UT coach Tom Herman was fired, he bequeathed a 7-3 team to Steve Sarkisian that won five of its last six in 2020, including an Alamo Bowl rout of Colorado.
Among the stars are Heisman Trophy running back candidate Bijan Robinson, who amassed 176 all-purpose yards last week against Louisiana. He ran for 103 with a TD and caught passes for 73 yards and a TD.
"Robinson is hard to tackle," Pittman said. "He has elusiveness  in space, but he also runs over you. He's a special, special player."
Robinson and Texas defensive back/punt returner/kickoff returner D'Shawn Jamison are both preseason All-Big 12.
In his debut last week, redshirt freshman quarterback Houston Card completed 14 of 21 for 224 yards, including a 7-yard TD toss to receiver Jordan Whittington (113 receiving yards).
Play-caller Sarkisian maximizes their mismatch potential, Pittman said.
"He (Sarkisian) got Louisiana on an unbalanced 12 set and  flipped them back over to the field," Pittman said. "They didn't make an adjustment on defense, and Robinson, was wide open."
The Texas defense is solid throughout, Pittman said, and likely aware of Arkansas QB KJ Jefferson's 89 yards rushing with a 34-yard TD in last week's 38-17 victory over outmanned Rice.
"I look for them to play us a little tighter maybe than what they did Louisiana simply because of KJ's ability to run," Pittman said.
Pittman hopes Jefferson's strong second half against Rice erases any confidence drop from his struggling first half.
His ace receiver, Treylon Burks, should knock off the rust from last week with his first full week of practice since an Aug. 14 injury. Against Rice, Burks caught five balls for 42 yards with a couple of drops.
But set up by Arkansas' defense, Jefferson and leading rushing tailback Trelon Smith eventually ran Rice ragged.
Sophomore safety Jalen Catalon intercepted two of Arkansas' three fourth-quarter picks against Rice. Senior linebacker Bumper Pool collected 14 tackles but must sit Saturday's first half because of a second-half targeting penalty against Rice.
The Hogs still start two senior 'backers with Hayden Henry replacing Pool after last Saturday replacing target-penalized but now returned All-American Grant Morgan.
Sarkisian said Arkansas' strength defensively is "right down the middle" with Morgan, Pool and Catalon. "They play physical and they play tough," he said.
Reducing penalties from Game One to Game Two, Arkansas committed 13 vs. Rice, including the targeting flags on Morgan and Pool, is a must for their respective teams both Pittman and Sarkisian said.