HOGS hammer Texas 40-21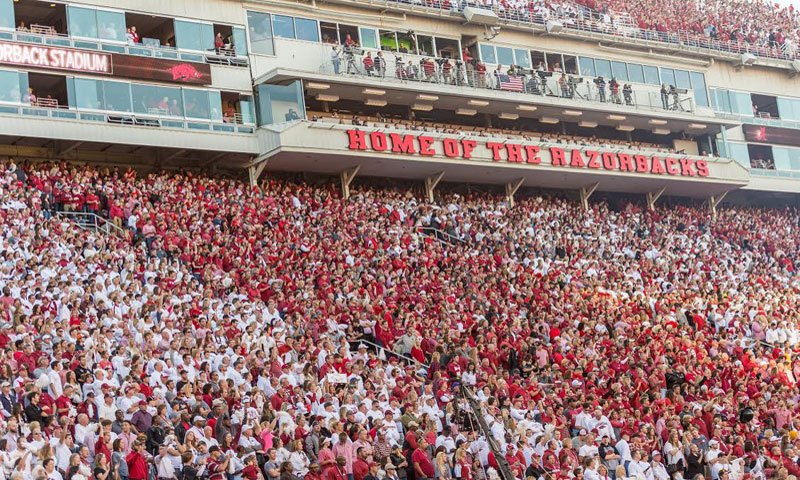 FAYETTEVILLE - Seemed half of the standing-room only 74,000-plus  overflowing the Reynolds Razorback Stadium stands Saturday night ran postgame all over the Frank Broyles Field to celebrate Arkansas running over Texas.
The unranked Razorbacks throttled 15th-ranked Texas 40-21, renewing an old Southwest Conference rivalry that will be renewed on a SEC basis once the Longhorns fulfill their contractual obligations in the Big 12.
In the meantime, joyful Razorbacks fans, who mobbed Fayetteville's Dickson Street since Friday night, can celebrate that Sam Pittman's 2-0 Razorbacks bullied the supposedly big, bad Longhorns.
First-year Texas coach Steve Sarkisian's Longhorns fell hard to 1-1 after opening by thumping then No. 23 Louisiana-Lafayette the previous week.
Arkansas' defense pitched a 16-0 first-half shutout Saturday while running through Texas' offensive line.
And in the second half, the UA offense ran through Texas' defense. For the game, Arkansas amassed 334 yards rushing on 47 carries for a 7.1 yards per carry.
The crowd celebrated every tackle made and yard gained.
"I thank the crowd," Pittman said as his first postgame words. "I  could tell if we got the lead the crowd wouldn't let them come back. I knew our offense and defense and special teams played really well, but I want to thank the people of Arkansas. I hope tomorrow they wake up excited about Arkansas football."
Arkansas linebackers Hayden Henry, Grant Morgan and Bumper Pool, freed by a three-man defensive front occupying the Longhorns O-line, combined to make 38 tackles. Henry made 15. Henry and Morgan combined for five of Arkansas' 11 lost-yardage tackles.
"They were swarming to the ball," Pittman said. "Our linebackers are really good players."
Texas never offensively untracked until Sarkisian replaced redshirt freshman starting quarterback Hudson Card with fourth-year junior Casey Thompson.
And Arkansas' offense answered when Texas did score.
Arkansas' offensive line cleared paths for Razorbacks running backs Trelon Smith, 12 carries for 75 yards, true freshmen AJ Green, seven carries for 67 yards, Raheim "Rocket" Sanders, eight for 50 and redshirt freshman Dominique Johnson, six for 44, to net one rushing touchdown each.
UA sophomore quarterback KJ Jefferson netted 73 yards on 10 carries. In passing, Jefferson shrugged off a lone interception, on a great pick by Texas safety BJ Foster that preventing a possible Jefferson TD pass to freshman receiver Ketron Jackson, to complete 14 of  21 for 138 yards. Those completions included a 45-yard bomb to senior receiver and Helena native Tyson Morris on a drive answering Texas' first tally set up by Jefferson's lone turnover.
"That was a big answer right there," Pittman said. "I was hoping he (Jefferson) would do exactly what he did. I thought he would. That's a big deal because we could've have gone in the tank that series, too, but we didn't. We went right back down and scored a touchdown. It was a big, big deal."
Arkansas true freshman kicker Cameron Little kicked four of four field goals, one with a friendly ricochet off the goal post, of  24, 24, 44 and 22 yards, and was four of four on PAT's.
Also on special teams Jake Yurachek blocked a punt recovered and returned by Arkansas defensive lineman Mataio Soli.
Arkansas defensive end Zach Williams forced Texas' lone fumble recovered by Arkansas nickel back Greg Brooks.
Brooks flirted with early disaster fumbling the game's first points that replay reprieved the Razorbacks. Further review showed the Longhorn recovering the miscue had stepped out of bounds.
Beyond that scare, it seemed the fright night haunted only the Burnt Orange. Texas' defense seemed especially second-half cringing as the Razorbacks pounded them with the run.
"Isn't that something?" Pittman said, crediting new offensive line coach Cody Kennedy. "Coach Kennedy comes in on June the 4th or whatever it was. And we rush for 333 yards and average 7-plus yards a carry. To rush for 333 on a good Texas squad was outstanding. We had all five starters (offensive linemen Ricky Stromberg, Ty Clary, Brady Latham, Myron Cunningham and Dalton Wagner)  back from last year, and Beaux (Limmer, spelling Clary at right guard).  They need credit. I don't think they gave up a sack tonight either. They came to play, and I'm really proud of them."
Stromberg was asked about the line, so maligned two years ago when the Chad Morris Arkansas era ended with two 2-10, 2-10 overall seasons gone 0-8, 0-8 in the SEC.
"I think it's a testimony to hard work," Stromberg said. "You look at two years ago, we were 2-10 in a drought, and then we come back and we had a better year last year. Now people are rushing the field after the second game. It's just an awesome feeling. I'm so pumped for everybody. People working and just pounding the rock and getting better at blocking. And I'm so proud of our guys and our coaches and the way we handled running the ball.  I'm just so happy for our team."
Jefferson said, "Just knowing Rick and the O-line, all of them were playing physical and driving them off the ball and playing hard. Me and the running backs just had an awesome night.
But it was defense setting the tone, Jefferson said,
"The defense played lights out," Jefferson said. "They played their hearts out and we just had to follow behind them."
Arkansas' offense took it from there, Hayden Henry said.
"You can totally just take the wind out of the defense when you're running the ball down their throat," Henry said.