Class 4A Week 3 Rankings, Notes & Picks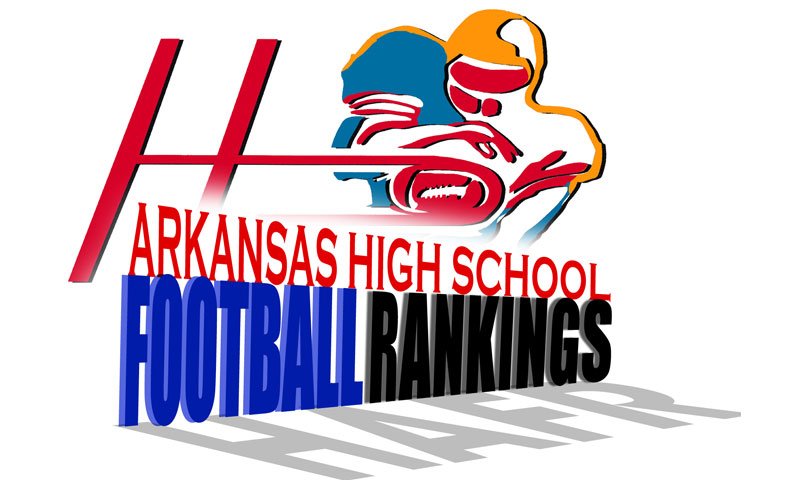 Hootens.com Class 4A Rankings
Week 3, 2022
Copyright Seventy Seven's Publishing
1. Arkadelphia (3-0)
2. Harding Academy (2-0)
3. Star City (3-0)
4. Stuttgart (2-1)
5. Warren (1-1)
6. Ashdown (3-0)
7. Malvern (3-0)
8. Pocahontas (2-1)
9. McGehee (1-0)
10. Rivercrest (1-2)
11. Clinton (3-0)
12. Nashville (2-1)
13. Ozark (1-2)
14. Lamar (3-0)
15. Elkins (2-1)
16. Lonoke (1-1)
17. Gosnell (3-0)
18. Trumann (1-1)
19. H.G. Haskell (3-0)
20. Bauxite (2-1)
21. Jonesboro Westside (1-1)
22. Blytheville (1-1)
23. Gentry (2-0)
24. Pottsville (0-3)
25. Waldron (2-1)
26. DeWitt (2-1)
27. Mena (2-1)
28. Monticello (1-2)
29. Lincoln (2-1)
30. Hamburg (1-2)
31. CAC (0-3)
32. Crossett (0-3)
33. Cave City (0-3)
34. Heber Springs (0-2)
35. Helena (1-2)
36. Mayflower (1-1)
37. Gravette (1-2)
38. Dover (2-1)
39. Huntsville (0-3)
40. Dumas (0-2)
41. Riverview (1-2)
42. Highland (1-2)
43. Bald Knob (0-2)
44. Berryville (0-2)
45. LR Hall (0-2)
46. Harrisburg (1-1)
47. Green Forest (0-2)
WEEK 3 PREDICTIONS (favored team in ALL CAPS)
NOTE: Hootens.com will no longer project a point spread with each game preview. Our writers will continue designating one team as the favorite in each matchup.
HOOTENS.COM GAME OF THE WEEK
No. 5 Warren at No. 3 Star City
Star City hasn't beaten Warren since 2010, but this Thursday game might be its best chance. Star City ran for 351 yards and the defense forced 5 turnovers in last week's 40-13 win at Crossett. Senior C.J. Turner, a commit to the University of Colorado, ran for 80 yards while senior quarterback Mason Taylor scored 3 touchdowns. Bulldogs sophomore QB Peyton Taylor, Mason's brother, ran for 93 yards while sophomore DuJuan Haney had 84 yards. Sophomore LB Kevin Johnson made  12 tackles.

Warren began the season ranked No. 1, but fell after losing at Stuttgart 31-28. The Lumberjacks regrouped in Week 1 with a 28-23 victory over Class 5A White Hall despite passing for 3 yards. Senior Landon Wolfe ran for a TD and 2-point conversion in the final minutes before Warren's defense held White Hall on downs. Senior QB Maddox Lassiter ran 9 times for 32 yards, converting twice on fourth down.
LAST WEEK
Hootens.com correctly predicted 30 of 32 games (94 percent). Hootens.com has correctly predicted 84 of 102 games (83 percent) this season.
1-4A

Class 2A Decatur at BERRYVILLE: Berryville has won the past four meetings over Decatur. But the Bobcats (0-2) are without five injured players who began the season as two-way starters. Senior LB Chet Hudgens led Berryville in tackles in last week's 41-7 loss to Greenland. Decatur (0-3) has been outscored 168-6.
Class 5A PEA RIDGE at Gentry: Pea Ridge has won 11 of the past 16 over its former conference foe. Pea Ridge junior Seth Foster ran 26 times for 159 yards in last week's 29-point win over Huntsville. Senior Kayden Rains caught 3 passes for 36 yards. Gentry senior QB Chris Bell completed 19 of 30 passes for 297 yards and 4 TDs, and ran for 148 yards and 3 TDs in last week's 63-41 triumph at Quitman. Senior Ty Hays ran for 128 yards and 2 TDs, while senior Braedon Warren caught 7 passes for 117 yards and 2 TDs. Senior LB Jonathon Corter led the defense with 9 tackles, 2 TFL and 2 interceptions. 
Class 3A CEDARVILLE at Green Forest: These teams have split the past six meetings. Green Forest (0-2) has been beaten by an average of 28 points in two games. Senior Ryan Bruegel has 20 tackles, and "is an unselfish blocker on offense," Coach Greg Tibbitt says. Cedarville ran for 273 yards in last week's 30-point win at Mountainburg. 
OPEN Gravette, Green Forest, Huntsville, Lincoln and Ozark
2-4A
STUTTGART at Class 5A Forrest City: Stuttgart shook off a 10-point loss at Star City in Week 1 to down Newport 38-28 a week ago. Senior Cedric Hawkins ran 21 times for 144 yards and 3 TDs, while QB Landon Melychuck ran for 2 first-half TDs. Forrest City has lost to Mills and Joe T. Robinson by a combined 86-12.
JONESBORO WESTSIDE at Heber Springs: Jonesboro Westside (1-1) relies on a stout defense. The Warriors limited huge and high-powered Hoxie to 79 yards rushing two weeks ago, and held Class 5A Brookland to 6 points in the opener. Heber Springs gave up 445 yards rushing in last week's 44-6 setback to Class 5A Southside.
Memphis (Tenn.) Business at LONOKE: Memphis Business Academy has wins over Harding Academy (Tenn.) and Macon Road Baptist (Tenn.), but lost its past two games to Memphis East and Memphis Academy of Science and Engineering. "They are ridiculously athletic with 2 or 3 huge linemen," Lonoke Coach Chris Norton says. Lonoke junior QB Bradon Allen has passed for 493 yards and 2 TDs, and rushed for 209 yards and 5 TDs this season. Senior LB Cody Amato has 25 tackles.
BLYTHEVILLE at Riverview: Blytheville played well in last week's 30-25 loss to Class 5A Nettleton. Sophomore Trevion Anderson caught 3 passes for 47 yards, senior Levin Reed had 5 catches for 77 yards, and senior Dee Wells ran for 2 TDs. Anderson led the defense with 5 tackles. Riverview held Salem to 19 yards passing in a 28-7 loss last week.
HARDING ACADEMY at Booneville: Harding Academy has won all three meetings with Booneville, all of which have come in the playoffs.  Harding Academy won 53-21 in the first round in 2015, 52-21 in 2020 quarterfinals and 57-27 in 2021 semifinals. Harding sophomore QB Owen Miller has played well in the opening two games, along with junior RB Wyatt Simmons and sophomore WR Endy McGalliard. Sophomore LB Kohl Griffin has emerged as a top defensive player. Senior Kyle Ferrie made a 56-yard field goal two weeks ago at Camden Harmony Grove.

Cave City at C. HARMONY GROVE: Cave City must shore up its defense (allowing 260 yards rushing and 42 ppg). Camden Harmony Grove surrendered 26 second half points in last week's 33-26 setback at Haynesville, La.
OPEN Bald Knob
3-4A

JONESBORO WESTSIDE at Heber Springs: See game preview in 2-4A.
BLYTHEVILLE at Riverview: See game preview in 2-4A.
TRUMANN at Class 3A Newport: Newport has won 2 of the past 3 over Trumann, including a 25-22 double-overtime thriller in the 2002 playoffs. Trumann QB Murphy Williams ran 5 times for 70 yards and 1 TD in last week's 35-point win over Manila, while Cade Hatton had 2 carries for 76 yards, 1 TD, 1 fumble return for a TD and 8 tackles. Junior LB Gavin Greenwell led the defense with 13 stops.

HARRISBURG at Class 3A Manila: Harrisburg jumped on struggling Palestine-Wheatley 21-0 in the first quarter last week en route to a 47-0 win. Hornets sophomore QB Eastin Gray threw a TD pass. Manila has lost to Rivercrest, EPC and Trumann this season by an average of 44-6. 
OPEN Gosnell, Highland, Pocahontas, Rivercrest
4-4A

HARMONY GROVE-HASKELL at Central Arkansas Christian: These teams have never played. H.G. Haskell rallied with a late TD and 2-point conversion in last week's 22-21 victory over Pottsville. Junior DE Cade Harmon secured the victory with a late sack. CAC hung with Bauxite early last week (0-0 in second quarter), trailed 21-0 at halftime and lost 37-14. 
Mayflower at CLINTON: These teams haven't played since they were members of the former 5AAA in 2002-2003 (Clinton won in 2002, Mayflower in 2003). Mayflower QB Noah Gailey accounted for 4 TDs (2 rushing, 2 passing) two weeks ago in an impressive 35-6 win over Drew Central. Clinton junior Zane Widener ran 5 times for 109 yards and a TD and caught a TD pass, while junior Landon Rose scored 3 TDs in last week's 57-20 win at LR Hall.
Bauxite at LAMAR: This game could go a long way in determining the league championship. Lamar senior Damien Hendrix ran 16 times for 193 yards and 1 TD in last week's 35-0 win over Dover. Eleven different players ran the ball for the Warriors. Logan Kendrick paced Lamar's defense with 5 tackles. Bauxite's 37-14 win last week over CAC was its first in conference play since Week 7, 2020. Senior QB Hunter Ferrell scored 2 first-half TDs, while sophomore Marcus Wimberly ran for 1 TD. 
LR Hall at POTTSVILLE: Pottsville led H.G. Haskell by two scores in the second half last week before losing 22-21. LR Hall has been outscored 100-27 in its 2 games this season.
OPEN Dover
7-4A
Malvern at HERNANDO, MISS.: Hernando lost to Grenada (Miss.) 15-13 last week, but the Tigers have a roster of more than 70 players. "They are the biggest, fastest team we've played so far and they two-platoon," Malvern Coach J.D. Plumlee says. Malvern senior QB Cedric Simmons ran for 143 yards and 5 TDs and passed for 253 yards and 1 TD in last week's 48-28 win over HS Lakeside. Junior Jalen Dupree ran 23 times for 150 yards and Dyelon Caradine caught 5 passes for 192 yards and 1 TD.
Idabell, Okla. at ASHDOWN: Undefeated Ashdown has given up 20 points in three games. The Panthers tallied 568 yards in last week's 41-7 win over Hope, with senior Jayden Fricks running 10 times for 222 yards and 3 TDs. Junior LB Noah Brown amassed 14 tackles vs. Hope. 
Nashville at CHARLESTON: Nashville has outscored De Queen and Hope the past two weeks by a combined 124-63. The Scrappers ran for 248 yards a week ago (beat De Queen 50-21). Senior QB Sloan Perrin has passed for 458 yards and 5 TDs this fall, while running for 414 yards and 6 TDs. Undefeated Charleston has looked impressive the past two weeks with wins over Elkins and rival Ozark by an average of 38-21.
WALDRON at Class 3A Mansfield: Mansfield (2-0) has won 13 of the past 20 over its former conference foe. Waldron (2-1) beat Fouke last week 45-30, and two weeks ago the Bulldogs hung with 4-4A contender Lamar before losing by 6 points. Mansfield has given up 6 points total in wins over Magazine and Paris.
Mena at POCOLA, OKLA.: Mena's three games this fall have been decided by a total of 7 points. Senior Jayden Felix ran for 128 yards and 3 TDs and forced a fumble on defense during last week's 31-28 victory over previously unbeaten Lincoln. Pocola beat Class 3A Hackett by 22 points in Week 1.
OPEN Arkadelphia 
8-4A
Warren at STAR CITY (Thurs.): See Hootens.com Class 4A Game of the Week, above.
CROSSETT at Hamburg: Hamburg (1-2) has won 12 of the past 20 in the series (the 2020 game was canceled due to Covid), but Crossett prevailed last season 53-6. Crossett is 0-3 after last week's 27-point setback to Star City. The Eagles trailed 20-7 in the third quarter before giving up 3 late TDs. Senior Tayshawn Paskel led Crossett with 7 carries for 61 yards, while his brother (junior Taylin Paskel) grabbed an 89-yard TD pass. Hamburg sophomore QB Tyson Brooks played well in last week's 36-14 loss to McGehee.
DEWITT at Helena: These teams have split their past four meetings. DeWitt junior Owen St. John ran 3 yards for a TD and senior Carl Hudson caught the winning 2-point conversion in the final seconds of last week's 23-22 victory over Monticello. Helena beat Dumas last week 26-8 for its first victory since Week 5, 2019. Junior DB Kiyon Hillard intercepted 1 pass and forced 1 fumble.
MCGEHEE at Monticello: This is the first meeting since McGehee's 12-0 win in Week 1, 2012. Monticello (1-2) must rebound from last week's 23-22 setback to DeWitt. Billies junior Quay Rhodes caught 5 passes for 128 yards and a TD, while senior Jontavion Lambert ran 21 times for 106 yards. Sophomore Blaine Hayden had 11 tackles, 1 TFL and 1 sack, while senior LB Brandon Haynes collected 11 stops.
DUMAS at Class 3A Lake Village: Dumas (0-2) turned the ball over two times while managing 211 yards and 8 points in last week's 17-point setback to Helena. Lake Village has lost its two games this fall to 8-4A members Monticello and Hamburg.