Class 5A Week 3 Rankings, Notes & Picks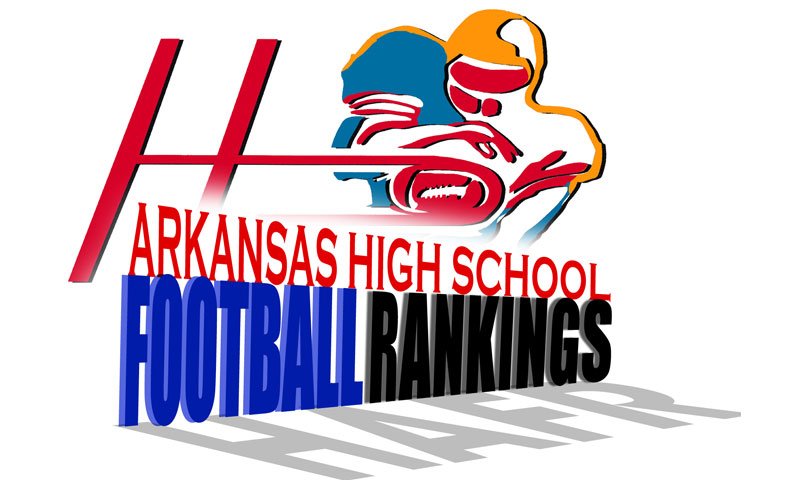 Hootens.com Rankings
Class 5A, Wk 3, 2021
Copyright Hooten Publishing, Inc.
1. Pulaski Academy (2-1)
2. LR Christian (3-0)
3. Harrison (3-0)
4. Wynne (2-1)
5. White Hall (2-1)
6. Vilonia (2-0)
7. Greenbrier (3-0)
8. Camden Fairview (2-1)
9. Maumelle (1-2)
10. Farmington (3-0)
11. Nettleton (2-1)
12. Magnolia (0-3)
13. HS Lakeside (0-2)
14. Texarkana (1-1)
15. Valley View (2-1)
16. Hot Springs (2-1)
17. Watson Chapel (0-1)
18. Batesville (0-2)
19. Morrilton (1-2)
20. Clarksville (0-2)
21 Greene Co. Tech (2-1)
22. Beebe (0-3)
23. Alma (0-2)
24. Brookland (2-0)
25. Jacksonville (0-2)
26. Pea Ridge (0-2)
27. Hope (0-3)
28. Forrest City (0-2)
29. Paragould (0-1)
30. De Queen (0-3)
HOOTENS.COM GAME OF THE WEEK
Class 4A No. 10 Malvern at No. 13 HS Lakeside
These are former conference rivals, with HS Lakeside winning three of the past five meetings. The winless Rams lost to Class 6A Lake Hamilton and Sheridan by a combined 72-21. The Rams were open last week after Watson Chapel canceled on Wednesday. "We've struggled and gotten in our own way," Coach Jared McBride says. "We put some players in different positions, trying to figure it out." Senior QB Sam mills has completed 23 of 43 passes this fall for 292 yards and two touchdowns, with a pair of interceptions. Sophomore Braylon Russell, who owns an offer from Arkansas, carried 15 times for 86 yards against Sheridan, and he has seven receptions this fall for 71 yards.  Malvern beat Glen Rose in the opener before losing to Lake Hamilton last week 35-12. The Wolves ran for more than 260 yards. Malvern started nine sophomores on defense against Lake Hamilton. Senior linebacker Jabri Artis paces Malvern with 12 tackles this fall. Junior QB Cedric Simmons has completed 19 of 32 passes this fall for 235 yards and two TDs, and paces the team with 20 carries for 161 yards and two TDs. Malvern coach J.D. Plumlee graduated from HS Lakeside and served as an Ram assistant. Watch extended highlights of Malvern's loss last week to Lake Hamilton HERE.
LAST WEEK
Hootens.com correctly predicted 22 of 23 games (96 percent). For the season, Hootens.com has predicted 60 of 69 games (87 percent).
WEEK 3 PREDICTIONS (favored team in CAPS followed by point spread)
5A CENTRAL
Maumelle at SHREVEPORT (LA.) BYRD  (10) (Thurs.): Maumelle put up 306 yards in last week's two-point loss at Vilonia. Junior QB Weston Pierce completed 14 of 24 passes for 142 yards. Undefeated Shreveport Byrd rushes for 395 yards weekly. Watch extended highlights of Maumelle's loss at Vilonia HERE. 
CAMDEN FAIRVIEW (6) at Watson Chapel: Watson Chapel hasn't played since Week 0. The Wildcats canceled game last week vs. HS Lakeside, but Coach Jared Dutton anticipates having enough players out of quarantine this week. Camden Fairview clobbered Class 4A Hamburg 52-0 a week ago. Junior QB Martavius Thomas threw four TD passes and ran for another. 
Jacksonville at SHERIDAN (14): Two weeks ago, Sheridan shocked favored HS Lakeside 24-7. The Yellowjackets put up 396 yards (211 rushing, 185 passing) and held the Ram rushing attack to 85 yards. Sheridan sophomore RB C.J. Dollarhide will miss at least a month with an injury. The Yellowjackets spent the bye week cutting down penalties (17 for 120 yards vs. HS Lakeside). Jacksonville's Kentrell Thompson ran for a pair of TDs in last week's 50-29 loss at Sylvan Hills. 
LR CHRISTIAN (12) at Center Hill, Miss.: Center Hill, Miss., located in Olive Branch, plays its fourth game of the season. The Mustangs lost to Collierville, Tenn., 47-6 a week ago. LR Christian pulled away from Magnolia 42-27 a week ago. Senior Jayvean Dyer-Jones ran for a pair of TDs, while sophomore Walker White threw a pair of TDs and ran for another.
Drew Central at WHITE HALL (35): This game was added in the spring to fill out the schedule. White Hall surrendered 352 yards in last week's three-point loss at Class 6A LR Parkview. Senior Steven Weston ran 23 yards for a TD and senior Kyler Barnes nailed a 25-yard field goal. Winless Drew Central lost to Class 2A Poyen and Class 4A DeWitt by a combined 63-16.
BEEBE is open.
PA is open.

5A EAST
MOUNTAIN HOME (7) at Batesville: A battle of winless teams. Mountain Home has lost consecutive games by identical scores of 28-21. The Bombers led Nettleton 21-7 in the second half a week ago before surrendering the go-ahead TD in the final minute. Bomber senior Gage Lindsey logged 27 carries for 109 yards, while sophomore QB Cade Yates completed eight of 18 passes for 139 yards.
RIVERCREST (3) at Brookland: Rivercrest was stuffed near the goal line in the final minute of last week's 25-19 loss at Valley View. In his first start, senior QB Mike Sharp completed 18 of 30 passes for 203 yards and two TDs, but threw three interceptions. The Colts managed just 50 yards rushing. Undefeated Brookland has wins over Gosnell and Jonesboro Westside by a combined three points.
FORREST CITY (1) at Helena: These teams have a combined record of 1-19 since the start of the 2020 season, with the lone win being Forrest City over Helena 24-20 last fall. The Mustangs have won seven of the past 13 over Helena. 
Pocahontas at NETTLETON (7): This game was moved from Week 1 due to Covid issues. Nettleton rallied from a 14-point halftime deficit last week to down Mountain Home 28-21. Senior Koby Bradley ran 23 times for 139 yards, and caught the winning TD pass in the final minute.  Pocahontas junior QB/RB Connor Baker ran 12 times for 165 yards and three TDs in last week's 45-21 win at Paragould, while sophomore Regan Womack bulled for 55 yards and two TDs.
Paragould at TRUMANN (8): Paragould junior QB Ben Sloas threw three TD passes in last week's 24-point loss to Pocahontas. Trumann trailed Southside 28-14 at halftime, but turned the ball over three times and failed to score in the second half of a 36-point setback. Junior LB Eli Evett racked up six eight tackles at Southside, while junior safety Parker McNair made six.
GREENE COUNTY TECH is open.
VALLEY VIEW is open.
WYNNE is open.

5A SOUTH
Malvern at HS LAKESIDE (3): See Hootens.com Class 5A Game of the Week.
CAMDEN FAIRVIEW (6) at Watson Chapel: Watson Chapel hasn't played since Week 0. The Wildcats canceled game last week vs. HS Lakeside, but Coach Jared Dutton anticipates having enough players out of quarantine this week. Camden Fairview clobbered Class 4A Hamburg 52-0 a week ago. Junior QB Martavius Thomas threw four TD passes and ran for another.
Fouke at DE QUEEN (2): De Queen has been outscored by an average of 42-11 this fall. After scoring just seven points in the opening two games, the winless Leopards battled rival Nashville last week before losing 41-27. De Queen allowed 495 yards. Fouke beat Mineral Springs 38-13 a week ago. 
PRESCOTT (21) at Hope: Prescott has won five straight in the series, including the past three by a combined 97-27 (the 2020 game was canceled due to Covid). Class 3A #1 Prescott puts up 468 yards weekly. Junior QB Carston Poole has passed for 491 yards and eight TDs this year, while senior Jaylen Hopson averages an insane 19 yards per carry (13 for 247 yards). Improved Hope ran for 201 yards in last week's 22-point loss at Ashdown.
Hot Springs at LAKE HAMILTON (18): Lake Hamilton has won 10 of the past 12 in the series. Lake Hamilton averages 295 yards rushing weekly and has outscored Class 5A HS Lakeside and Class 4A Malvern by a combined 83-26. Senior Owen Miller (8.1 yards per carry) left last Friday's game in the second quarter with a knee injury but expects to play this week, Coach Tommy Gilleran says. Senior Tevin Hughes blocks better than a year ago and has 28 carries for 258 yards (9.2 YPC) and six TDs this season. Hot Springs mercy-ruled previously unbeaten Mena last week 35-0. Junior Akeem Dorsey ran 14 times for 136 yards and a TD at Mena, while senior QB Isaac Shelor passed for 162 yards and a TD and ran for 45 yards and a pair of TDs. Watch extended highlights of Lake Hamilton's win last week at Malvern HERE. 
Magnolia at EL DORADO (10): Winless Magnolia still struggling to find consistency on offense. The Panther D allows 28 points weekly. They gave up 508 yards and 42 points last week to LR Christian. El Dorado lost at Cabot 41-35 a week ago, after throwing an interception near the goal line as time expired. The Wildcats allowed 488 total yards. Senior QB Sharmon Rester completed 23 of 43 passes for 406 yards and for TDs and ran 10 times for 67 yards.
Texarkana at MOUNT PLEASANT, TEXAS (3): Winless Mount Pleasant has two losses by a combined six points. Defensive tackle and Baylor commit Tre Emory (6-3, 290) is expected to return this week after missing the opening two games with an injury. Emory also owns an offer from Arkansas. Texarkana junior Kyron Young, filling in at RB last week, ran for 138 yards to key a 35-0 route over Dollarway. The Razorback D gave up just 24 yards passing.

5A WEST
VILONIA (1) at Russellville (Thurs.): Undefeated Russellville is improved under fiery first-year head coach David Wheeler. The Cyclones score 45 points per game, winning last week at FS Southside 48-27. Senior Ty Hipps made 14 tackles at FS Southside and has five TFLs this season. Vilonia escaped Maumelle 34-32 a week ago. Senior QB Austin Myers (Kansas and Middle Tennessee offers) completed 26 of 39 passes for 214 yards and four TDs, as the Eagles outgained Maumelle 310-306. Watch extended highlights of Vilonia's win over Maumelle last week HERE.
Heritage at ALMA (1): This game went into overtime last season. Heritage has just one win the past three seasons, and the Eagles have lost to Class 6A Van Buren and Class 5A Farmington this fall by a combined 75-34. Alma lost to Van Buren 31-20 in the opener and last week to Oklahoma power Poteau 35-12. The Airedales put up 265 yards vs. Poteau, but had three turnovers and converted only one of 12 third downs.
CLARKSVILLE (7) at Pottsville: Pottsville gave up 215 yards rushing in last week's 35-14 loss to Charleston. Senior QB Cooper Duvall ran for a pair of TDs, while junior safety Tyler Davis intercepted a pass. Winless Clarksville "could be 2-0," Coach Khris Buckner says. The Panthers lost in overtime to Ozark 14-13 and at Mena  34-14 "but played like zombies," the coach says. Senior linebacker Brayan Martinez recorded 10 tackles at Mena. 
Pea Ridge at SILOAM SPRINGS (7): Game was originally scheduled for Week 1. Siloam Springs led Harrison 19-14 in the third quarter last week but lost 35-31, despite getting 225 passing yards from senior QB Hunter Talley.
FARMINGTON is open.
GREENBRIER is open.
HARRISON is open.
MORRILTON is open.