Class 6A Week 3 Rankings, Notes & Picks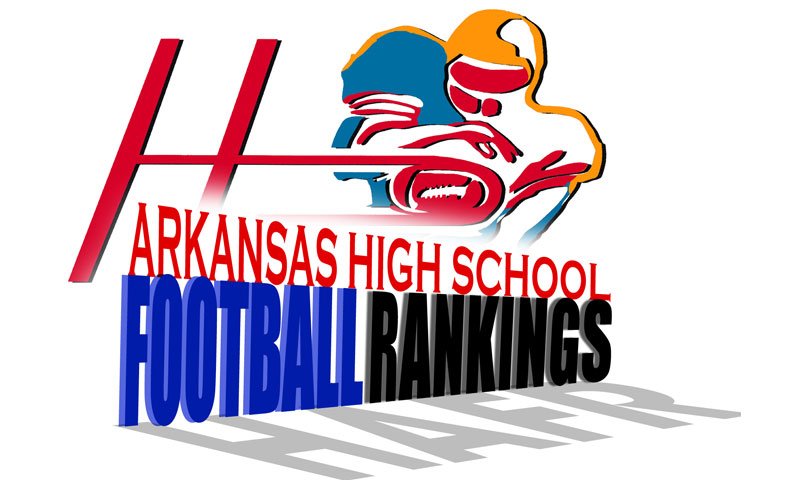 Hooten's Arkansas Football Rankings
Class 6A, Week 3, 2021
Copyright Hooten Publishing, Inc.
1. Greenwood (2-1)
2. Lake Hamilton (2-0)
3. Benton (1-1)
4. El Dorado (1-1)
5. Jonesboro (1-2)
6. LR Parkview (2-0)
7. Sylvan Hills (2-1)
8. Searcy (1-2)
9. Van Buren (3-0)
10. West Memphis (1-1)
11. Marion (1-2)
12. Russellville (2-0)
13. Siloam Springs (0-2)
14. Pine Bluff (1-0)
15. Sheridan (1-1)
16. Mountain Home (0-2)
GAME OF THE WEEK
Class 5A Vilonia at Russellville.
Undefeated Russellville is improved under fiery first-year head coach David Wheeler. The Cyclones score 45 points per game, winning last week at FS Southside 48-27. Senior Ty Hipps made 14 tackles at FS Southside and has five TFLs this season.
Vilonia escaped Maumelle 34-32 a week ago. Senior QB Austin Myers (Kansas and Middle Tennessee offers) completed 26 of 39 passes for 214 yards and four TDs, as the Eagles outgained Maumelle 310-306.
LAST WEEK
hootens.com correctly predicted 11 of 13 winners (85 percent) in games involving Class 6A teams. For the season, hootens.com is 32-5 (86 percent) in Class 6A 
WEEK 3 PREDICTIONS (favored team in ALL CAPS)
6A EAST
NORTH LR (35) at West Memphis: West Memphis should be much improved in 2022 and 2023. The Blue Devils have lost the past two weeks by a combined 75-21 after winning at LR Southwest 20-0 to start the season. North LR is plus-7 in turnovers this season with Ws over 7A West members Har-Ber (58-28) and Fayetteville (14-7). North LR totaled just 224 yards last Friday at Fayetteville but senior Jaylen Pettus intercepted a pass at the goal line and senior Josh Thrower returned and interception 69 yards for a TD added by a massive block by 300-pound nose guard Braxton Johnson. North LR sealed the win, converting on fourth-and-2 from its own 26-yard line with 3:00 remaining. Watch extended highlights of West Memphis' Week 1 loss at Wynne HERE.
Magnolia at EL DORADO (10): Winless Magnolia still struggling to find consistency on offense. The Panther D allows 28 points weekly. They gave up 508 yards and 42 points last week to LR Christian. El Dorado lost at Cabot 41-35 a week ago, after throwing an interception near the goal line as time expried. The Wildcats allowed 488 total yards. Senior QB Sharmon Rester completed 23 of 43 passes for 406 yards and for TDs and ran 10 times for 67 yards.
LR PARKVIEW (15) at Pine Bluff: Undefeated Parkview beat hapless LR Southwest 47-0 before squeezing past Class 5A No. White Hall 13-10 last Friday. 
Jacksonville at SHERIDAN (14): Sheridan got mercy-ruled by halftime in the season opener at Class 5A White Hall but has been on a two-week high after stinging Hot Springs Lakeside 24-7 two weeks ago. The Yellowjackets put up 396 yards (211 rushing, 185 passing) and held the Ram rushing attack to 85 yards. Sheridan sophomore RB C.J. Dollarhide will miss at least a month with an injury. The Yellowjackets spent the bye week cutting down penalties (17 for 120 yards vs. HS Lakeside) and with an extra week to prepare, expect them to run right at Jacksonville's small linebackers. Jacksonville's Kentrell Thompson ran for a pair of TDs in last week's 50-29 loss at Sylvan Hills.
MARION, SEARCY, SYLVAN HILLS and JONESBORO are open.
6A WEST
VILONIA (1) at Russellville: Game of the Week
Hot Springs at LAKE HAMILTON (18): Lake Hamilton has won 10 of the past 12 in the series. Lake Hamilton averages 295 yards rushing weekly and has outscored Class 5A HS Lakeside and Class 4A Malvern by a combined 83-26 this season. Senior Owen Miller (8.1 yards per carry) left last Friday's game in the second quarter with a knee injury but expects to play this week, Coach Tommy Gilleran says. Senior Tevin Hughes blocks better than a year ago and has 28 carries for 258 yards (9.2 YPC) and six TDs this season. Hot Springs mercy-ruled previously unbeaten Mena last week 35-0. Hot Springs junior Akeem Dorsey ran 14 times for 136 yards and a TD at Mena, while senior QB Isaac Shelor passed for 162 yards and a TD and ran for 45 yards and a pair of TDs. Watch extended highlights of Lake Hamilton's win last week at Malvern HERE.
BENTON (16) at LR Catholic: LR Catholic lost its opener at Jonesboro 37-7 and a triple-overtime heartbreaker at Nolan Catholic 40-34 in Fort Worth before last week's open date. Benton led LR Southwest 56-6 at halftime last Friday. Senior Cain Simmons leads the Panthers with 20 tackles, including 16 stops in the opener against Class 7A No. 1 Bryant. Linebackers Jake Jones and Beau Wright average eight tackles weekly while junior end Hunter Goodwin and sophomore end Peyton McNeely average 3.5 stops per Friday. Senior QB Stran Smith has completed 30 of 48 passes for for 509 yards and 3 TDs this season with no interceptions. Senior receiver Cam Harris has 10 catches for 184 yards. LR Catholic won at Benton 35-28 last season.
LR PARKVIEW (15) at Pine Bluff: Undefeated Parkview beat hapless LR Southwest 47-0 before squeezing past Class 5A No. White Hall 13-10 last Friday. Watch extended highlights of Parkview's win over LR Southwest HERE.
MOUNTAIN HOME (7) at Batesville: A battle of winless teams. Mountain Home has lost to Class 5A members Harrison and Nettleton by identical 28-21 scores. The Bombers led Nettleton 21-7 in the second half a week ago before surrendering the go-ahead TD in the final minute. Bomber senior Gage Lindsey logged 27 carries for 109 yards, while sophomore QB Cade Yates completed eight of 18 passes for 139 yards.
Class 5A Pea Ridge at SILOAM SPRINGS (7): Game was originally scheduled for Week 1. Siloam Springs led Harrison 19-14 in the third quarter last week but lost 35-31, despite getting 225 passing yards from senior QB Hunter Talley.
GREENWOOD and VAN BUREN are open.