No. 20 Hogs bask in glory; Notes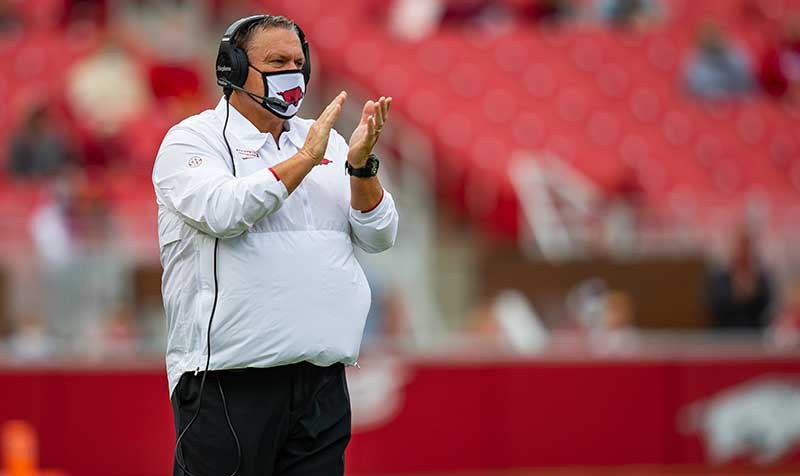 FAYETTEVILLE - Arkansas head coach Sam Pittman hastens to leave behind an epic triumph Saturday over Texas and focus his Razorbacks on Georgia Southern
The high-flying Hogs (2-0) play host to Sun Belt Conference middle-of-the-pack member Georgia Southern (1-1) at 3 p.m. Saturday at Reynolds Razorback Stadium.
However, as a coach wanting his players and team appreciated now and building toward the future, Pittman welcomes the ongoing accolades following the Razorbacks routing of then 15th-ranked Longhorns, 40-21.
ACCUMULATED ACCOLADES
Among the accolades: The 2-0 Razorbacks were named the National Team of the Week by both the Football Writers Association of America and the Cheez-It Bowl after cracking the national Top 25 rankings for the first time since 2016.
Sunday's Associated Press media poll tabs Arkansas No. 20 and the USA Today Coaches poll pegs Arkansas No. 24 with Texas booted from both polls.
On Sunday, the Arkansas senior linebacker Hayden Henry of Pulaski Academy was named the Walter Camp National Defensive Player of the Week for his game-leading 15 tackles against Texas. On Monday he was named SEC Defensive Player of the Week by the SEC Office in Birmingham, Ala.
Freshman place-kicker Cameron Little, four of four field goals and and four of four PAT's against Texas, was named SEC Freshman of the Week Monday by the SEC Office.
Finally affecting a week hence, the Razorbacks learned their Sept. 25 SEC opener at the Dallas Cowboys' AT&T Stadium in Arlington, Texas against the No. 5 Texas A&M Aggies (2-0) will be nationally televised by CBS in a 2:30 p.m. kickoff.
TOO HIGH
So with all that and the entire State of Arkansas still sky high on Beat Texas euphoria, how can the Hogs not have a letdown Saturday against this 1-1 Sun Belt opponent sandwiched between Texas and Texas A&M?
"Well, you try to have the media not say what you just did would be the first thing," Pittman replied, smiling. "Nah, you know I'm teasing. To be honest with you, I'm not one bit concerned about it, and I'm not going to talk about it a lot."
Pittman expressed faith in the Hogs coming off a euphoric high to still concentrate on Saturday's game. Last year, Pittman last inherited from the Chad Morris regime consecutive 0-8, 0-8 SEC teams.
In Pittman's second SEC game, the visiting Hogs upset a Mississippi State team fresh off upsetting reigning national champion LSU. The next game at Auburn, the Razorbacks lost on an officiating call that even the SEC admitted was wrong. They then beat Ole Miss in Fayetteville.
"Our kids could have gotten the big head after Mississippi State, but they didn't," Pittman said. "They played a good game against Auburn. That call (allowing Auburn to keep a fumble that should have been lost en route to kicking the game-winning field goal) happened. Came back and beat Ole Miss. Went and played A&M pretty good last year (a 42-31 loss to the nationally No. 4 Aggies). So, we have proven in the past whatever success, or however bad it may be, we can flush it and go to the next week. I believe that is what we will do."
PITTMAN ON RANKINGS
He expects his Hogs to wear their national rankings well.
"I think we're a Top 25 team," Pittman said. "I think we deserve to be there. I'm proud that we are, and I don't think it will affect the way we play."
CAPTAIN MORGAN
It appeared senior middle linebacker Grant Morgan, exiting during the second half Saturday, might be the only Razorback injury to affect this week's game. 
"He's a tough kid, but I think he's still a little bit day by day," Pittman said.
Morgan did participate in Monday's practice conducted in shorts.
Sophomore safety Jalen Catalon and receiver Treylon Burks practiced in green no-contact jerseys Monday. They have done that previously, deferring to some early preseason injuries, but then played on Saturdays.
One of Arkansas' super seniors and a team captain, Morgan has affected how many captains participate in the pregame coin toss.
"The rule is you can take four out to the coin toss," Pittman said. "I said, 'Hey, all you guys walk go out there and one back.' Grant said, 'We're not leaving one of our guys behind. We're going to have one go out, and the four are going to stay together.' Ol' Grant Morgan, he's a special ol' kid, you know."
FINE WITH THAT
That countless thousands among the 74,531 who swarmed the Frank Broyles Field to celebrate Saturday night caused the University of Arkansas to be fined $100,000, the SEC announced Monday afternoon.
The fine, $50,000 in 2014 the first time UA fans stormed the field after beating LSU 17-0, was raised to $100,000 for a second offense.