HOGS prepare for Missouri State, old friend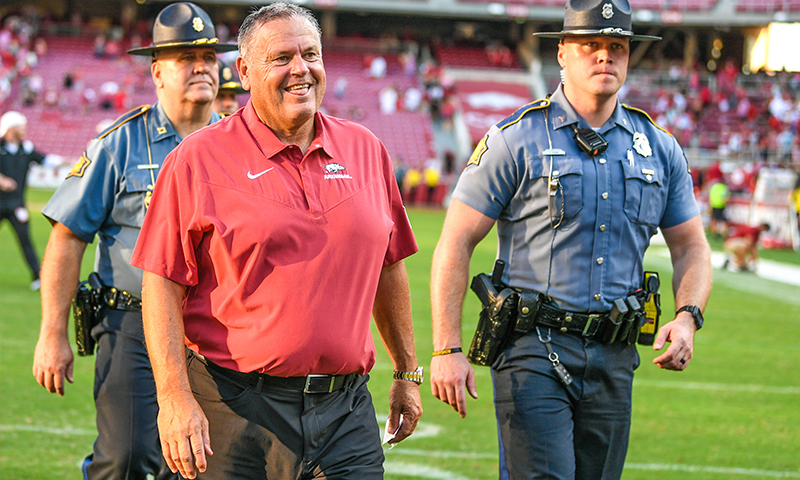 FAYETTEVILLE — Arkansas gets a break from SEC play after its resounding 44-30 victory over South Carolina last week, but Saturday's matchup with Missouri State comes with a built-in storyline.

It will mark the return of former Razorbacks coach Bobby Petrino to Fayetteville.
Petrino's Bears (2-0) will bring a No. 5 FCS national ranking to Razorback Stadium for the 6 p.m. kickoff after posting a 35-30 win last Thursday against Tennessee-Martin.
Petrino coached the Razorbacks to a 34-17 record from 2008-2011, including an 11-2 record and a Cotton Bowl victory over Kansas State in his fourth and final season.
Petrino was fired the following April after a motorcycle accident led to the discovery Petrino had tried to cover up an extramarital affair with a member of his staff, former UA volleyball player Jessica Dorrell.
Petrino got back into coaching at Western Kentucky (2013, 8-4) and then went to Louisville (2014-2019, 77-35) before arriving on Missouri State's campus in 2020. 
Missouri State has gone 15-9 under Petrino with two FCS playoff appearances.
"He's a great coach and he was when he was here (at Arkansas)," said Arkansas Coach Sam Pittman (Craven Whitlow photo). "He's been able to go in there and get them to the playoffs. So, he's done a great job there and will continue to do there."
MOVING AROUND ON DEFENSE
Pittman announced after Saturday's win over South Carolina that safety Jalon Catalon will have shoulder surgery and will be lost for the rest of the season. Catalon was looking for a redemption year in 2022 after missing the last eight games of 2021 due to a shoulder injury. Catalon had eight tackles in the season opener against the Cincinnati Bearcats before leaving the game.
 "I feel for him," Pittman said during the postgame news conference. "We've had conversations about it, and I'm going to let him be away from the building for a little bit. I mean he's down. You would be too if you put in all that work for two years and you're not able to play."
Pittman announced on Monday that cornerback LaDarrius Bishop, a redshirt senior from Ashdown, will be unavailable to play against Missouri State due to injury. 
With injuries piling up in the secondary, Pittman said he expects players such as Khari Johnson (6-0,192) to rotate positions throughout next week's game.
"In other words, if you can play boundary safety you can play nickel," Pittman said. "Those would be the two positions for Khari to play."
Pittman said there will also be an opportunity for redshirt freshman Keuan Parker (5-11, 178; Tulsa Booker T. Washington) to see action in the secondary.
 "I'd like to see him get some action at corner," Pittman said of Parker. "I think he's earned it, and has done a nice job in practice. He's a really good coverage guy."
FIXING PENALTY ISSUES
The Razorbacks have been flagged for 17 total penalties in two games, including 10 for 122 yards against the Gamecocks. Penalties affected both sides of the ball last Saturday, with three hands-to-the-face penalties on defense from three different players (Jordan Bell, Landon Jackson, Jordan Domineck) and a holding call that negated a 40-yard run by Raheim Sanders.
Pittman said he knows this is one issue that has to be cleaned up soon.
"We had 10 penalties," Pittman said. "That number should be anywhere from two to six. That's on me. I'm disappointed in myself on that one, so we've got to get that cleaned up."
RANKINGS DO MATTER
The Razorbacks moved up to No. 10 in this week's Associated Press Top 25, and this will mark the first time since 2012 that the Razorbacks will play as a top-10 team inside Razorback Stadium.

Arkansas was ranked as high as No. 8 one year ago, but was steamrolled by eventual national champion Georgia 37-0 in Athens.
Pittman did not downplay the accomplishment.
 "Well, I think it's a big deal," he said. "We've been in the top 10 two years in a row. The kids have done it. The coaches and assistant coaches have done it. So yeah, I'm proud of it. Whenever it came out, I was smiling ear to ear."