HOGS: D preps for triple option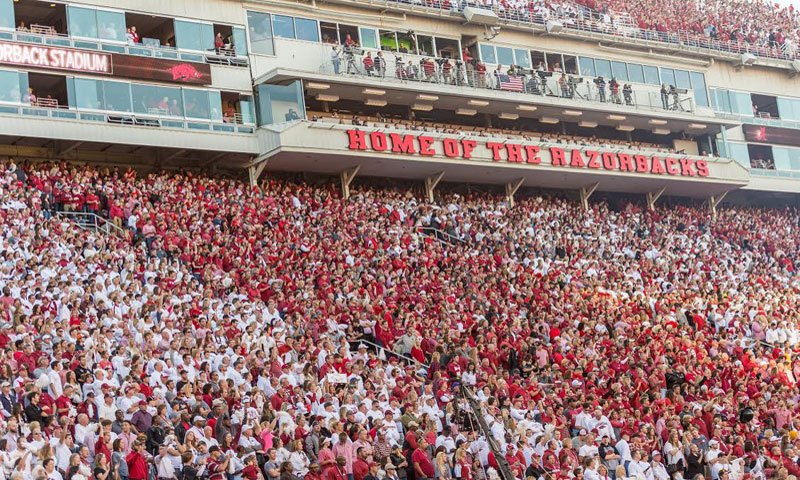 FAYETTEVILLE - While Arkansas senior linebackers Hayden Henry and Grant Morgan netted National Defensive Player of the Week Awards for their respective 15 and 13 tackles against Texas, fellow Arkansas senior linebacker Bumper Pool tackled Longhorns 10 times in the second half.
After the then unranked but now AP 20th ranked Razorbacks trashed Texas 40-21 Saturday night, Hayden was named National Defensive Player of the Week by the Walter Camp Award and SEC Defensive Player of the Week by the SEC Office, while Morgan was named the Chuck Bednarik Award's National Defensive Player of the Week.
Alternating with Henry and Morgan, Pool crammed 10 tackles in Saturday's second half after he was forced to sit the first half to fulfill a second-half targeting penalty from the previous week's 38-17 victory over Rice.
"I knew I had one half to play," Pool said Tuesday. "And I was going to give it everything I had when I got in there. Just tried to bring that energy. I was honestly just excited I was able to contribute to the game after being out the first half."
JUST CONCENTRATE
Though going from the statewide frenzy of beating old rival Texas to playing a 1-1 Georgia Southern team thumped 38-6 last week by Florida Atlantic, Pool and the Arkansas defense have no options but to concentrate on Saturday's 3 p.m. SEC Network televised game at Reynolds Razorback Stadium.
Georgia Southern runs the seldom seen triple-option offense, the college football rage of the 1960s and 1970s whose rarity in the 2020s can create assignment nightmares for defenses.
"It's going to cause us to be very disciplined," Pool said of reading Georgia Southern's quarterback handing off for a dive play, running it himself or pitching it. "It's something we have to pride ourselves on this week in practice, everyone doing their jobs and honing in on their responsibilities."
Even with the season opener with Rice and the big one with Texas A&M looming, Arkansas coach Sam Pittman and defensive coordinator Barry Odom devoted part of the August preseason to work on GSU's triple option.
"We saw them in camp," Pool said of the scout team emulating GSU. "We kind of spent a day on them just because it is a different style of offense. We're very excited about it and have another few practices to lock in and get it down."
Senior safety Joe Foucha implied GSU's offense is not easy on the eyes.
"As for the guys on the back end, it's going to be about your eyes and discipline," Foucha said. "Make sure everyone is doing their job, filling the right gaps. That's how we're going to go about it, and that's going to help us win the game. They do a lot of option throughout the game. So, just for us to have our eyes in the right spot is going to be the biggest key for this game."
Foucha said the recall from the August time spent on GSU has carried over.
"Now that it's here, it's not hitting us off guard," Foucha said. "We know everything that's coming, and we're still working. We still have a few days of preparation."
GSU QB RETURNS
Georgia Southern, an 8-5 team last year routing Louisiana Tech 38-3 in the New Orleans Bowl, should be better quarterbacked this week than last week.
Incumbent QB Justin Tomlin has fulfilled academic issues causing him to miss GSU's first two games and seems set to play against Arkansas.
"I think he's a guy who makes their offense go," Pool said.  "We've been preparing for him to be in there, but any guy they have will run it well."
KEEP WORKING
Senior offensive tackle Myron Cunningham acknowledged an Arkansas offensive line that endured constant criticism during the 2-10 season of 2019, did enjoy the praise from plowing through Texas for 334 rushing yards while not yielding a sack.
But he said there was immediate incentive to put that game away and concentrate on GSU.
"I mean, it means a lot to us because normally offensive linemen don't get recognition unless you do something like that," Cunningham said. "At the end of the day, it's one game. If we come out against Georgia Southern and we lay an egg, everyone is going to be talking about that more than they are Texas. We've just got to stay steady, keep our heads down and continue to work."