Four downs: BYU at Arkansas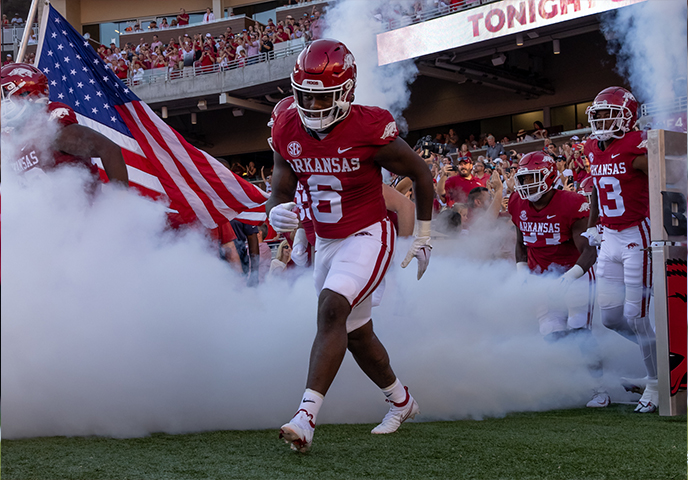 By DON KAUSLER JR.

Enough of the warmups, especially because the Arkansas football team's latest warmup was lukewarm at best.
Bring on a real opponent for the unranked Razorbacks (2-0).
Bring on BYU.
At 6:30 p.m. CDT Saturday (ESPN2), the unranked Cougars (2-0) will visit Donald W. Reynolds Razorback Stadium in Fayetteville.
The Razorbacks are coming off a forgettable 28-6 victory over visiting Kent State. The Golden Flashes were coming off a 56-6 loss at unranked Central Florida. They gave up 723 yards. Against that same leaky defense, Arkansas gained 308 yards.
A year ago, Arkansas defeated BYU 52-35. That was on the road. If the Razorbacks win Saturday at home, the Kent State game will fade from memory.
This BYU game is an important springboard to SEC competition for Arkansas. How can it win next week at No. 14 LSU (1-1) if it can't win a nonconference home game against a team that some experts predict will finish last in its first season in the Big 12 Conference?
The Razorbacks are an 8-point favorite this week. They were a 38-point favorite last week. They started slowly, and a runaway never materialized.
That's because Arkansas had trouble running, for the second time in as many games.
That's where this preview will start. …
FIRST DOWN
Running in place: Last season, Arkansas ranked seventh in the nation with an average of 246.7 yards rushing per game. This season, the Razorbacks are ranked 82nd with an average of 138.5 yards rushing per game. They ran 45 times for 172 yards (3.8 avg.) against Kent State. They ran 36 times for 105 yards (2.9 avg.) in a season-opening 56-13 victory over Western Carolina.
Bad news for Arkansas: Star junior running back Raheim "Rocket" Sanders will miss his second consecutive game with a knee injury.
More bad news for Arkansas: BYU ranks 11th in the nation in rushing defense (61 yards per game, 2.4 yards per attempt).
"It's really a challenge now," Arkansas tailback AJ Green said this week. "Obviously we've got new people on the line. We've got some people that left. So, we're not all comfortable yet.
"That's what we've been working on every single day. So, the run game, as you can see, is just going to keep getting better from now on. We're going to learn to execute our plays better."
Only two starters returned on Arkansas' offensive line. Senior Beaux Limmer shined last season at right guard but now starts at center. Veteran Brady Latham returned at left guard but did not play against Western Carolina because of an apparent concussion.
"We've had a huge emphasis on getting to fits and driving," Latham said this week. "The O-line has gotten together, and the run game is kind of what we want to be known for. We've had success in the past in the run game, and we want to continue to have success."
The Razorbacks are adjusting to a new offensive coordinator, Dan Enos, and his pro-style attack.
"It may not be just a quick fix," Arkansas fourth-year Coach Sam Pittman said Monday. "I think ... the order of how we're playing our games is going to help us with a new coordinator. And there were some mistakes. A new coordinator. Try to continue to figure out exactly what we do well, what we can do well. But you have to do something well. And I think our backs have got to run harder."
Limmer is adjusting to his new position.
"Beaux has to become a more vocal leader," Pittman said. "I think having Brady back will help us. But we have to get better there. We're addressing it. We addressed it last week."
Bottom line:
"Obviously, we've done a lot of talking about the offensive line and all that kind of stuff, but there's a whole lot of things that go into rushing the football," Pittman said. "The offensive line included, but the backs have a lot to do with that, too.
"We've all seen 80-yard runs where you don't block a soul, and a guy just breaks it and gone. We just haven't had that yet, and right now we've got to be pretty picture perfect to have some success running the football. …"
The longest run by an Arkansas running back against Western Carolina was a 17-yard gain by Sanders. The longest run against Kent State was a 23-yard gain by Green.
"The key for us is we've got to have explosive plays," Pittman said.
SECOND DOWN
Deee-fense: Everybody has noticed how Arkansas has sputtered on offense. Has anybody recognized that the Razorbacks' defense has shined?
In 2 games – admittedly against weak competition – Arkansas has allowed 1 touchdown and 4 field goals for an average of 9.5 points per game. That ranks 14th in the nation. Last season, Arkansas allowed an average of 30.6 points per game. That ranked No. 101 out of 131 FBS teams.
The Razorbacks lead the nation in turnover margin (plus-3.0 per game), and they rank No. 3 in tackles for loss (10.5 per game), No. 4 in rushing defense (61 ypg), No. 5 in sacks (4.5 per game), No. 6 in turnovers gained (6) and No. 18 in total defense (265.5 yards per game).
They have returned 2 of 5 interceptions for touchdowns. They did not return any interceptions for a touchdown last season.
Arkansas held Kent State to 26 net yards rushing on 36 attempts.
Pittman praised his defense Monday.
"We haven't cut anybody loose behind us," he said. "We're not giving easy points."
Of course, there's room for improvement.
"We have had a few missed assignments underneath routes and things of that nature," Pittman said.
"We're swarming the ball well. I didn't think we tackled as well Saturday as we did the first game. We're not wrapping up. We got to wrap up, and we're just trying to knock the heck out of the guy and knock him down. Well, you got to wrap him up. …
"But, you know, I've been really proud of our defense. … And situational ball, I think we've been a lot better than what we have been in the past."
THIRD DOWN
Bring Your Urgency: Pittman said he expects his team to be fully motivated to face BYU.
"You can prepare them all you want, as urgent as you want," he said Monday. "They have to accept that there is a reason for urgency. … And sometimes it's simply because of who you're playing."
A year ago, Arkansas traveled to Provo, Utah, having lost 3 in a row, all SEC games, but won 52-35.
"Last year BYU was an urgent game," Pittman said. "It was a must-win for us and all those type things. It is now. … It's hard to beat a team that hasn't lost. Both of us haven't, so someone's going to have to. I think our kids understand the urgency of this game."
BYU has defeated Sam Houston State 14-0 and Southern Utah 41-16. The Cougars are looking forward to a challenge.
"We played against them last year, and they put up a lot of points on us, and they got the victory," BYU Coach Kalani Sitake said. "We're looking (forward to) the rematch and going out to Arkansas."
Jefferson threw for 367 yards and 5 touchdowns last year at BYU.
"Tough team. Tough talent, just like we saw last year," Sitake said. "It doesn't hurt that they have a veteran quarterback returning that's big and strong, can run and can throw."
Sitake said the revenge factor can only take you so far.
"The key for us is to keep things more simple than that," he said. The fans probably weren't happy about that game, obviously. For our players, this is a whole separate deal, and I think that's the way we've got to keep it."
The Cougars are led by quarterback Kedon Slovis, who transferred from Pitt. He has thrown for 4 touchdowns, all coming against Southern Utah, and 493 yards.
Like Arkansas, BYU has struggled on the ground. The Cougars ran 34 times for 112 yards against Sam Houston State and 23 times for 46 yards against Southern Utah.
"They play extremely hard. … They did last year," Pittman said. "I think they're a better football team than they were last year. Big, physical team. They've got a guy at each level on defense that I think is really good."
FOURTH DOWN
KJ's magic potion: A 10-second YouTube video surfaced last week of Jefferson taking a break on the sidelines after an Arkansas touchdown during its easy victory over Western Carolina at War Memorial Stadium in Little Rock.
"Y'all, let me see my Skittles," Jefferson said while sitting on the bench.
A student manager handed the quarterback a bag of the sugary, fruity, chewy candy. With his right hand, Jefferson shook some of the candy into his left hand.
"There you go," Jefferson said, handing the small bag back to the manager.
Jefferson then reached for a Gatorade bottle.
"My magic potion," he said.
Sound familiar?
Former NFL running back Marshawn Lynch coined the phrase when he ate Skittles on the bench during games. His mother first gave him Skittles to enjoy during high school games. Perhaps the "power pellets" transformed him to "Beast Mode."
Pittman was asked if there's a back story.
"I guess he just likes candy," Pittman said. "I need to find out where he's getting them from."
Maybe the Razorbacks' running backs and offensive line need to visit the concession stand.