HOGS: LB Morgan back, special teams praised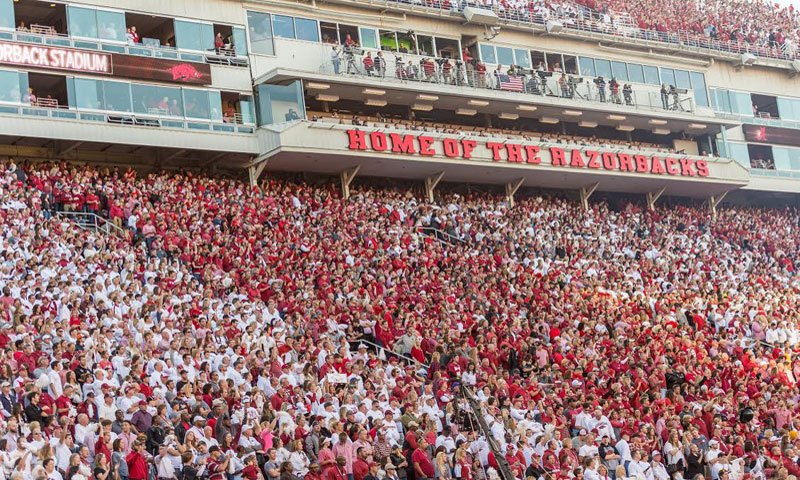 FAYETTEVILLE -  Regardless of what transpired in Tuesday's entirely closed Arkansas practice you could expect a poor review from Coach Sam Pittman.
With Razorback fans sky high and national accolades pouring in after routing then No. 15 Texas, 40-21, a coaching staff leveling of the Hogs loomed inevitable hosting 23-point underdog but upset-minded Georgia Southern at 3 p.m. Saturday in Fayetteville and on the SEC Network.
 "First of all we didn't practice great (Tuesday) and so we have to improve on that," Pittman says.  "I didn't think the intensity was there, what it needed to be and we're going to work on that.  We probably haven't been in this spot for a while (2-0 off beating a top 15 opponent)  but I think we know how to get them ready and they'll be ready."
He expected better Wednesday.
"We will have it fixed," Pittman says. "I'm just stating the facts. I sure wish we'd have practiced better, but we'll get it fixed."
WARNING HOW MIGHTY HAVE FALLEN
He warned them about some favored teams that last week didn't fix problems possibly overlooked during their practices.
"I showed them yesterday three different teams that had won big games and then the next week got beat by unranked opponents," Pittman said.  "I just said, 'Hey, you get the drift in here?' We are Arkansas and the way we have had some success is because we rolled up our sleeves and we go to work. We didn't do that to our standards, which are as high as anywhere in the country, and I have zero doubt that we'll have a good practice today."
MORGAN OK
Senior middle linebacker Grant Morgan, exiting injured late against Texas, practiced both in Monday's workout  team conducted in shorts  and Tuesday's that was scheduled to be full pads.
""Grant's doing good," Pittman at his Wednesday afternoon press conference pre practice.  "He practiced the entire time Monday and Tuesday, and we expect him to today (Wednesday). So, I think he's going to be just fine."
Morgan, 13 tackles against Texas, was named the Chuck Bednarik Award's Defensive Player of the Week, while fellow Arkansas senior linebacker Hayden Henry (a game-leading 15 tackles) was named the both the Walter Camp Award and SEC Defensive Player of the Week.
Senior linebacker Bumper Pool, missing Saturday's first half because a second-half targeting penalty in the previous week's 38-17 victory over Rice, made 10 second half tackles against Texas.
Between Henry sitting out the Rice first half because of ending last season with a targeting penalty against Alabama, Morgan missing three quarters against Rice because of a first quarter targeting penalty, and Pool's penalty, Saturday marks the first time this season able to rotate its three senior linebackers at the two linebacker spots in coordinator Barry Odom's defensive schemes.
ROTATING 3 STARS IN 2 ORBITS
How will they rotate three senior stars at two positions?
"If there is not a whole lot heckuva difference in this guy or that guy and that guy it's really, really easy to stay with the formula," Pittman said.   "Say for instance we want Bump in a 75-play game we want him coming out with 50, and somebody else with 50 and maybe Grant will get 65 or whatever it may be.  We kind of have a formula there on how we're going to play them and when we're going to put them in."
SPECIAL TEAMS NET SPECIAL PRAISE
While easing on the post Texas praise this week preparing for Georgia Southern, Pittman did praise the special teams.  Special teams often floundered against Rice, most notably suffering a blocked punt,  but mostly excelled against Texas.
"I was really pleased last week with our special teams," Pittman said. "They played like what I thought they could play."
While elated with freshman place-kicker Cameron Little kicking 4 of 4 field goals against Texas with 4 of 4 PAT's, Pittman would have preferred the offense finishing those field goal drives with touchdown for Little to be 8 of 8 on PAT's.
"The four drives that we kicked field goals on, and every one of them ended up on mental assignments," Pittman said. "We have to clean that up. When we go out and play an SEC team, we have to get those seven points any time we have an opportunity."
LOOMING SEC GAUNTLET
Texas someday will be an SEC  team but not, still fulfilling Big 12 contract obligations before it and Oklahoma can join its new league.
After playing Georgia Southern of the Sun Belt, Arkansas begins a run of four consecutive SEC games.
It's a Murderer's Row,  starting with its 2:30 p.m.  Sept. 25 SEC against AP nationally No. 7 Texas A&M at the Dallas Cowboys' AT&T Stadium televised by CBS followed Oct. 2 at No. 2 Georgia, Oct. 9 at No. 17 Ole Miss and finally back to Reynolds Razorback Stadium, Oct. 16 against No. 22 Auburn.
The Coaches poll ranks Texas A&M No. 5, Georgia No. 2, Ole Miss,No. 16, Auburn No. 20 and Arkansas No. 24.