HOGS: Like him or not, here comes Bobby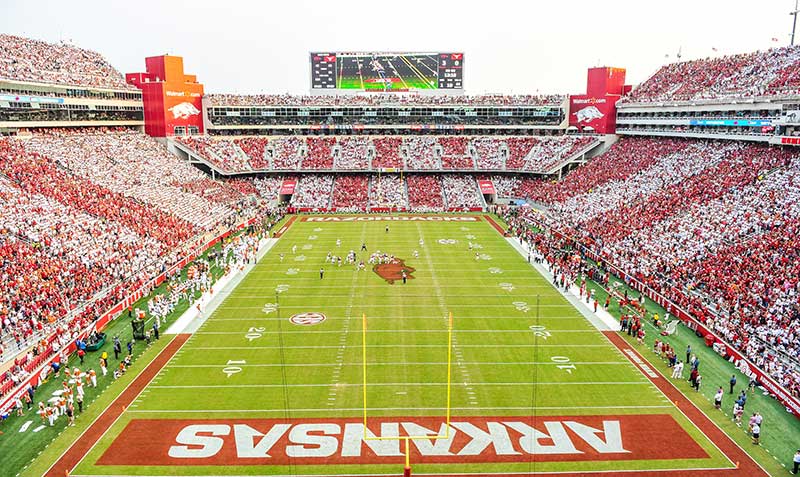 FAYETTEVILLE — Missouri State football Coach Bobby Petrino says he will likely feel a mixture of emotions when he brings his FCS Bears to Fayetteville this Saturday to take on the 10th-ranked Arkansas Razorbacks.
Kickoff is set for 6 p.m. at Reynolds Razorback Stadium.

"We'll see how it feels when I get there," Petrino said earlier this week. "Right now, I'm going to focus on the week and the preparation. I'm sure there will be some feelings and emotions when I step into the stadium. But it's not about me it's about our football team."

Petrino, 34-17 from 2008-2011 as Razorbacks coach, will not return to Fayetteville as a conquering hero.

Petrino's firing in April of 2012 came after a motorcycle accident, which led to the reveal he was covering up an extramarital relationship he had with a football department employee. 

Even though Petrino has apologized for the incident numerous times, with one notable apology happening at the Little Rock Touchdown Club in 2019, he knows he will likely not receive the warmest of welcomes from the fans in Razorback Stadium.

 "There's instantly a reaction when you hear my name, whether it's negative or positive," Petrino said to ESPN. "I wish it was more positive, but it's probably more negative and a lot of that is on me. They know what happened when I was fired at Arkansas and how poorly I handled everything, and that's what sticks with them."

Saturday's game, while not nationally televised, can be seen through streaming options on the ESPN and the SEC Network Apps.

HIGH ON MCGLOTHERN

The Razorbacks secondary has allowed 350.5 passing yards per game through two weeks, ranking it last in the SEC and 129th in the FBS in that category.
Injuries to preseason All-SEC safety Jalen Catalon (shoulder/out for season) and nickel back Myles Slusher (questionable for Missouri State) have contributed to the large yardage total, but LSU transfer Dwight McGlothern (6-2, 181; Houston Klein Oak) has 8 tackles and both of the team's interceptions.

 "He's really confident," Pittman said of McGlothern. "That's the first thing a corner has to be. He sees routes well, and because he does a lot of film study before games, he knows who his opponent is and what he's going up against."

McGlothern leads the SEC with his two interceptions.

KEEPING THE D-LINE FRESH

The Hogs defensive line has been one of the reasons the defense has held opposing offenses to 76.5 rushing yards per game, which ranks 2nd in the SEC. Six different linemen have made 3 or more total tackles so far this season —Landon Jackson (5 tackles, 0.5 sacks), Terry Hampton (3 tackles), Jordan Domineck (3 tackles; 2 sacks, 1 forced fumble), Zach Williams (3 tackles, 1.5 TFL, 0.5 sack), Eric Thomas Jr. (2 tackles) and Jashaud Stewart (2 tackles).
 "Our philosophy is to keep the freshest guys out there," Pittman said. "I think they as a whole have been playing really well, and I think part of it is because they're keeping fresh.

PREP FOR KICK RETURN

With the majority of college kickers now being able to now boot a football through the end zone on a kickoff, the kick return has become a rarity in the game. This is no exception for the Razorbacks, besides a 34-yard return by linebacker Bumper Pool on an onside kick against South Carolina, the Hogs have only had one true kick return. This happened against the Cincinnati Bearcats, where AJ Green had a 16-yard return.
This week could be a golden opportunity to show off the return game for the Razorbacks as the Bears have allowed seven returns on 15 total kickoffs with their opponents averaging 22.4 yards per return.

"We work on this every week, but with this week you think there's more of a chance for a return," Arkansas Coach Sam Pittman. "I think we're a good kickoff return team as long as we can stay away from penalties, which have hurt us in live special teams reps. So, we've made a big deal out of it and hopefully it will help us on Saturday.

Last season, the Hogs put up 310 kick return yards on 17 returns, led by AJ Green (147 yards, 16.3 avg.) and Ladarrius Bishop (144 yards, 24 avg.).