HOGS: Morris lauds many; injury report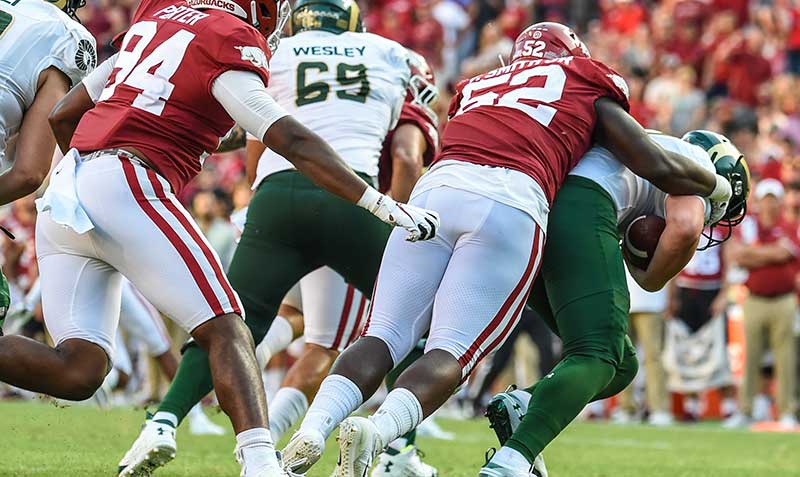 FAYETTEVILLE -  Arkansas freshman defensive end Zach Williams and sophomore starting weakside linebacker Bumper Pool suffered the most significant injuries Saturday during the Razorbacks' 55-34 victory over Colorado State.
True freshman Williams suffered a knee injury and likely misses the next two games, Arkansas coach Chad Morris says. Williams (six tackles for the 2-1 Hogs) pressed into the defensive end rotation after senior starter Dorian Gerald suffered a season-ending injury while senior Jamario Bell injured a knee,
Bell (Junction City) practiced Sunday and should play this week, Morris says. Arkansas plays host to San Jose State at 6:30 p.m. Saturday in Fayetteville before opening SEC play the following week at 11 a.m. on ESPN against Texas A&M in Dallas. 
POOL QUESTIONABLE
Pool suffered a strained clavicle and is "day to day," Morris says.
Juniors Hayden Henry (Pulaski Academy), the first-team strongside linebacker when Arkansas uses a true 4-3 defense, Grant Morgan (Greenwood) and D'Vone McClure (Jacksonville) variously joined senior middle linebacker De'Jon "Scoota" Harris against Colorado State.
"Bumper has played well," Morris says. "I certainly hope he's going to be ready to go, but if not, it's next man up."
Henry made the hit on CSU running back Marvin Kinsey jarring the fumble that redshirt freshman backup cornerback LaDarrius Bishop (Ashdown) scooped and scored for the game-sealing 25-yard touchdown. 
Henry "banged up a shoulder a little bit," on his big hit, Morris said.
Bishop subbed in the second half for injured starting cornerback  Montaric "Buster" Brown (Ashdown). Brown participated in Sunday's light practice and is expected to practice Tuesday, Morris says.
LIMPERT SEC HONORED
Senior place-kicker Connor Limpert and Morgan were named Arkansas' special teams players of the game Monday by Morris.
"Grant Morgan was a force all night long on all of our units," Morris says.
Limpet kicked a career long 54-yard field goal and a 22-yard field goal, finished 7 for 7 on PAT's and booted five of 10 kickoffs into the end zone. He was named SEC Special Teams Player of the Week Monday by the SEC Office in Birmingham, Ala.
"Very well deserving and great for him and our program," Morris said. "The big kick the 54-yard field goal, was a huge momentum swing for us.  And his kickoffs .. I think he just built on the momentum." 
HIGHLY PRAISED
Scoota Harris, with a season-high 12 tackles on Saturday, funneled Kinsey into Henry for the turnover causing hit. He was Morris' choice for Defensive MVP of Saturday's game.
Harris especially took matters into his hands rallying the defense's fourth-quarter shutout after CSU, overcoming Arkansas, 34-27 last year in Fort Collins, Colo.  with a 17-0 fourth quarter, had come back from  down 27-14 in Fayetteville to tie it 34-34.
"Scoota pulling everybody together and saying 'It's not happening again," Morris said. "That was as good as I've ever been around. He was definitely a force, both on the field and off the field."
Junior quarterback Nick Starkel, 20 of 35 for 305 yards and three TDs with no interceptions, and junior center Ty Clary were Morris' choices as Co-Offensive Players of the Game.
Clary of Fayetteville sprung running back Rakeem Boyd's 59-yard TD answering CSU's quick 7-0 lead and apparently never let up.
"Ty Clary played the best game I've seen him play since he's been here," Morris says.  "He continues to improve."
SPARTANS FRESH
San Jose State (1-1), like Colorado State from the Mountain West Conference, had an open date last weekend. 
"They've had an opportunity to prepare an extra week for us, and we'll see their best," Morris said.