HOGS: Looking for LBs; have full-time special teams coach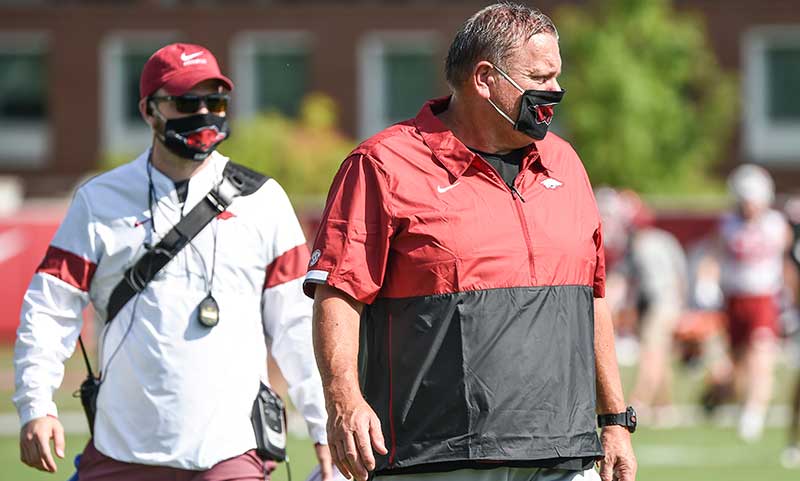 FAYETTEVILLE – Arkansas coach Sam Pittman offers plenty of praise for the defensive line and secondary but not linebackers where both middle and weak-side positions remain wide open.
"I don't think anybody needs any more chips on their shoulder in our linebacker room," linebacker Grant Morgan says. "Because I think every single person is trying to be the best they can be. Coach Pittman is saying that stuff because he knows not a single position is already set in stone for any position on the field. I think that's the difference between our team right now compared to the past. I think that we've really grown into fighting for our positions and fighting for something that we all want to get better.
SPECIAL TEAMS COORDINATOR
Though a linebacker by trade, Morgan also plays on Razorbacks special teams and the fifth-year senior from Greenwood relishes having a full-time special teams coordinator.
The Razorbacks had no special teams coordinator during Morgan's two years under Bret Bielema and first year under Chad Morris. Barry Lunney had the title last year but was busy coaching tight ends.
Scott Fountain coaches only special teams for new Arkansas coach Sam Pittman just like when he and Pittman were assistants at Georgia.
"When Coach Pittman brought Coach Fountain over we realized special teams is a third of the whole game," Morgan says. "Really in yardage it puts up just as much as offense and defense. Coach Fountain comes in and emphasizes special teams and shows the best special teams are usually when your best guys are playing on them. He's showing examples after examples of people going to the league because everyone here wants to go to the NFL."
Morgan has always put a special emphasis on playing special teams. The former walk-on, now a scholarship 3-year letterman linebacker, wants to lead the Razorbacks out of consecutive 1-7, 0-8, 0-8 SEC records.
Morgan wasn't mentioned much as a linebacker by Pittman after preseason practices, likely because he has missed time quarantined.
NOT OVER BURKS' HEAD
Breaking the adage of it ain't broke don't fix it, Fountain has changed outstanding sophomore punt returner Treylon Burks' unorthodox catching punts with hands above his head to the conventional.
"I said 'Treylon, if an NFL team has two guys of equal value, both great returners - and you're a great returner - who are they gonna take?" Fountain said. "A guy that catches above his head or a guy that's gonna catch it properly with a body tuck? So he kind of took it to heart and has really worked on it. I'm really, really proud of him."
He of course would be happy with Burks succeeding with his own style, but the over the head risks are obvious.
"Any time you catch the ball above your head or you're running down the field with the ball over your head, it's certainly got a better chance of getting knocked out," Fountain said. "We'd just like him to tuck the ball to his body and keep that from happening. I'm just trying to work with him on securing it and trying to not only make his future better here but make his future better down the road. He's a heck of a kid and a heck of a return guy."
VERSATILE WARREN
De'Vion Warren, who had a 100-yard touchdown kickoff return against Auburn, bring speed for returns and on punt, punt return and kickoff coverage.
"He really picks it up quick and can do a lot of things," Fountain says. .
"We go through a very tough period and then we go to special teams," Warren said. "Because when it comes to a game, the transition of going from offense or defense to special teams is big. That's when a lot of people are tired. So he tries to make it as game-like as possible."