Class 2A Week 4 Rankings, Notes & Picks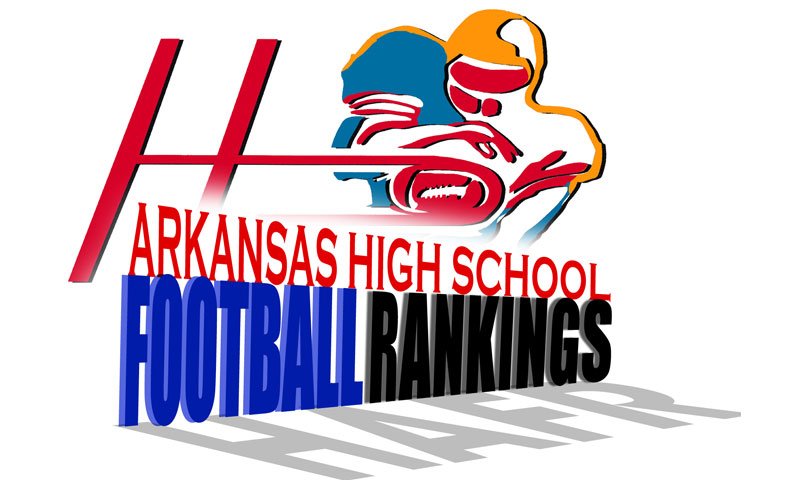 hootens.com Rankings
Class 2A, Week 4, 2018
Copyright Hooten Publishing, Inc.

1. Foreman (3-0)
2. Junction City (1-2)
3. Mount Ida (3-0)
4. Hazen (2-0)
5. Mineral Springs (3-0)
6. Conway Christian (1-2)
7. Hampton (1-1)
8. Fordyce (1-2)
9. Earle (2-1)
10. Hector (2-1)
11. Salem (2-1)
12. Gurdon (2-1)
13. Poyen (3-0)
14. Bearden (0-2)
15. Des Arc (1-2)
16. McCrory (3-0)
17. Magnet Cove (1-2)
18. Cross County (1-2)
19. Mountainburg (1-1)
20. England (0-3)
21. E. Poinsett County (2-1)
22. Parkers Chapel (1-2)
23. Hackett (1-2)
24. Bigelow (3-0)
25. Quitman (3-0)
26. Carlisle (0-2-1)
27. Mountain Pine (1-2)
28. Magazine (1-2)
29. Lavaca (1-2)
30. Strong (0-3)
31. Murfreesboro (1-2)
32. Marked Tree (0-3)
33. Clarendon (0-2)
34. Lafayette County (0-3)
35. Brinkley (1-2)
36. W. Yell County (2-1)
37. Marianna (0-2)
38. Cutter M. Star (1-2)
39. Rector (1-1)
40. Spring Hill (1-1)
41. Dierks (0-3)
42. J.C. Westside (1-2)
43. Midland (0-3)
44. Marvell (0-3)

GAME OF THE WEEK
No. 5 Mineral Springs at No. 3 Mount Ida
Mineral Springs has pitched consecutive shutouts, holding England to 103 yards last week in a head-turning 35-0 win. Senior Tahji Beal (5-10, 210) fuels Mineral as a running back and linebacker. MS senior QB Peyton Haddan rarely commits turnovers and gets the football to playmakers like junior RB Cameron Lee. No. 3 Mount Ida sputtered for a half last week but pulled away from Magnet Cove 28-7 by limiting the visitors to 31 total yards in the second half. Senior Ty Abernathy recorded 11 tackles while seniors Jonathan Lagrange and Luke Fiorello logged 10 stops apiece. Mount Ida has dominated this series the past four years since moving from the 5-2A to the 7-2A.

TV LAND
Hooten's Arkansas Football airs at 10:30 a.m. Saturdays on KATV (ABC Little Rock) Channel 7, covering the Razorbacks and players to watch.

LAST WEEK
Hootens.com correctly picked 25 of 29 (86 percent) games involving Class 2A teams. Hootens.com has picked 82 of 103 (80 percent) for the season.

WEEK 4 PREDICTIONS (favored team in CAPS followed by point spread)
3-2A
Marked Tree at CROSS COUNTY (15): Cross County allowed three long TD runs last week in an 18-point loss to Earle, including a 69-yarder by 265-pound jumbo 'back Jaylon Coopwood. Marked Tree, struggling with numbers (17), gave up 274 combined rushing yards to eight Hazen running backs.
Rector at E. POINSETT COUNTY (21): EPC led Class 3A Corning by 20 points going into the fourth quarter and held on for a 26-20 win, rushing for 291 of its 302 yards. Rector got past Corning 15-14 two weeks ago, lost to Class 3A Piggott 52-0 last week.
MCCRORY (27) at Midland: McCrory looks to clean up 11 penalties for more than 100 yards last week in a 34-19 win over Clarendon that was not as close as the final score. Junior safety Sam Brown returned a fumble for a TD, and senior Hagen Blackmon delivered a solid performance at defensive tackle. Senior FB/LB Austin McAdams paces Midland on both sides of the ball.
SALEM is open.

4-2A
HACKETT (19) at Magazine: Hackett senior QB Brady Hester ran for 149 yards last week in an eight-point loss to Panama, Okla., despite missing three starters on his O line. Magazine just blistered Cutter Morning Star 50-26, but strength of schedule and history (four straight blowouts in this series) favor Hackett.
LAVACA (21) at J.C. Westside: Lavaca averages 6.5 yards per carry as a team with senior Tyler Armstead rushing for a team-high 255 yards and two TDs. Senior LB Trevon Moore paces the defense with 30 tackles, including four TFL.
HECTOR (16) at Western Yell County: Hector was off last week, while Western Yell was on ... in a big way, ripping Class 3A Rose Bud 52-12. Hector senior QB Cody Day has passed for 463 yards and rushed for a team-high 271 yards and three TDs. Sophomore LB Harrison Taylor leads hector with 25 tackles.
MOUNTAINBURG (22) at Marshall: Mountainburg fills spot vacated by now 8-man Decatur with a road trip to Class 3A Marshall, which was originally scheduled to play Rose Bud, which is transitioning to a JV schedule the rest of the season. Mountainburg senior LB James Vanourny paced the defense two weeks ago with 19 tackles against Greenland.  

5-2A
Poyen at CONWAY CHRISTIAN (10): Strength of schedules contrast here. No. 6 Conway Christian (1-2) has lost to Class 4A No. 15 Bauxite and Class 3A No. 3 Clinton by a combined 57 points, while Poyen (3-0) has blown out struggling Drew Central, Bismarck and Murfreesboro. Poyen scored 165 of its 173 points in the first half of those wins. CC has not lost to Poyen since the series started in 2010, outscoring the Indians 342-87.
Quitman at BIGELOW (2): Bigelow third-year starting QB Brady Reed has passed for more than 400 yards this fall, while fellow senior RB Ricky Dunlap leads the Panthers in rushing and in tackles at linebacker. Quitman starting QB Levi Balentine (knee) is out indefinitely, but sophomore QB Holden Martin has completed 33 of 38 passes (87 percent) for 575 yards and four TDs with one INT. Quitman has won two of the past three in this series, but Bigelow won last year 23-17.
MOUNTAIN PINE (15) at Cutter M Star: Mountain Pine fell to Class 3A Centerpoint by 30 points last week, while Cutter Morning Star gave up 50 points in a 24-point loss to Magazine. MP sophomore Josiah Walpole and senior Asa Gatlin lead the Red Devils with 25 and 22 tackles, respectively.
England at MAGNET COVE (6): England appeared offensively inept a week ago when it managed just 103 yards in a 35-0 loss at No. 5 Mineral Springs. Magnet Cove ran for 154 yards in the first half last week at No. 3 Mount Ida but managed only 31 total yards in the second half of a 28-7 loss. England had to forfeit its Week 2 win over McCrory after using an ineligible player.

6-2A
HAZEN (7) at Carlisle: Led by senior LB Cade Perry's 13 tackles (six TFL), No. 4 Hazen held Marked Tree to 41 total yards last week, including 28 rushing yards on 30 attempts. Senior Demariae Buchanan made 10 tackles and returned a fumble for a score. Junior Ay'lon Green led all ball-carriers with 103 yards and two TDs. Junior Rasheed Mills returned a punt 89 yards for a TD. Carlisle relies heavily on all-league RB JaSean Harper, and junior Ian Seidenschwarz (13 tackles last week) is a tenacious defender. Carlisle tied Class 3A Baptist Prep 12-12 last week in a game that should have gone into overtime but did not. Carlisle might have won in regulation if not for 110 yards in penalties. Carlisle has dominated the series vs. Hazen, winning 23 times since 1988.
BRINKLEY (2) at Clarendon: Clarendon played well up front last week in a 15-point loss to McCrory, while Brinkley lost to Class 3A Palestine-Wheatley 24-0. P-W opened the season by crushing Clarendon 42-7.
EARLE (28) at Marianna: Marianna hung with Class 3A Barton last week, trailing by eight points at halftime before falling 36-20. Earle dumped Barton 36-16 Week 2.
DES ARC (35) at Marvell: Des Arc was idle last week after falling to McCrory 30-28. Look for Des Arc senior QB Garrett Goodman to return from an injury, allowing junior Cooper Roberts to shift back to running back. Marvell scored 12 and 26 points the past two weeks in losses to Class 3A Palestine-Wheatley and Manila. Marvell's last two victories came Week 10 2016 over Brinkley and Week 10 2013 over P-W.

7-2A
Mineral Springs at MOUNT IDA (13): See Game of the Week.
Dierks at GURDON (32): Gurdon climbs four spots to No. 12 after escaping Bearden last week with a 10-8 win. Led by senior linebacker Kam Lollis' 14 tackles, the Gurdon defense forced four turnovers and held Bearden to 177 yards. Junior Fernando Garcia kicked a 31-yard field goal with three minutes left to win it.
Lafayette County at MURFREESBORO (4): Murfreesboro must contain sophomore QB C.J. Williams, the brother of former LC great and current Louisiana Tech WR Cualan Williams. Murfreesboro's defense gave up 524 yards and TDs on eight of 11 possessions last week at Poyen.
FOREMAN (36) at Spring Hill: Top-ranked Foreman has not been tested since the opening game vs. Class 3A Smackover, a 46-20 loss on the field that Smackover forfeited for playing an ineligible player. And Foreman likely will not be challenged until Week 7, a state championship rematch with No. 3 Mount Ida. Foreman averages 227 rushing yards per game and 7 yards per carry.

8-2A
FORDYCE (8) at Bearden: Bearden, which committed four turnovers last week, needed a 35-yard double-reverse pass to score its TD in a 10-8 loss to Gurdon. Fordyce, with superior team speed on defense, throttled Class 4A Monticello (41-6) for the second year in a row.
Parkers Chapel at HAMPTON (18): No. 4 Hampton just held Class 4A Star City to less than 200 total yards, led by sophomore Cymeon Mcrae (nine tackles, two TFL), senior DE Desmond Brown (eight tackles, two TFL) and senior corner Ethan Pennington (two INTs). PC gave up 395 rushing yards in a 52-8 loss to Class 3A Mayflower.
JUNCTION CITY (38) at Strong: Junction City went down hard last week at Louisiana small school power Haynesville, 33-0. Strong netted 28 total yards, picked up two first downs (one by penalty) and did not cross the 50-yard line in a 53-0 loss to Class 3A Rison.
WOODLAWN and HERMITAGE are playing 8-man football this season.