Class 3A Week 4 Rankings, Notes & Picks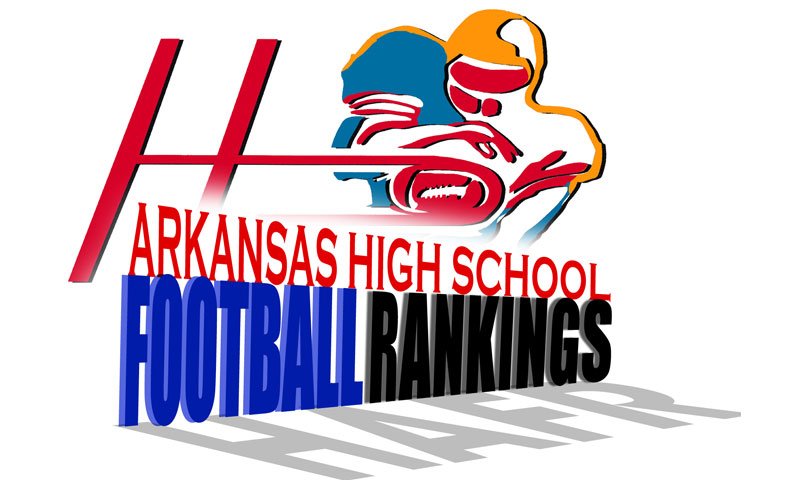 Hootens.com Rankings
Class 3A, Week 4, 2018
Copyright Hooten Publishing, Inc.

1. Booneville (3-0)
2. Prescott (3-0)
3. Clinton (3-0)
4. Mayflower (3-0)
5. Smackover (2-1)
6. Charleston (2-1)
7. Newport (2-1)
8. Osceola (1-2)
9. Rison (3-0)
10. Glen Rose (2-1)
11. Harding Academy (2-1)
12. Atkins (3-0)
13. McGehee (1-2)
14. Walnut Ridge (3-0)
15. Lamar (3-0)
16. Hoxie (2-1)
17. C. Harmony Grove (2-1)
18. Melbourne (2-1)
19. Danville (2-1)
20. Mansfield (3-0)
21. Palestine-Wheatley (3-0)
22. Barton (1-1)
23. Harrisburg (2-1)
24. Greenland (2-1)
25. Piggott (2-1)
26. Jessieville (2-1)
27. Centerpoint (2-1)
28. Fouke (1-2)
29. Yellville-Summit (1-2)
30. Perryville (1-2)
31. Horatio (1-2)
32. Manila (2-1)
33. Drew Central (0-3)
34. Cedarville (1-2)
35. Lake Village (2-1)
36. Baptist Prep (1-1-1)
37. Bismarck (1-2)
38. West Fork (0-3)
39. Cedar Ridge (1-2)
40. Mountain View (0-3)
41. Genoa Central (1-2)
42. Dollarway (0-3)
43. Paris (0-3)
44. Marshall (0-3)
45. Corning (0-3)
46. Two Rivers (0-3)
47. Rose Bud (0-3)

HOOTENS.COM GAME OF THE WEEK
No. 3 Clinton at No. 11 Harding Academy.
Winner likely claims the 2-3A title. Coaches voted Clinton to win the conference in this year's Hooten's Arkansas Football magazine with Harding Academy voted third. "It's a good thing to have something to play for," Harding Academy coach Neil Evans says. "Our kids are excited to play on a big stage."
Harding Academy rallied last week to down Class 4A Heber Springs 29-27 on Ben Sloan's game-winning 25-yard field goal with two minutes left. The Wildcats won despite playing without five starters, four of whom will not return this week. "We've had some guys step in and play well. It's been their first year to be counted on heavily," Evans says. "I'm proud of the seniors because they've never been in the spotlight, but they've adjusted well."
Clinton has won 15 of its past 16 games. Last season was Clinton's best in school history (12-1 record with an outright conference title and second quarterfinal appearance). The Yellow Jackets own wins this season over Class 4A members Heber Springs and CAC and Class 2A state title contender Conway Christian and "that really could help us this week," Clinton coach Chris Dufrene says. "It wasn't always pretty for us matching up with those passing teams, but it was good for us to see it." Clinton last week amassed 467 yards, 441 on the ground, in a 48-28 win at CAC, paced by Ethen Drake's 223 on the ground.
This game is a contrast of styles with Clinton's Wing T-based offense and Harding Academy's Spread attack. Clinton last week showcased a Nickel look defense against pass-happy CAC and allowed the Mustangs just 14 second-half points. Both teams Heber Springs by two points.

TV LAND
Hooten's Arkansas Football airs 10:30 a.m. Saturdays on KATV (ABC Little Rock) Channel 7, covering the Razorbacks, high school teams and players to watch.

LAST WEEK
Hootens.com correctly predicted 20 of 24 winners (83 percent) of games involving Class 3A schools. Hootens.com has correctly picked 94 of 115 winners (82 percent) of games involving Class 3A schools for the season.

WEEK 4 PREDICTIONS (favored team in CAPS followed by point spread)
1-3A
BOONEVILLE (20) at Paris: Both were idle last week. Booneville has forced 12 turnovers in its 3-0 start. Paris is 0-3 for the first time since 2006 and has been outscored 122-47.
LAMAR (12) at Cedarville: Lamar is 3-0 for the first time since 2015. Last week the Warriors rushed for 208 yards (6.3 yards per carry) in a 42-8 win over Class 2A Johnson County Westside. Lamar has rushed for 10 TDs this season. Physical Cedarville's offense goes behind senior fullback Tate LaRue and sophomore Kelin Mitchell.
Greenland at CHARLESTON (10): Greenland has won two straight, including last week's 28-17 triumph at Class 4A Gentry. Senior QB Levi Vaughn completes 71 percent of his passes for 120 yards per week. Charleston last week avoided consecutive losses for the first time since 2015 when it downed Class 4A Ozark with a wild, four-lateral, 38-yard TD pass on the game's final play for a 20-19 victory. The game-winner was set up thanks to a Charleston goal-line stand on Ozark's final possession.
MANSFIELD (14) at West Fork: Mansfield is 3-0 for the first time since 2008 and was idle last week. Mansfield junior receivers Jaicy Griffin (nine catches for 128 yards and three TDs this year), Tyler Holmes (seven catches for 123 yards and a score) and Layton Howard (seven catches for 89 yards and a TD) challenge secondaries. West Fork last week lost 31-30 at Class 4A Green Forest, its closest setback during its 19-game losing streak.

2-3A
CLINTON (7) at Harding Academy: See Hootens.com Game of the Week.
Cedar Ridge at MOUNTAIN VIEW (1): This could decide a playoff spot. Mountain View lost to Harrisburg 28-0 last Friday. Cedar Ridge lost to Harrisburg 35-0 two weeks ago. Last week Cedar Ridge scored its first points of the season in a 19-13 win at Class 2A Midland. Meanwhile, Mountain View's loss to Harrisburg last week was its first since Earle blanked Yellowjackets 66-0 Week 3 last season.
MOUNTAINBURG (22) at Marshall: Marshall meets another Class 2A opponent. Last week Marshall junior QB Isaac Ragland completed nine of 17 passes for 155 yards and ran for 99 yards and two scores in a 41-16 loss at Class 2A Quitman. Junior receiver Brandon McCollum caught six passes for 45 yards.
Yellville-Summit at MELBOURNE (14): Melbourne is 5-1 overall against Yellville-Summit with five straight wins. Yellville-Summit averages just 6.7 points weekly and last week was shut out for the first time since 2016. Melbourne has won nine of its past 10 home games, including 48-14 last year over Yellville.
Rose Bud will finish the season playing a junior varsity schedule.

3-3A
Corning at HARRISBURG (12): Corning last week forced four East Poinsett County turnovers, including three fumbles. Harrisburg has recorded back-to-back shutouts for the first time since 2007.
Hoxie at OSCEOLA (2): Teams have split their past six meetings with Osceola winning 44-27 last fall. League coaches voted Osceola second and Hoxie third in the 3-3A in this year's Hooten's Arkansas Football magazine. Hoxie two weeks ago led Class 4A Jonesboro Westside 14-0 in the first quarter of a 44-21 loss. The Mustangs managed just 214 yards in that game. Osceola racked up 241 total yards but committed two turnovers last week in a 16-14 loss to Class 4A Rivercrest.
Manila at PIGGOTT (14): Piggott has won five out of the past eight meetings, including two straight and 46-0 last year. Piggott has won nine of its past 10 home games and last week shut out Clay County rival Rector for the third year in a row. The Manila Lions last week roared out to a 28-0 lead of a 62-28 victory over Class 2A Marvell-Elaine. The 62 points are a school record.
NEWPORT (3) at Walnut Ridge: A key game in the 3-3A race between teams with a combined 5-1 record. League coaches picked Newport first and Walnut Ridge fourth in this year's Hooten's Arkansas Football magazine. Walnut Ridge coach Larry Treadway is a Newport alum. Walnut Ridge is 3-0 for the first time since 2012 when it finished 10-3 and advanced to the Class 2A semifinals (lost 42-6 at eventual state champ Junction City). Newport last week racked up 328 balanced yards (185 passing, 143 rushing) in a 35-14 win over Class 4A Lonoke.

4-3A
Danville at MAYFLOWER (6): Schools were voted third and fourth by league coaches in this year's Hooten's Arkansas Football magazine. Danville last week recorded four sacks and forced two turnovers in a 35-19 win over Class 4A Waldron. Mayflower, winners of 16 of its past 18 games, punted Class 2A Parkers Chapel 52-8 last week behind five TDs by electric senior playmaker Keon Simmons. Mayflower leads Class 3A in scoring (54.7 PPG).
ATKINS (21) at Baptist Prep: It's homecoming at Baptist Prep, which last week played Class 2A Carlisle to a 12-12 tie. Sophomore Alex Brooks recovered a fumble in the endzone for a TD and Mitchell Leavitt caught a scoring pass. Baptist junior kicker Alli Mead, who booted a 40-yard field goal in practice earlier in the week, missed last Friday's trip to Carlisle due to illness. Atkins, idle a week ago, has surrendered just 13 points this season (second-best in Class 3A) with shutouts in its past two outings.
GLEN ROSE (27) at Two Rivers: Glen Rose is 2-0 against Two Rivers all-time, but the schools have not met since Week 10 2013, a 56-14 route. Two Rivers' 12 points this season are the second-fewest in Class 3A and last week's loss to Lavaca was its first shutout since Week 10 last year. Glen Rose last week shut out Fouke 38-0 and did not commit a turnover for the first time this year.
JESSIEVILLE (10) at Perryville: Perryville rushed for just 6 yards and completed just six of 20 passes for 58 yards two weeks ago in a 39-7 loss to Class 2A Hector. Jessieville last week struggled to run the ball (80 yards on 21 carries) against Class 2A No. 41 Dierks, but freshman QB Carson Hair completed 67 percent of his passes for 247 yards and four TDs (all career-highs).

5-3A
Bismarck at C. HARMONY GROVE (14): Bismarck coach D.J. Keithley was Harmony Grove's defensive coordinator until last season. Opponents have outscored Bismarck by 37 points the past two weeks. Harmony Grove's two wins have come by a combined 10 points after losing its opener at Class 2A Junction City in overtime.
PRESCOTT (20) at Fouke: Teams last met in 2013, a 19-13 Fouke victory. Prescott is 3-0 for the third straight year and fifth time in eight seasons. Last week, the Curley Wolves led Class 5A Hope 20-0 in the first quarter and 34-0 in the second stanza in 46-13 victory. Senior QB Ryan Johnson passed for 233 yards and three scores. Fouke absorbed its second straight shutout last week, 38-0 at Glen Rose. The Panthers totaled just 184 yards. Prescott extends Fouke's offensive woes this week.
SMACKOVER (14) at Centerpoint: Smackover has lost a game to a forfeit (Week 0 against Class 2A Foreman) and won a game by forfeit (Week 2 against Drew Central) this year. The Buckaroos have had two players rush for 200 yards or more this year in one game. Centerpoint last week mauled Class 2A Mountain Pine 48-18 when Landon Way rushed for 150 yards and two TDs and returned a kickoff 83 yards for a score.
HORATIO (1) at Genoa Central: Genoa Central rushed for 195 yards last week (5.6 YPC) but lost three fumbles in a 16-6 loss to Class 2A Spring Hill. Class 2A Foreman shut out Horatio last week, the Lions' fourth scoreless outing in 12 games.

6-3A
Dollarway at BARTON (7): Dollarway is 0-3 and has scored fewer points (eight) than any Class 3A school. Barton last week led Class 2A Marianna 22-14 at halftime of a 36-20 win. The Bears got two TD runs from fullback Kavein Davis and one apiece from Jaylon Johnson, Tre House and Tyrese Williams. Johnson also intercepted a pass.
Drew Central at RISON (18): D'Arbonne Woods, (La.) blanked Drew Central 12-0 a week ago, the Pirates' first shutout since Week 9 last year (lost 16-0 to Fouke). The 12 points surrendered were the fewest for the school since a 2010 12-6 victory at Genoa Central. Rison routed Class 2A Strong last week 53-0 behind a dominant defensive showing. Strong never snapped the ball in Rison territory and the Wildcats allowed just two first downs. Junior QB Jaylon Henry ran six times for 98 yards, highlighted by a 52-yard TD run. He completed four of six passes for 67 yards and TDs to sophomore Trent Lawson and senior RoShawn Martin.
Lake Village at MCGEHEE (17): McGehee has won three of four against Lake Village. Lake Village last week got a 60-yard TD catch from Anthony Jones and Kenvorris Campbell interception return for a TD in a 51-28 loss to Class 4A Dumas. McGehee nabbed a dramatic 8-6 victory last week against Class 4A Crossett when Caleb Woodson scored a TD and added the game-winning two-point conversion with less than seven minutes in regulation.
Palestine-Wheatley is open.