HOGS snuff out Petrino party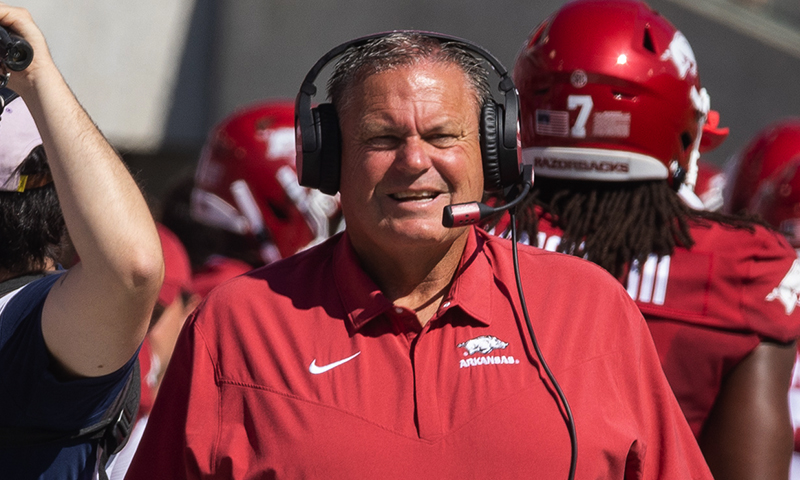 FAYETTEVILLE — The 10th-ranked Arkansas Razorbacks and their crowd of 74,133 at Reynolds Razorback Stadium finally breathed in relief during the final two minutes of Saturday night's 38-27 victory over Missouri State.
Former Arkansas Coach Bobby Petrino's FCS Bears led for more than 50 minutes — by as much as 17 points in the first half and by 10 points early in the fourth quarter — before the Hogs rallied with two big-play touchdowns in a span of 2:22 in the fourth quarter to turn the game around.
"We're just so fortunate to win a game like this," said Arkansas Coach Sam Pittman (Tommy Land photo). "If you're not playing well or the other team is playing well or whatever the situation is, you're just trying to fight and claw to get out with a win.
"There were several different times in the game it looked like we weren't going to. Our kids just kept fighting and clawing, and to come out with an 11-point win says a lot about the culture of our program and our kids."
Missouri State took advantage of a slow-starting Arkansas offense,  which lost fumbles on consecutive possessions, to take a 10-0 lead with 13:29 to play before halftime.
The Bears went up 17-0 thanks to a 24-yard touchdown run from quarterback Jason Shelley at the 10:36 mark of the first half.
Arkansas scored twice in the second quarter to make it 17-14 at halftime, and tied the game at 17-17 on a 27-yard field goal by Cam Little at the 5:36 mark of the third quarter.
A 47-yard touchdown pass from  Shelley to Ty Scott and a 31-yard field goal by Ty Pizano put Arkansas in a 27-17 hole three minutes into the fourth quarter.
"We knew that they were going to be a good team because we watched their film against Oklahoma State the previous year and they had a good game against them," Arkansas safety Simeon Blair said. "But we never had any panic because we knew the offense was going to get going and we were going to start making some stops."
The Razorbacks rallied with two explosive plays — scoring on a 73-yard shovel pass from KJ Jefferson to Raheim Sanders at 11:38, then less than three minutes later on an an 82-yard punt return by Bryce Stephens — to gain the lead for the first time at 31-27 with 9:16 to play.
Arkansas outgained Missouri State 597-409, but the Bears won the possession battle 35:51 to 24:09 and benefited from three Arkansas turnovers while suffering none of their own.
A final late touchdown run by quarterback Jefferson and a 6-yard sack by linebacker Drew Sanders sealed the deal, but it required career-high performances from the Arkansas backfield of Jefferson and Sanders.
Jefferson (19-31 passing, 385 yards, 2 TDs; 9-40 rushing, 1 TD) had to utilize the passing game to get the offense untracked.
"We knew that the defense was loading the box," Jefferson said. "We knew that they were ready for the run game, so we knew that we could open up the pass game. It was up to me to make sure my guys were able to run and make plays down the field."
Toledo transfer Matt Landers (7-123 receiving) led the way for the Razorbacks pass catchers. Jadon Haselwood (5-86 receiving) had a 38-yard touchdown catch before halftime. Sanders (2 catches, 75 yards, 1 TD), Ketron Jackson Jr. (1 catch, 64 yards), Warren Thompson (1 catch, 7 yards), and Trey Knox (3 catches, 30 yards) also contributed to the Razorbacks passing attack.
The Hogs outrushed Missouri State 212-52 after being held to 21 yards in the first quarter.
Sanders led the way with 167 yards on 22 carries, breaking his career-high record for rushing yards in a game which he set just last week against South Carolina (156 yards). AJ Green (2 carries, 2 yards) and Rashod Dubinion (2 carries, 6 yards) didn't contribute as much compared to previous games.
The defense allowed 17 points and 226 first-half total yards. The Hogs front seven stepped up with 8 sacks, but had trouble controlling Shelley (24-43 passing, 357 yards) for the first three quarters.
Petrino, who coached Arkansas to a 34-17 record from 2008-2011, said he was proud of his team's effort.
"I knew it was going to be hard to hold onto it," Petrino said. "We knew they were going to make a run back. I was encouraged when we answered it and went back and got another touchdown. But eventually, they wore us down."
Linebacker Sanders (12 tackle, 2.5 sacks) was Arkansas' top tackler, followed by Blair (10 tackles), Jayden Johnson (5 tackles, 0.5 sacks) and Bumper Pool (9 tackles). Linemen Jordan Domineck and Zach Williams each had 2 sacks.
The Razorbacks will travel for the first time this season as they head to AT&T Stadium in Arlington, Texas, next Saturday at 6 p.m. to take on the Texas A&M Aggies (2-1) in the Southwest Classic.
"I think there's a difference in looking forward to next week and not giving enough respect for the team you're playing," Pittman said. "I just think that Missouri State outplayed us, to be perfectly honest with you."