Class 6A Week 4 Rankings, Notes & Picks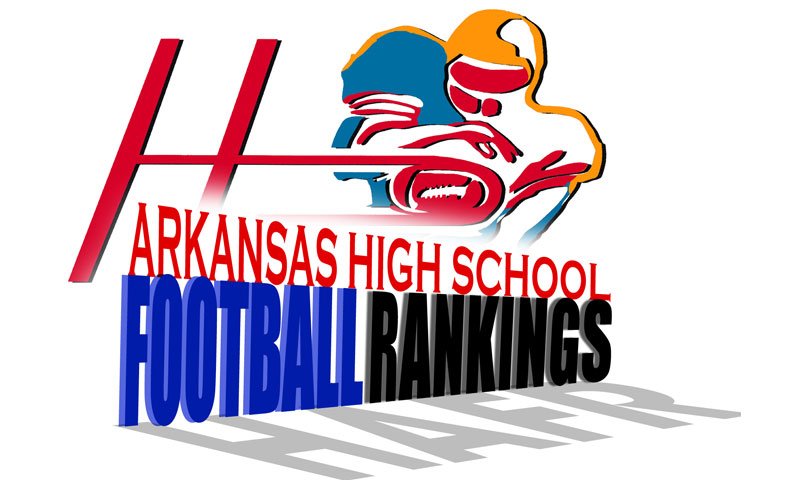 Class 6A Rankings
Week 4, 2022
Copyright Seventy Seven's Publishing
1. Pulaski Academy (3-0)
2. Greenwood (3-1)
3. Lake Hamilton (4-0)
4. LR Catholic (3-0)
5. LR Christian (3-1)
6. West Memphis (3-0)
7. Benton (1-2)
8. Marion (2-1)
9. Greenbrier (2-2)
10. El Dorado (1-2)
11. Searcy (1-2)
12. Sylvan Hills (0-3)
13. Russellville (0-3)
14. Sheridan (1-2)
15. Van Buren (1-2)
16. Greene Co. Tech (1-2)
17. Siloam Springs (0-4)
18. Mountain Home (0-4)
19. Jacksonville (0-3)
WEEK 4 PREDICTIONS (favored team highlighted in yellow, ALL CAPS)
LAST WEEK
Hootens.com predicted 7 of 9 games involving Class 6A teams and is 25-11 (69 percent) for the season.
HOOTENS.COM GAME OF THE WEEK
6A-WEST: LR Christian at PULASKI ACADEMY
These rivals reconvene in Class 6A after batting for many years in Class 5A. LR Christian (3-1) lost to undefeated and No. 3 Lake Hamilton. "It's a huge conference game for us," LR Christian Coach Eric Cohu said. "Ben Ridings has been a consistent leader for us. Also, Walker White will need to have a big game." White passed for 269 yards in last week's win over Russellville.
Pulaski Academy has not missed a beat after its move to 6A. The Bruins (3-0) were idle last week. QB Kel Busby had passed for 1,192 yards in 3 games. RB Kenneth Jordan has rushed for 352 yards in 3 games.
6A EAST
El Dorado at BENTON: Defending 6A champion El Dorado got its first win last week, beating Greene Co. Tech 44-6. QB Kolin Parker passed for 3 TDs in the win. Benton lost to LR Catholic 38-14. "They just outplayed us," Benton Coach Brad Harris said. Braylen Russell rushed for 93 yards in the loss.
MARION at Greene Co. Tech: Marion ran past Jacksonville last week behind the play of Jalen Smith, who rushed for 118 yards and 2 TDs. Greene Co. Tech (1-2) has dropped two in a row by a combined 82-22.
LR CATHOLIC at Searcy: Little Rock Catholic is the surprise team in Class 6A after dropping down from 7A. The Rockets routed Benton 38-14 last week. QB Sam Sanders passed for 182 yards and 2 TDs in the win. Dominic Keaton rushed for 129 yards. Searcy got its first win, beating Sylvan Hills 34-28. Senior RB Dede Johnson rushed for 229 yards and 3 TDs.
Sylvan Hills at WEST MEMPHIS: The Bears dropped to 0-3 with a 34-28 loss to Searcy. West Memphis IS 3-0 after a 28-21 OT win over Sheridan. Keland Mills scored the game-winning TD in overtime.
SHERIDAN at Jacksonville: The Yellowjackets look for their second win. QB Brady Dillon passed for 130 yards and 2 TDs in an OT loss to West Memphis. Jacksonville has won 3 games the past 2.5  seasons and has been outscored 190-32 this season.
6A-WEST
Van Buren at GREENWOOD: The Pointers routed Greenbrier 40-14 for their first win. Malachi Henry, in his first game back from injury, caught his 24th career TD pass. Greenwood had 447 total yards in a 61-7 win over Siloam Springs. QB Hunter Houston has passed for 971 yards and 12 TDs this season.
Siloam Springs at LAKE HAMILTON: Siloam Springs QB Jackson Still's 56-yard run was the Panthers' only score against Greenwood. Lake Hamilton rushed for 334 yards on 47 carries in a 28-19 win over Mountain Home. Kendrick Martin led with 17 carries for 112 yards.
Mountain Home at RUSSELLVILLE: The Bombers gave Lake Hamilton a score in a 28-19 loss. QB Cade Yates passed for 247. Russellville fell to LR Christian 42-14. QB David Reed passed for 124 yards in the loss.
OPEN Greenbrier