HOGS: Attention turns to No. 23 Aggies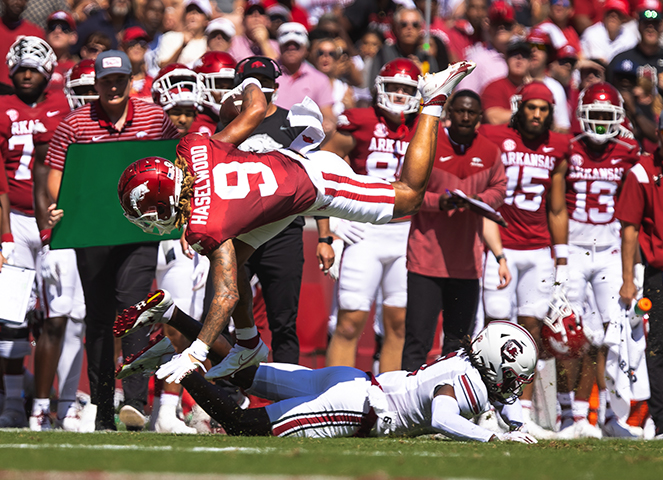 FAYETTEVILLE — Razorbacks fans might still be sighing with relief in the aftermath of Saturday's night's 38-27 victory over Missouri State, a game in which the No. 10 Razorbacks trailed the FCS Bears 27-17 early in the fourth quarter at Reynolds Razorback Stadium.
Arkansas Coach Sam Pittman is not among those feeling relieved.
Pittman said Monday he knows the Razorbacks (3-0) can can not afford a repeat of that performance, one in which they suffered three turnovers and needed an 82-yard punt return by Bryce Stephens to take the lead for the first time at the 9:22 mark of the fourth quarter.
Arkansas's opponent this Saturday — No. 23 Texas A&M — presents a myriad of concerns for Pittman as the Hogs prepare for Saturday night's 6 p.m. kickoff at AT&T Stadium n Arlington, Texas.
"They have a lot of speed and they are big," Pittman said of the Aggies. "They look like your typical big SEC team. I have a lot of respect for Jimbo Fisher and his program along with the guys on his staff."
The Aggies (2-1) are coming off a top-25 win at home last Saturday as they defeated No. 13 Miami 17-9 in College Station after a shocking 17-14 home loss to Appalachian State on Sept. 10.
A&M, ranked No. 6 in preseason polls, have dominated the Southwest Classic since its inception in 2009, leading the series 9-4. All the Aggies' wins came from 2012 to 2020.
Pittman's  Hogs won 20-10 last season,  stopping a nine-game losing streak.
PREPPING FOR AGGIES OFFENSE
The Aggies offense ranks last of 14 in the SEC in both scoring offense (20.7) and total offense (313.7).
It's not as if the Aggies lack talent, and they have a new QB in LSU transfer Max Johnson, who got the start last Saturday against Miami.
Wide receiver Ainias Smith (5-10, 190) has been a bright spot, with 14 receptions for 259 yards after 3 games. Smith had 6 receptions for 164 yards and 2 touchdowns in the season-opener with Sam Houston State, and he was a factor (4 catches, 64 yards) against Miami.
"Ainias Smith is a dangerous player," Pittman said. "He can run the ball well and can catch the ball well. He's also dangerous on punt return as well."
Smith is coming off back-to-back seasons with more than 40 catches and 500 yards in 2020 and 2021.
Johnson, a 6-5. 220-pound lefty, has taken over for Haynes King, who started A&M's first two games. The LSU transfer did just enough against Miami, completing 10 of 20 passes  for 140 yards while also having 7 rushes for 23 yards.
The Hogs faced Johnson last year in Baton Rouge, a 16-13 win for the Hogs, but he was taken out after completing 3 of 6 passes for 23 yards in two possessions.
SECONDARY ISSUES PRIMARY CONCERN
The Aggies possess the SEC's least productive pass offense, but the Razorbacks rank last in the SEC in pass defense, yielding 353 yards per game.
 "Obviously we have to get better," Pittman said. "We can live with guys making good throws, but we can't live with guys wide open. We've had too many mistakes, and we've got to fix that problem. Everyone in the building is aware of it."
Injuries have been an issue, especially during the season opener against Cincinnati. Both safety Jalen Catalon and nickel back Myles Slusher left that game and did not return. Catalon will miss the rest of the season with a serious shoulder injury, but Slusher is expected to return this Saturday after missing the previous two games.
 "Having him back is huge," said Pittman on Slusher's return. "Slush can play corner, he can play nickel, and he can play both field and boundary safety. With him it allows us to have another opportunity to make sure we have our five best players on the field."
RECEIVERS DELIVERING
The Razorback receiving core produced in last Saturday's 38-27 victory with KJ Jefferson passing 385 yards and 2 TDS.. Toledo transfer Matt Landers (14 catches, 211 yards) and Oklahoma transfer Jadon Haselwood (13 catches, 158 yards, 2 TDs; Tommy Land photo) have been big contributors to the 256.7 passing yards per game for the Razorback offense. Tight end Trey Knox (10 catches, 110 yards, 2 TDs) has played a pivotal role as well.
"I've been real happy with the receivers, including Trey," Pittman said. "I thought going into the season we had a good receiving core and I still do now. You have to have someone really good on defense against each one of them."