Class 4A Week 4 Rankings, Notes & Picks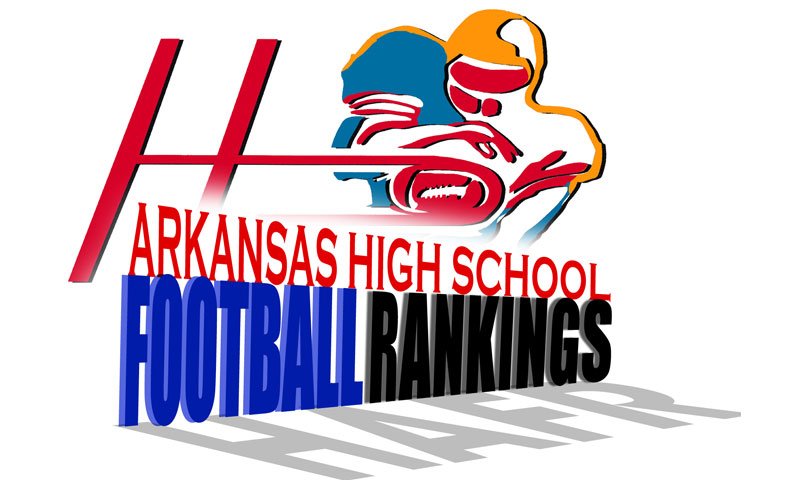 Hootens.com Rankings
Class 4A, Wk 4, 2021
Copyright Hooten Publishing, Inc.
1. Shiloh Christian (2-1)
2. Warren (2-1)
3. Stuttgart (2-1)
4. Joe T. Robinson (2-1)
5. Crossett (2-1)
6. Ozark (1-2)
7. Prairie Grove (2-1)
8. Ashdown (3-0)
9. Arkadelphia (1-2)
10. Lonoke (3-0)
11. Malvern (1-2)
12. Nashville (2-1)
13. Rivercrest (1-1)
14. Star City (2-1)
15. Gosnell (0-2)
16. Mena (2-2)
17. Dumas (1-1)
18. Elkins (2-0)
19. Pocahontas (2-1)
20. Gentry (3-0)
21. Clinton (1-2)
22. Bauxite (2-1)
23. Monticello (2-1)
24. Mills (3-0)
25. Dardanelle (1-2)
26. Jonesboro Westside (0-2)
27. Southside (2-1)
28. Pottsville (2-2)
29. Fountain Lake (2-1)
30. Lamar (2-1)
31. Trumann (2-1)
32. Cave City (2-1)
33. H. Grove Haskell (1-1)
34. Waldron (1-2)
35. Gravette (0-3)
36. Huntsville (1-2)
37. CAC (2-1)
38. Heber Springs (1-1)
39. DeWitt (1-2)
40. Bald Knob (0-3)
41. Highland (2-1)
42. Hamburg (0-3)
43. Blytheville (0-3)
44. Berryville (1-2)
45. Green Forest (1-1)
46. Helena (0-3)
47. Dover (0-4)
HOOTENS.COM GAME OF THE WEEK
No. 5 Crossett at No. 2 Warren
The winner likely gets the 8-4A title. Warren opened with a mercy-rule loss to Class 5A White Hall, but has ripped off consecutive wins over Stuttgart and Franklin (La.) Parish by a combined 52 points. Warren standout running back Cedric Calbert and offensive lineman Connor McDiarmid were injured and didn't play against Stuttgart, but both returned a week ago. Calbert logged six carries for 67 yards and should see more action this week. Sophomore Treylon Jackson paced the Lumberjacks at Franklin Parish with 10 carries for 114 yards and a touchdown, while junior Tayshaun Johnson caught three passes for 39 yards and a TD and returned an interception 60 yards for a TD. Junior linebackers Delphino Rivera and Maddox Lassiter each logged more than 10 tackles.  Crossett lost its first game of the season last week, failing on a two-point conversion with less than two minutes left in a 15-13 decision to Class 3A No. 2 McGehee. The Eagles average more than 200 yards rushing per week. Senior quarterback Tyrique Jones has developed into a big-play passer, and he rushes for more than 90 yards per game. Senior receiver Dewayne Ashford caught a 32-yard TD pass two weeks ago against Magnolia and hauled in a 44-yard pass against McGehee. "Their quarterback, receiver and running back (senior Jackson Moore) are extremely talented," Warren coach Bo Hembree says. Watch extended highlights of Crossett's loss last week to McGehee HERE and Warren's win over Stuttgart HERE.
LAST WEEK
Hootens.com correctly predicted 20 of 25 games (80 percent). Hootens.com has predicted 111 of 128 games (87 percent) correctly this season.
WEEK 4 PREDICTIONS (favored team in ALL CAPS)
1-4A
SHILOH CHRISTIAN (35) at Berryville: Top-ranked Shiloh Christian twice led Sand Springs (Okla.) by two TDs in the first half last week before losing 40-33. Senior receiver Cooper Hutchinson showed explosiveness breaking off a 77-yard TD catch-and-run, and senior LB Kaden Henley paced the Saints in tackles. Berryville had two fourth-quarter TDs called back because of penalties in last week's one-point loss at Greenland, and the Bobcats were flagged for holding four times in the second half.
ELKINS (16) at Gravette: Gravette plays its first in-state opponent after going winless against Oklahoma teams Vian, Inola and Pryor (lost by a combined 89-30). Elkins hasn't played since blasting
Greenland by 35 points in Week 1. In two games this fall, sophomore Da'Shawn Chair has 21 carries this fall for 290 yards and a pair of TDs, and three catches for 75 yards and a TD.
GENTRY (5) at Huntsville: Gentry first-year QB Chris Bell averages 8.3 yards per carry behind a veteran offensive line. Senior Lucas Guinn (5-11, 245) shifted from center to left guard and constantly grades out as the highest lineman. Senior LB Will Pyburn makes Gentry's defensive calls and paced the Pioneers in tackles in the opening two games. Senior Jonah Summers, a converted defensive lineman, has played well at LB, Coach Justin Bigham says. Huntsville intercepted Lincoln four times two weeks ago (48-0 victory). Senior Tucker Bradley has four TDs this fall, while senior receiver/DB Kolton Reynolds has three TD receptions and two interceptions. Junior LB Duggar Tipton paces the Eagles in tackles.
PRAIRIE GROVE (26) at Green Forest: Prairie Grove forced four turnovers (two interceptions by sophomore Conner Hubbs) and held Stilwell, Okla. to 224 yards in last week's 42-6 victory. Junior Ethan Miller ran for three TDs and caught a a TD pass. Green Forest beat West Fork 14-7 last week, limiting the Tigers to just 132 yards. Senior RB Barrett Phillips ran 30 times for 145 yards. Junior QB Isaiah Fraga completed 13 of 18 passes for 102 yards and ran for 92 yards. Senior LB Bryan Soto tallied five solo tackles and intercepted a pass in the final minutes to seal the victory.
2-4A
MILLS (13) at Bald Knob: Mills is 3-0 for the first time in more than a decade. Junior Jabrae Shaw ran for three TDs two weeks ago in a 32-point win at Class 5A Forrest City. Bald Knob senior Dane Lindsey ran 22 times for 84 yards and a TD in a three-point loss to Riverview.
CLINTON (2) at CAC: Clinton gave up more than 350 rushing yards in last week's 16-point loss to Dardanelle. CAC senior QB Tyler Williams ran 30 times for 165 yards and four TDs in last week's 35-34 win over Mayflower. Sophomore Vance Strange returned a punt 30 yards and a kickoff 47 yards to set up TDs, then blocked an extra point.
LONOKE (10) at Heber Springs: Heber Springs has won nine of the past 15 over the Jackrabbits. Panther sophomore QB Xander Lindley completed 12 of 18 passes for 318 yards and four TDs in last week's 44-0 victory over Dover. Sophomore tailback Parker Brown tallied 351 yards, including 220 yards receiving and three TDs. Undefeated Lonoke outlasted Newport 29-20 a week ago. Lonoke sophomore QB Bradon Allen completed 11 of 18 passes for 103 yards and two TDs and ran for 84 yards and a pair of TDs against Newport, while senior Spencer Pepper ran eight times for 87 yards and caught a 47-yard TD.
STUTTGART (14) at Southside: These teams have split the past four meetings. Stuttgart  has stewed for two weeks on its 20-point loss at Warren. The Ricebirds focused on defense (linebackers and coverage mistakes) and made some personnel changes "because of effort," during the bye week, Coach Josh Price says. Southside lost the opener to Pocahontas, but has consecutive wins over Mayflower and Trumann by a combined 92-21. Senior QB Landen Haas has rushed for 431 yards and eight TDs this year, and thrown for 211 yards and a pair of TDs. Senior tight end Alex Cooper leads the Southerners with eight pancake blocks. Watch extended highlights of Stuttgart's season-opening win over Star City HERE and its loss at Warren HERE.
3-4A
CAVE CITY (10) at Blytheville: Winless Blytheville has been outscored this fall 84-6. Cave City has consecutive wins over Corning and Melbourne, its first winning streak since Weeks 2-3, 2016. Senior wingback Eli Taylor averages 8 yards per carry, while senior Maddox Moreland has 260 yards this fall (10 ypc) and paces the Cavemen with 30 tackles at safety. Watch extended highlights of Cave City's season-opening loss to Hoxie HERE.
Highland at GOSNELL (2): Gosnell has beaten Highland 11 of the past 16 seasons, but this one could be close. Highland's stout running attack could give Gosnell fits. The Rebels have two wins this fall, their most since 2017. Gosnell committed eight turnovers in last week's 33-6 loss at Hoxie. Sophomore Carson Talley recorded eight tackles and two sacks, while senior LB Bryan Hatley had eight stops and one forced fumble.
Jonesboro Westside at TRUMANN (1): Trumann senior Devin Miles, filling in for injured RB Rian King, blasted for 116 yards and two TDs in last week's mercy-rule win over Class 5A Paragould. Sophomore Coda Cameron ran twice for 63 yards and a TD. The Wildcats gained 416 yards, including 316 rushing. Coach Randy Phillips says that King (ankle sprain) may be able to return this week, but junior wingback Gavin Morgan is likely out for the season after tearing his ACL two weeks ago at Southside. Jonesboro Westside didn't have a preseason scrimmage and hasn't play since losing to Brookland 14-12 in Week 1.
Pocahontas at RIVERCREST (6): Rivercrest has won three of the past five in the series. The Colts must cut down on turnovers (eight in two games). Senior QB Mike Sharp has completed 40 of 62 passes for 417 yards and three TDs, with senior Michael Rainer grabbing 12 balls for 183 yards and a TD. Senior fullback Tray Jones ran for 105 yards and three TDs in last week's five-point win over Brookland. Pocahontas led Nettleton in the fourth quarter last week before losing 35-28. Junior QB Connor Baker ran for 240 yards and four TDs.
4-4A
Dardanelle at OZARK (8): Ozark has won nine of the past 14 in the series, including four straight by an average of 35-15. Charleston scored the winning TD with 23 seconds left last week to down Ozark 31-28. Ozark finished with 384 yards. Junior QB Landon Wright tallied 250 yards, while sophomore LB Kyle Archer paced the D. Dardanelle is a different team with junior QB Drew Vega back in the lineup. Vega ran 30 times for 232 yards and two TDs, and completed seven of nine passes for 100 yards and two TDs in last week's 42-26 win over Clinton. Senior Seth Harper ran 14 times for 100 yards and two TDs. Harper and Vega each recorded five tackles defensively.
LAMAR (3) at Pottsville: Lamar senior QB Landon Harrison ran nine times for 150 yards and three TDs in last week's 20-point win over Carlisle. All-conference LB Joe Dalton didn't play against Carlisle but could return this week, Coach Josh Jones says. Pottsville has won four of its eight meetings over Lamar. Pottsville led Clarksville 10-7 at halftime last week but failed to score in the second half of a 22-point loss. Senior fullback Landon Mahan ran for Pottsville's only TD, and he kicked a 23-yard field goal.
Waldron at MENA (5): Mena has won 41 of the past 49 in the series, including last season 28-21, throwing the winning Hail Mary TD on the final play. Mena trailed Booneville 14-0 at halftime last week before losing 35-6. Mena allowed 448 yards rushing, and it's offense turned the ball over four times while gaining just 121. Waldron recorded its first victory of 2021, beating Atkins 31-16. Waldron senior Gabino Grano ran 20 times for 225 yards and a pair of TDs (76 and 54 yards) at Atkins.
DOVER is open.
7-4A
ASHDOWN (10) at H. Grove Haskell: Haskell has won two of its three meetings with Ashdown, but the Panthers won last fall 35-7. "They come off the ball so hard," Ashdown coach Matt Richardson says. Haskell's game last week with Glen Rose was canceled due to lightening. Undefeated Ashdown has trounced Hamburg, De Queen and Hope (combined record of 1-10) this fall. Junior Jayden Fricks sprinted for 180 yards and five TDs two weeks ago against Hope, while senior NG Landon Wright made 15 tackles.
Nashville at ARKADELPHIA (8): This game was cancelled last season, and Nashville beat the Badgers by a combined six points in 2018-2019. This fall, Arkadelphia puts up 37 points weekly, and the Badgers had 611 balanced yards two weeks ago at Class 5A unbeaten Greenbrier. Senior Jaishon Davis ran for 183 yards and two TDs and caught a TD pass at Greenbrier. Nashville lost to Pleasant Grove, Texas 56-0 in the opener, but has rebounded with wins over Hope and De Queen by a combined 76-48. Senior QB Ethan Gunter passes for 267 yards weekly. Sophomore Trey Hopkins ran for 140 yards and a TD against De Queen.
MALVERN (4) at Bauxite: Bauxite's new look defense (six players near the line of scrimmage) allows 13 points weekly and causes fits. Malvern had two defensive starters injure their arms in last week's 35-point loss to HS Lakeside. QB Cedrick Simmons tweaked knee in third quarter against HS Lakeside. Simmons has passed for 306 yards and rushed for 232 yards this fall. Watch extended highlights of Malvern's loss two weeks ago to Class 6A Lake Hamilton HERE.
JOE T. ROBINSON (21) at Fountain Lake: Joe T. Robinson senior QB Jack Cleveland threw a pair of TD passes two weeks ago in a two-point win at Class 6A Marion, then sealed the win with a 5-yard run on fourth down late in the fourth quarter. Senior Daryl Searcy ran 13 times for 90 yards. Fountain Lake whipped Class 3A Mayflower and Class 2A England in its past two games by a combined 103-19.
8-4A
Crossett at WARREN (7): Hootens.com Class 4A Game of the Week.
DEWITT (1) at Hamburg: DeWitt lost three starting offensive linemen Week 0 against Stuttgart and none will return this week. Receiver/defensive back Ben Hackney RB/LB Owen Luebke have played well. Winless Hamburg has been outscored this season by an average of 44-3. Lion senior RB Chris Hicks ran seven times for 61 yards in last week's 42-3 loss to Rison. Watch extended highlights of DeWitt season-opening loss to McGehee HERE.
Helena at DUMAS (11): Dumas played only two non conference games, beating Lake Village in Week 1 and losing at McGehee 54-7 in Week 2. Senior Orlandrick Tatum (119 yards, two TDs) paces the Bobcat rushing attack, while senior Derrick Lee, a three-year starter at CB, has emerged as a reliable receiver (18 yards per catch). Winless Helena averages two TDs per game.
STAR CITY (4) at Monticello: Star City has won five of the past nine in the series, but Monticello won last fall 30-13. Monticello senior Ryan Franklin returned an interception 87 yards for a TD in the fourth quarter of last week's 26-7 win over Class 2A No. 1 Fordyce. Senior playmaker Doerian Allen caught two TD passes (40 and 80 yards) and ran 12 yards for another. Star City junior C.J. Turner ran four times for 132 yards and a pair of TDs in last week's 55-7 win over Hampton, while junior QB Mason Taylor ran twice for 90 yards and a TD. Watch extended highlights of Star City's season-opening loss at Stuttgart HERE.