Class 5A Week 4 Rankings, Notes & Picks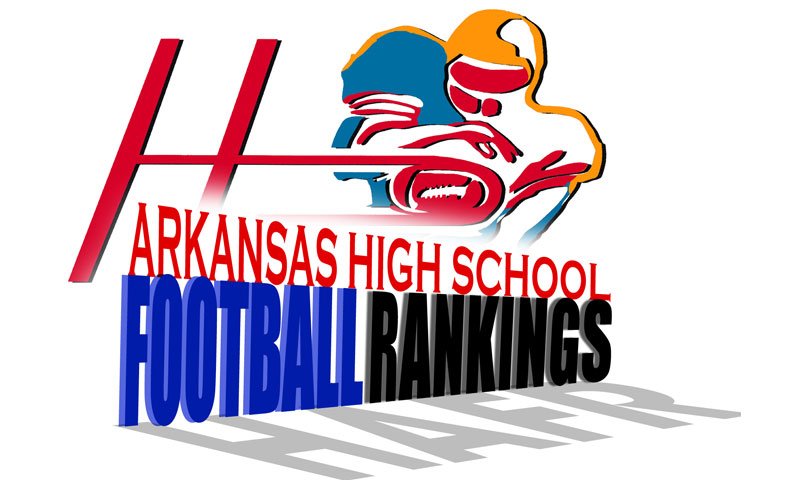 Hootens.com Rankings
Class 5A, Wk 4, 2021
Copyright Hooten Publishing, Inc.
1. Pulaski Academy (2-1)
2. LR Christian (4-0
3. Harrison (3-0)
4. Wynne (2-1
5. White Hall (3-1)
6. Vilonia (3-0)
7. Greenbrier (3-0)
8. Camden Fairview (3-1)
9. Maumelle (1-3)
10. Farmington (3-0)
11. Nettleton (3-0)
12. Magnolia (0-4)
13. HS Lakeside (1-2)
14. Texarkana (1-1)
15. Valley View (2-1)
16. Watson Chapel (0-2)
17. Hot Springs (2-2)
18. Batesville (0-3)
19. Morrilton (1-2)
20. Clarksville (1-2)
21. Greene Co. Tech (2-1)
22. Beebe (0-3)
23. Alma (1-2)
24. Brookland (2-1)
25. Jacksonville (0-3)
26. Pea Ridge (0-3)
27. Hope (0-4)
28. Forrest City (1-2)
29. De Queen (1-3)
30. Paragould (0-2)
HOOTENS.COM GAME OF THE WEEK
No. 10 Farmington at No. 3 Harrison
Harrison has won seven of the past eight over Farmington. The Goblins are undefeated this fall after downing Class 6A Mountain Home and Siloam Springs the past two games by a total of 11 points. Senior Dylan Block has emerged as one of the top receivers in Class 5A with 14 receptions for 245 yards and three touchdowns. Senior quarterback Logan Plumlee passed for 225 yards against Siloam Springs and 97 yards against Mountain Home. Harrison's defense forces two turnovers per game. Senior middle linebacker Cy Madden has 31 tackles this year, while junior outside linebacker Alex Mills has 30 stops.  Undefeated Farmington rallied from a 19-0 third quarter deficit two weeks ago to beat Class 7A Springdale 20-19. Sophomore QB Cameron Vanzant and senior Caden Elsik pace a unit that puts up more than 300 yards weekly. But the Cardinals average three turnovers weekly, but it's aggressive, big-play defense has forced four turnovers the past two games.
LAST WEEK
Hootens.com correctly predicted all 18 games last week, nailing the point spread of Alma by one over Heritage. For the season, Hootens.com has predicted 78 of 87 games (90 percent).
WEEK 4 PREDICTIONS (favored team in ALL CAPS)
5A CENTRAL
JUNCTION CITY (2) at Beebe: This non conference game was scheduled in the spring. Beebe has dropped consecutive games to Morrilton and Lonoke by a combined 11 points. JC allowed 384 rushing yards (8 yards per carry) last week in a 40-28 loss at small school power Haynesville, La. Junction City ran for 230 yards (7.9 yards per carry).
Jacksonville at WHITE HALL (35): White Hall seeks its fourth sportsmanship-rule win of the season. The Bulldogs ran for 273 yards in last week's 42-0 Homecoming triumph over Drew Central. Winless Jacksonville has lost to Mills, Sylvan Hills and Sheridan by an average of 43-19. Watch highlights of White Hall's win over Warren HERE.
Maumelle at LR CHRISTIAN (4): LR Christian has won six of nine games over Maumelle, including the past two years by a combined 61-24. Warrior sophomore QB Walker White throws for 181 yards weekly, and averages almost 7 yards per carry. Seniors Javean Dyer-Jones (70 carries, 594 yards, nine TDs) and Brian Gittens (50 totes, 361 yards and six TDs) pace the ground-oriented attack. Maumelle lost to Vilonia by two points two weeks ago and at Shreveport (La.) Bryd last week by three points. The Hornet D held Byrd to 229 yards. Watch extended highlights of Maumelle's loss earlier this season at Vilonia HERE.
Watson Chapel at PULASKI ACADEMY (25): Top-ranked Pulaski Academy must bounce back from its loss to Lipscomb Academy (Tenn.) two weeks ago, PA's first mercy rule loss since 2005 (Warren 46-0). The Bruins were held to 382 yards and had four turnovers. Watson Chapel allowed 32 points in the first half of last week's 36-point loss at Camden Fairview.
5A EAST
Batesville at NETTLETON (6): Batesville has won 17 of the past 19 in the series. But the Pioneers are winless this fall with sportsmanship rule losses to Mountain Home and Greenbrier. QB Jay Storlie threw a fourth-quarter TD pass in last week's 35-7 loss to Mountain Home. Nettleton rallied past Pocahontas 35-28 last week with two fourth-quarter TDs. Senior QB Cameron Scarlett rolled up 301 yards (191 rushing, 110 passing) and four TDs.
Brookland at WYNNE (16): Brookland trailed Rivercrest 14-13 in the second quarter last week before losing 31-26. The Bearcats surrendered just three TDs in their opening two wins over Gosnell and Jonesboro Westside. Wynne has consecutive victories over West Memphis and Morrilton by a combined 69-27. Senior linebackers Timmy Watson (26 tackles, five TFL's) and Trevon Holmes (22 tackles) pace the Yellowjacket D. Senior slotback Carl Washington averages 6.5 yards per carry. Watch extended highlights of Wynne's win early this season over West Memphis HERE.
Forrest City at GREENE CO. TECH (17): Greene County Tech averages 30 points and 305 yards weekly. Senior QB Christian Barber has completed 43 of 69 passes this fall for 491 yards and six TDs. Senior Devon Hensley has nine catches for 151 yards and a pair of TDs. Forrest City's 32-14 win last week at Helena was its first since beating the Cougars last fall.
VALLEY VIEW (25) at Paragould: Valley View has beaten Harding Academy (two-time defending Class 3A champion) and Rivercrest (2020 Class 4A runner-up) the past two games by a combined six points. Sophomore QB Carson Turley has completed 21 of 30 passes for 306 yards and one TD with no interceptions this fall, while rushing for a team-best 178 yards and three TDs. Senior middle linebacker Cooper Lutz (32 tackles) and senior LB Jaden Wells (30 tackles) pace the Blazer D. Paragould junior QB Ben Sloas has three TD passes this fall.
5A SOUTH
CAMDEN FAIRVIEW (4) at HS Lakeside: Camden Fairview has won 11 of the past 15 over the Rams, with HS Lakeside winning last fall 13-9. The Cardinals clobbered Watson Chapel last week 60-24. Seniors Jatoney McGehee (41 carries, 356 yards and six TDs) and Ja'Coriae Brown (230 yards, seven TDs) pace the ground game. Dual-threat junior QB Martavius Thomas has passed for 823 yards and rushed for 285 yards. HS Lakeside picked up its first win of 2021 last week, beating Class 4A Malvern by 35 points. After giving up 48 points in the opener at Class 6A No. 2 Lake Hamilton, the Rams have surrendered 38 points the past two games. Sophomore Braylen Russell averages 6.4 yards per carry, while senior Chase Cross gains 22 yards per catch.
De Queen at HOPE (6): De Queen's 14-7 victory last week over Fouke was its first since upending Hope in overtime win in 2018. Junior Donyea Whitmore ran for 170 yards and a TD against Fouke. Hope hasn't won since beating De Queen 42-13 last season. The Bobcats have been outscored this fall by an average of 47-25. Hope senior KeJuan Booker has a team best 62 carries for 340 yards and two TDs.
Magnolia at TEXARKANA (2): This game was canceled last season, and Texarkana won the previous two years (41-7 in 2018 and 30-22 in 2019). Texarkana has canceled two games this fall due to Covid (Week 1 vs. Texas High and last week at Mount Pleasant, Texas). Texarkana junior Kyron Young ran 14 times for 177 yards and three TDs two weeks ago vs. Dollarway. Sophomore corner Marcus Floyd has impressed and "played like a vet," defensive coordinator Tyler Morton says. Magnolia gave up 303 yards passing in last week's 50-30 setback to El Dorado.
HOT SPRINGS is open.
5A WEST
Farmington at HARRISON (3): Hootens.com Class 5A Game of the Week.
ALMA (1) at Pea Ridge: Alma rallied with a pair of second half TDs last week to beat Class 7A Heritage 28-27. The Airedale D allowed only 53 yards and forced two turnovers in the second half. Senior Connor Stacy hauled in the winning 44-yard TD pass in fourth quarter. Winless Pea Ridge gives up 50 ppg. Senior receiver Trevor Blair caught five passes for 75 yards and a TD in last week's 53-14 loss at Siloam Springs.
Clarksville at VILONIA (13): This game went into overtime last season, with Vilonia winning 42-35. This fall, undefeated Vilonia averages 43 points weekly. Senior QB Austin Myers completes 69 percent of his passes (69 of 100) for 957 yards and 13 TDs with three interceptions. Senior receivers Jamison Hinsley and Connor Eary have combined for 48 receptions and 638 yards. Clarksville rallied last week from a 10-7 third quarter deficit to down Pottsville 32-10. Senior QB Bryce Buckner ran for a pair of TDs and threw a TD pass, while junior Arthur Alvarez raced 65 yards for a TD. Watch extended highlights of Vilonia's win at Russellville HERE and Vilonia's win over Maumelle HERE.
Morrilton at GREENBRIER (14): Greenbrier remained undefeated two weeks ago with a 55-47 win over Class 4A Arkadelphia. Senior QB Cooper Wilcox has completed 28 of 47 passes this fall for 528 yards and seven TDs, and rushed for 252 yards and six TDs. Senior RB/LB Nick Huett paces the Panthers in tackles, and he ran for 102 yards against Arkadelphia. Morrilton's only win was 31-26 at Beebe Week 1 (Greenbrier beat Beebe 45-17 in the opener). Morrilton surrendered 441 rushing yards two weeks ago in a 20-point loss to Wynne. Watch extended highlights of Greenbrier's win earlier this over Arkadelphia HERE.