HOGS: O line honors, injuries; Notes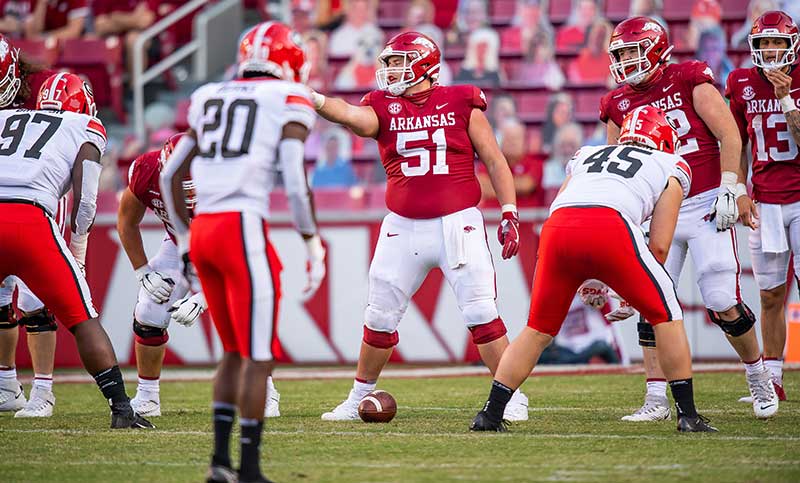 FAYETTEVILLE -  Ricky Stromberg is Arkansas' center of attention for how he played last week in the 45-10 victory over Georgia Southern and if he will play in Saturday's SEC opener against Texas A&M.  
No. 16 Arkansas and No. 7 Texas A&M kick off at 2:30 p.m. Saturday at the Dallas Cowboys' AT&T Stadium in Arlington, Texas. CBS will televise the game nationally.
Along with Ole Miss offensive lineman Jeremy James, instrumental in Ole Miss' 61-21 victory over Tulane, Stromberg was named SEC Co-Offensive Lineman of the Week by the SEC Office.
Stromberg, a junior center, helped pave and protect the Razorbacks to 633 yards total offense against Georgia Southern, but he left the game injured early in the fourth quarter.
Starting right guard Ty Clary, moved to right tackle during the game when starting right tackle Dalton Wagner was injured, finished the game at center.
Starting guard Brady Latham then moved to right tackle with backups Beaux Limmer, actually starting last week at right guard ahead of Clary, and Luke Jones finishing as the guards.
LINEMEN QUESTIONABLE
That reshuffled line finishing against Georgia Southern may be Arkansas' starting line against A&M, pending how fast Stromberg and Wagner can mend.
"I'm positive neither one of them will practice today," Pittman said at his Monday noon presser. "I'll probably know (if they can play) Wednesday."
In the meantime, offensive line coach Cody Kennedy will make last Saturday's Plan B the start of the week's Plan A.
"I told Coach Kennedy we'd better get ready as if neither of them will be able to play," Pittman said. "I was so proud of Cody and that group because he had them ready last week. We're going to be prepared if they're not able to play."
VERSATILE CLARY
Clary works at three positions in the same practice.
"He gets action at all three of those spots," Pittman said.  "His least amount of reps is probably at right tackle. He gets those in one-on-one pass-pro. There's certainly a big difference in playing tackle and playing guard, but if you keep him on the same side, a lot of the run game is similar. There is a lot more space out there (tackle) understand that, and your pass protection is different."
Center, where Clary started in 2018 and 2019 for the Chad Morris regime before Pittman arrived in 2020 and swapped Clary and Stromberg from the center and guard positions, differs from all with by snapping with a noseguard looming dead ahead.
"Ty went to center (vs, GSU), and his first rep at center, the nose beat him," Pittman said. "He (Clary) went back and kept him off KJ. (Arkansas QB KJ Jefferson completed 13 of 23 passes for 366 yards and three touchdowns and zero turnovers.) The next rep, he did a great job one-on-one with the nose and we threw the touchdown to Warren Thompson. I like where Clary's at. He's unbelievably valuable to our football team because he can play any position on the field."
AGGIES SMOTHER
Pittman proudly points to an Arkansas defense that skunked then 15th-ranked Texas in the first half of a 40-21 triumph and dominated Rice 38-17 and Georgia Southern 45-10.
The A&M defense has yielded just seven points over its past two games. After opening 41-10 over Kent State, Coach Jimbo Fisher's Aggies escaped Colorado 10-7 and skunked New Mexico 34-0.
"Just a smothering defense," Pittman said. "Very, very, very good defense at the front end, middle and the back end."
QB CALZADA
A&M backup QB Zach Calzada became starter when starter Haynes King broke his leg Game 2 at Colorado. Calzada was shaky in the first quarter when thrust into that game, but he finished by throwing the game-wining TD pass in the fourth quarter. He confidently passed for 275 yards and three TDs against New Mexico.
Pittman isn't surprised with Calzada's improvement.
"I think he's a fine quarterback," Pittman said. "He wouldn't be at A&M if he wasn't. That second game he had a little more confidence. I think he's got belief and the wide receivers and tight end (Jalen Wydermeyer, six catches for 92 yard and two TDs in last year's A&M 42-31 victory over Arkansas) have belief in him."
BACK TO ARLINGTON
Arkansas and Texas A&M were supposed to play at AT&T Stadium last year. With the dates and scheduled covid reshuffled to an entirely SEC schedule, the game was moved to A&M. It's back as contracted this year to AT&T Stadium, skipping a return matchup at Reynolds Razorback Stadium in Fayetteville.
"I don't feel great about it, to be honest with you," Pittman replied when asked of the Aggies getting a home game last year without traveling this week to Fayetteville. "I believe that if we're in this (Reynolds Razorback) stadium, that we're hard to beat because of our fans. Everybody will think, 'Oh, Coach is throwing out excuses.' No, I'm not. I feel very confident we can go in and play well at the Dallas Cowboys stadium, I do. But would I rather have them in here? Yes."
UA VS. UGA TV
Arkansas' Oct. 2 SEC game against No. 2 Georgia will be televised by ESPN and kick off at 11 a.m. at Sanford Stadium in Athens, Ga..