Class 3A Week 4 Rankings, Notes & Picks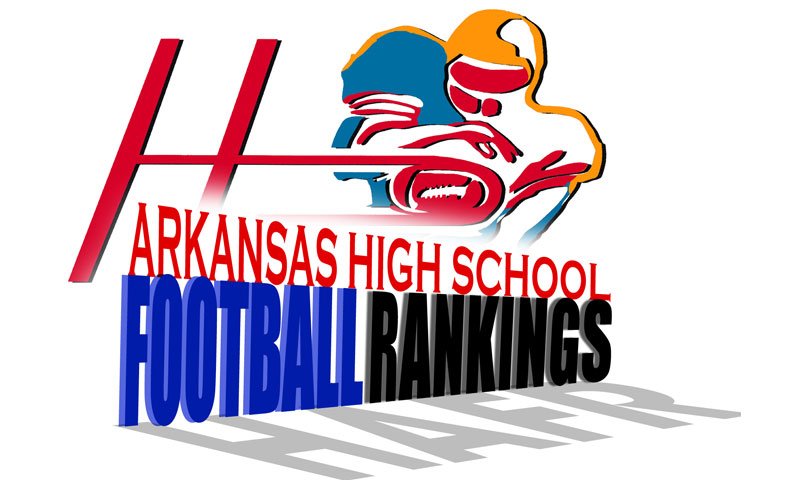 Hootens.com Rankings
Class 3A, Week 4, 2020
Copyright Hooten Publishing, Inc.

1. Harding Academy (3-0)
2. Prescott (2-0)
3. Rison (1-1)
4. Hoxie (3-0)
5. Booneville (3-0)
6. McGehee (3-0)
7. Newport (4-0)
8. Osceola (0-2)
9. Glen Rose (2-1)
10. C. Harmony Grove (1-2)
11. Cedarville (3-0)
12. Melbourne (3-0)
13. Centerpoint (3-1)
14. Harrisburg (1-1)
15. Dollarway (0-2)
16. Greenland (2-1)
17. Atkins (2-1)
18. Salem (2-1)
19. Charleston (1-2)
20. Jessieville (2-1)
21. Perryville (2-1)
22. Walnut Ridge (1-1)
23. Mayflower (0-3)
24. Smackover (0-1)
25. Hackett (2-0)
26. Piggott (2-1)
27. Lincoln (2-2)
28. Paris (3-0)
29. Baptist Prep (2-1)
30. Mountain View (3-1)
31. Danville (0-2)
32. Corning (2-1)
33. Genoa Central (2-1)
34. West Fork (2-1)
35. Mansfield (1-2)
36. Bismarck (1-2)
37. Drew Central (0-3)
38. Riverview (0-2)
39. Barton (0-3)
40. Fouke (0-1)
41. Manila (1-1)
42. Palestine-Wheatley (1-2)
43. Lake Village (0-3)
44. Lavaca (0-1)
45. Two Rivers (0-3)
46. Horatio (0-3)

HOOTENS.COM GAME OF THE WEEK
No. 12 Melbourne at No. 7 Newport
This is the first meeting of these schools. Melbourne did not play last week after agreeing to cancel a home game against Class 2A England. The Bearkatz routed Class 4A Cave City 48-12 two weeks ago, racking up 350 yards in a road victory. Melbourne led 21-12 in the third quarter before scoring the game's final 28 points. Sophomore quarterback Trey Wren completed all three of his passes for 47 yards and a TD at Cave City while Melbourne ran for 303 yards and five scores as a team. Melbourne is 3-0 for the second straight season and the third time in four years.
Newport erased an early 13-0 deficit in last week's 47-19 win over Class 4A Lonoke. Newport forced four Lonoke turnovers, returning two interceptions for scores. The Greyhounds recorded 263 yards (159 passing and 104 rushing) against Lonoke, including a 95-yard TD pass from sophomore QB Dejai Marshall to senior receiver Chris Reynolds. Senior running back Tharon Davis, Marshall and Reynolds pace a Newport offense that averages 45 points per game. Senior end Tyler Johnson and sophomore linebacker C.J. Young spark a Greyhound defense that allows 17 points per week.

LAST WEEK
Hootens.com correctly predicted 16 of 20 games (80 percent) of games involving Class 3A schools. For the season, hootens.com correctly predicted 93 of 119 games (78 percent) of games involving Class 3A schools.

WEEK 4 PREDICTIONS (favored team in CAPS followed by point spread)
1-3A
Lavaca at CEDARVILLE (21): Lavaca has played just one game this season, a 32-12 loss Week 0 at Paris. Cedarville is 3-0 for the second straight season and has outscored its opposition by a combined 130-32. Cedarville junior running back Darryl Kattich ran for 247 yards and four TDs and caught a 27-yard TD pass two weeks ago in a 52-20 victory over Class 4A Green Forest. Cedarville ran for 418 yards and six TDs against Green Forest.
Charleston at GREENLAND (3): Greenland amassed 489 yards in last week's 50-28 victory at Class 4A Berryville. Greenland senior QB Gabe Wilson passed for 104 yards and a TD while senior tailback Jett Dennis bolted for 259 yards and two scores. Dennis added a 70-yard TD catch. Charleston trailed Class 4A power Ozark 28-7 last week at halftime in a 54-21 defeat in the Franklin County Feud. The Tigers committed two turnovers but were only flagged for one penalty against Ozark.
MANSFIELD (1) at West Fork: West Fork was idle last week after absorbing its first loss Week 2 (20-7 against Paris). West Fork's two wins are its most since earning eight victories in 2015 and matches its total from 2016-2019. Junior QB Eli Howerton smoothly operates West Fork's Flexbone. Mansfield trailed Class 4A Elkins 38-0 two weeks ago en route to a 38-16 defeat. Mansfield managed just 172 yards, including 36 rushing yards at Elkins. Mansfield senior linebacker Randy Claude anchors the Red Tiger defense.
Lincoln at Hackett. Canceled.

2-3A
Melbourne at NEWPORT (7): See Hootens.com Game of the Week.
HARDING ACADEMY (6) at Briarcrest Christian, Tenn.: Harding Academy won its 18th consecutive game last week in a 38-7 rout at Camden Harmony Grove (extended highlights HERE). Senior Jeffrey Mercer, junior Cooper Welch and sophomore Peyton Cole intercepted passes for Harding. The Wildcats amassed 319 yards at Harmony Grove, paced by senior QB Caden Sipe's 259 yards passing with two TDs. Junior tailback Andrew Miller ran for 55 yards and three scores. Senior receiver Ty Dugger snagged eight passes for 116 yards and a TD. Briarcrest Christian is 3-2 this season and the Saints leading passer, rusher and receiver are all seniors.
MOUNTAIN VIEW (21) at Cutter M. Star: Mountain View rolled up 519 yards and forced five turnovers in last week's 32-13 victory at Class 2A Quitman. Senior playmaker J'Air Jackson ran 69 yards on a fake punt for a TD and he caught a 94-yard TD pass in the second quarter. Junior C.J. Rose later ran for a score. Sophomore Landon Goins racked up 15 tackles while Trampas Stubbs intercepted two passes.
Riverview at SALEM (6): Riverview has not played since it lost 33-12 Week 1 against Class 4A CAC in a game it trailed 33-0 entering the fourth quarter. The Raiders were just two of 11 on third down against CAC. Salem lost 32-14 a week ago at Corning without two starting linemen, including its center, and its top two running backs.

3-3A
Corning at OSCEOLA (14): Corning won its first home game since 2014 a week ago when it beat Salem 32-14 and the Bobcats are above .500 for just the third time since 2014. Corning senior running back Clayton Crosby scored two TDs against Salem, while classmate Gary Comstock ran for a score. Senior Nikota Amiker returned a fumble 30 yards for a TD. Osceola has not played since a 25-24 loss to Class 4A Blytheville Week 1. The Seminoles allowed 252 yards against Blytheville, surrendering five sacks.
HOXIE (7) at Harrisburg: League coaches picked Hoxie second and Harrisburg third in this year's Hooten's Arkansas Football magazine. Each school was idle a week ago. Harrisburg expects most of its players to be fully healthy this week. The Hornets allowed just 265 yards two weeks ago in a 42-7 loss to Class 5A Greene County Tech. Hoxie feels it has improved defensively every week after beating Class 4A Jonesboro Westside 54-29 two weeks ago. Hoxie senior QB, and North Alabama commit, Daylon Powell totaled 417 yards and five TDs against Westside. Senior running back ShunDerrick Powell ran for 104 yards and three scores, while senior receiver Stefan Coleman snagged three passes for 170 yards and two TDs. Senior linebacker Sam Turner logged nine stops against Westside.
Manila at PIGGOTT (6): Each team beat Marked Tree in its last game. Manila slipped Marked Tree 20-18 two weeks ago, when it outgained the Indians 260-253 and forced a pair of turnovers. Manila stopped Marked Tree's potential game-tying two-point conversion in the third quarter. Piggott led 50-18 in the fourth quarter last week at Marked Tree before settling for a 50-30 conquest. The Mohawks rolled up 353 balanced (168 passing and 185 rushing) yards at Marked Tree.
Palestine-Wheatley at WALNUT RIDGE (10): Palestine-Wheatley forced four turnovers and allowed less than 10 yards two weeks ago in a 42-6 victory over Class 2A Marvell. The win snapped an 12-game losing streak for Palestine-Wheatley. Walnut Ridge has not played since losing 34-14 Week 1 at Salem. Walnut Ridge's game Week 2 at East Poinsett County was canceled and the Bobcats scheduled their bye a week ago. Walnut Ridge recorded 326 yards at Salem, but did not score after the first quarter. Senior playmaker Cole Manning rolled up 292 yards and two TDs while sophomore Logan Sain paced the defense with 10 tackles.

4-3A
Baptist Prep at ATKINS (14): Atkins beat Baptist Prep the past two seasons by a combined 93-54. Baptist Prep trailed Class 2A Marvell 24-6 last week early in the third quarter before scoring the last 14 points of a 24-20 defeat. Baptist Prep committed three turnovers in the first quarter against Marvell. Atkins absorbed its first loss a week ago (32-6) at Class 4A Waldron. The Red Devils managed 231 yards at Waldron, but committed seven penalties and four turnovers.
BOONEVILLE (35) at Two Rivers: Opponents outscore Two Rivers 151-14 this season during an 0-3 start. Booneville ran for 499 yards in last week's 43-12 win over Class 4A Mena. Senior Ty Goff ran for 216 yards on nine carries with three TDs. Junior QB Randon Ray bolted for 136 yards and two scores.
Danville at PERRYVILLE (10): Danville trailed Class 2A Hector 23-14 early in the fourth quarter last week before losing 35-14. Danville junior QB Lawson Wilkins rushed for 95 yards and a TD and senior Julian Becerra also scored. Perryville recorded 411 yards in last week's 45-18 win at Class 2A Conway Christian. Sophomore QB Tyler Givens completed 16 of 22 passes for 256 yards at Conway Christian. Givens' top target was junior Mason Roland, who caught six passes for 198 yards. Junior Ethan Weaver rushed for 46 yards and three TDs. Senior linebacker Blake Kennedy stacked 11 tackles at Conway Christian while junior Brandon Hoyt added 10.
MAYFLOWER (1) at Paris: Each team was idle a week ago. This is the first of three consecutive road games for Mayflower. Opponents outscore Mayflower 98-35 during its 0-3 start (all against Class 4A teams). Paris is 3-0 for the first time since 2011. The Eagles scored the first 20 points two weeks ago in a 20-7 victory at West Fork. Junior QB Chase Watts (6-0, 150) and senior running back Ely Fore (5-11, 185) spark the Paris offense.

5-3A
Bismarck at GENOA CENTRAL (6): Class 2A Poyen led Bismarck 43-14 two weeks ago at halftime of a 49-14 victory. Poyen outgained Bismarck 464-227 and Bismarck rushed for only 30 yards. Genoa Central forced four Lafayette County turnovers two weeks ago in a 45-12 victory.
GLEN ROSE (14) at Jessieville: Jessieville trailed Class 2A Dierks 32-6 last week at halftime of a 46-28 defeat. Jessieville racked up 364 yards at Dierks but allowed five sacks and committed two turnovers. Dierks rushed for 389 yards, which could prove problematic against a Glen Rose outfit that rushes for more than 167 yards per week this year. Glen Rose dominated the second half in last week's 42-20 win at Class 4A Harmony Grove Haskell, scoring four TDs. Glen Rose rushed for 206 yards against H. Grove Haskell, offsetting three lost fumbles. Glen Rose senior Noah Wright scored four times at Haskell, running for two scores, catching a 26-yard TD pass and returning a punt 65 yards for a score.
Horatio at Prescott. Canceled. Watch extended highlights of Prescott's win over rival Gurdon HERE.
Fouke at Centerpoint. Canceled.

6-3A
RISON (30) at Barton: Rison and Barton have each won eight state titles. Barton rushed for 248 yards in last week's 19-8 loss at Class 2A Cross County but the Bears "must fix a lot of self-inflicted mistakes," Coach Paul Burkhead says. Senior Ethan Ward rushed for 165 yards while classmate Hykeem Hancock totaled 78 yards and a TD while lining up at QB and receiver. Rison pummeled Class 2A England 49-6 two weeks ago with 11 Wildcats earning carries. The Rison defense allowed England to complete one of 14 passes for 1 yard and surrendered only 90 yards and one first down for the game. Senior QB Cole Keese completed all three of his passes for 84 yards at England. Monte Barnett ran for a 39-yard TD and he caught a 26-yard TD pass. Rison rolled up 359 yards at England.
C. HARMONY GROVE (6) at Dollarway: Dollarway has not played in two weeks after a home game against Class 5A Texarkana was canceled and the Cardinals were on bye a week ago. Dollarway allows 272 yards and just 10 points per game in 2019. Harmony Grove drags a two-game losing streak into this game after losing to Class 2A No. 1 Fordyce 48-7 two weeks ago and Class 3A No. 1 Harding Academy 38-7 last week (watch the highlights HERE). Harmony Grove managed just 204 yards against Harding and committed three turnovers.
MCGEHEE (28) at Drew Central: Opponents outscore Drew Central 122-12 during the Pirates' 0-3 start. Class 2A Strong canceled last week's game at Drew Central, forcing the Pirates to play Class 4A Hamburg (lost 41-6). Drew Central trailed Hamburg 28-6 entering the fourth quarter. McGehee has not allowed a TD in 10 quarters and has surrendered just one TD this season. McGehee surrendered just 64 yards in last week's 28-0 victory over Class 4A Blytheville. The McGehee defense has allowed less than 200 yards this season. Junior Jody Easter scored all four TDs for McGehee.
Lake Village at SMACKOVER (4): Opponents outscore Lake Village by a combined 105-20 during its 0-3 start. The Beavers trailed Class 2A Strong 16-6 in the fourth quarter two weeks ago in a 16-14 defeat. Lake Village committed seven turnovers against Strong, including five interceptions. Lake Village senior Kenvorris Campbell has run for 232 yards this season (5.4 yards per carry) and two TDs. Smackover plays this game with 18 players and the Buckaroos have not played since Week 1's 41-6 loss to Class 2A Junction City. Dylan Novack, Breylon Love and Sam Gathright led the Buckaroos during their two-week absence.