Class 4A Week 4 Rankings, Notes & Picks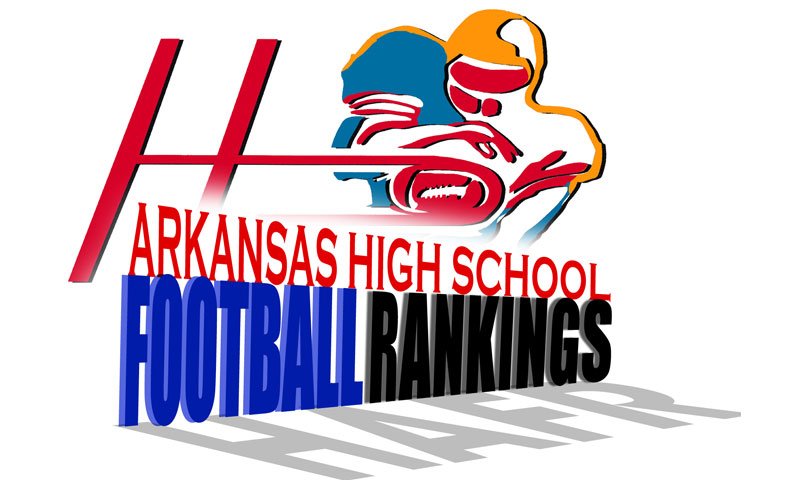 Hootens.com Rankings
Class 4A, Week 4, 2020
Copyright Hooten Publishing, Inc.
1. Joe T. Robinson (2-1)
2. Shiloh Christian (2-1)
3. Ozark (2-1)
4. Nashville (2-1)
5. Arkadelphia (3-0)
6. Crossett (1-1)
7. Stuttgart (2-0)
8. Pocahontas (3-0)
9. Dardanelle (2-1)
10. Lonoke (2-1)
11. Warren (0-3)
12. Ashdown (3-0)
13. Rivercrest (3-0)
14. CAC (3-0)
15. Hamburg (1-2)
16. Star City (2-1)
17. Prairie Grove (3-0)
18. Mena (1-3)
19. Gosnell (0-2)
20. Elkins (3-0)
21. Jonesboro Westside (1-2)
22. Malvern (1-2)
23. Trumann (2-1)
24. Waldron (3-0)
25. Blytheville (1-2)
26. Southside Batesville (1-2)
27. Pottsville (2-2)
28. Dumas (1-2)
29. Monticello (2-1)
30. Fountain Lake (2-0)
31. Bauxite (1-2)
32. Gravette (1-2)
33. Mills (1-2)
34. Gentry (1-2)
35. Helena (0-2)
36. Huntsville (2-1)
37. Bald Knob (2-1)
38. Cave City (1-2)
39. Lamar (2-1)
40. DeWitt (1-1)
41. Clinton (0-3)
42. Highland (1-2)
43. Heber Springs (1-2)
44. H. Grove Haskell (0-3)
45. Berryville (0-2)
46. Green Forest (0-3)
47. Dover (0-4)

HOOTENS.COM GAME OF THE WEEK
No. 13 Rivercrest at No. 8 Pocahontas
A battle of unbeatens and these teams have split the past four meetings. Pocahontas has beaten Southside Batesville, Nettleton and Paragould by an average of 40-23. Senior QB Dawson Chester missed the past two games but returns this week. Senior receivers Michael Martens and C.J. Palmer have filled in at QB "and played really well," Coach Charles Baty says. Sophomore running back Connor Baker paces the Redskins with 61 carries for 416 yards and four TDs and averages 8 yards per reception.  Undefeated Rivercrest has beaten Class 5A Paragould, Valley View and Brookland by an average of 46-24 with an offense that puts up 486 yards weekly. Senior QB Kamron Turner has completed 27 of 40 passes for 628 yards and six TDs, and rushed for 541 yards and seven scores. Turner doubles as a blitzing safety, where he's racked up 20 tackles and returned a fumble for a TD. Senior Keshawn Scott averages 7 yards per carry and has 15 receptions for 396 yards and three TDs. Senior tackle Gunnar McCullar and Connor Gray anchor the line.

LAST WEEK
Hootens.com correctly predicted 20 of 22 games (91 percent) last week. For the season, hootens.com has correctly predicted 106 of 127 games (83 percent).

WEEK 4 PREDICTIONS (favored team in ALL CAPS)
1-4A
Berryville at SHILOH CHRISTIAN (35): Shiloh Christian beat Poteau, Okla., two weeks ago but lost to Class 6A Sand Springs, Okla., 27-26 last week. Sophomore QB Eli Wisdom accounted for three TDs, including a 70-yard TD sprint. Winless Berryville has been outscored this fall 114-41. The Bobcats trailed Greenland 28-20 in the third quarter last week but lost by 22 points after surrendering more than 300 yards rushing.
Green Forest at PRAIRIE GROVE (28): Prairie Grove rolled up 475 yards in last week's 35-point win at Stilwell, Okla., including 384 yards rushing, while holding Stilwell to 257 total yards. Green Forest has lost to West Fork, Pottsville and Cedarville this fall by a combined 112-34.
HUNTSVILLE (1) at Gentry: Huntsville has consecutive wins over Clinton and Lincoln, the Eagles first win streak since beating Gentry 35-6 and Berryville 21-14 in the opening two games of 2018. Huntsville yielded just 281 yards and forced three turnovers two weeks ago against Lincoln. Gentry beat Lamar Week 1 by rolling up 257 yards and forcing two turnovers.
Gravette at ELKINS (8): Gravette plays its first in-state team after going 1-2 against Oklahoma schools. Gravette senior QB Cy Hilger has completed 41 of 78 passes this year for 409 yards and two TDs, and he's ran for a pair of TDs. Undefeated Elkins getting big plays from senior QB Kain Johnson. The Elks gave up 172 yards and forced two turnovers Week 2 against Mansfield. 

2-4A
Bald Knob at MILLS (2): Bald Knob rolled up 319 yards in last week's 57-24 loss to Class 5A Valley View and the Bulldogs average 349 yards weekly. Mills beat LR Hall 22-14 two weeks ago, when Quentin King ran for a pair of TDs.
CAC (9) at Clinton: Undefeated CAC owns wins over Carlisle, Mayflower and Riverview by a combined 100-48. The Mustangs run for 227 yards weekly, paced by senior Ty Williams (64 carries, 531 yards and nine TDs). Senior linebacker Ethan Demarco paces the D with 37 tackles and one forced fumble. Winless Clinton should be near full strength for the first time this year. Junior fullback/linebacker Jacob Hutto has played well this fall.
Heber Springs at LONOKE (24): Heber Springs has won nine of the past 14 over the Jackrabbits. Lonoke committed 13 penalties for 200 yards and turned the ball over four times in last week' s 47-19 loss at Newport. The Jackrabbits jumped to a 13-0 advantage and the game was tied 13-13 at halftime. Heber Springs notched its first win under first-year coach Todd Wood last week, downing Dover 42-6.
Southside Batesville at STUTTGART (16): Southside Batesville has beaten Stuttgart two of the past three seasons, including last fall 43-21. The Southerners failed to score two weeks ago against Trumann, but in Week 1 they ran for 278 yards against Mayflower. Stuttgart's game with DeWitt last week was canceled on Thursday. Two weeks ago, the Ricebird D held Warren to eight yards and forced four turnovers.

3-4A
RIVERCREST (1) at Pocahontas: Hootens.com Class 4A Game of the Week.
JUNCTION CITY (2) at Blytheville: Class 2A No. 3 Junction City makes the 10.5-hour round trip from the Louisiana border to the Missouri border for a non conference game. Blytheville trailed McGehee 14-0 at halftime last week before losing 28-0. The Chickasaws tallied only 64 yards while managing three plays over 10 yards.
GOSNELL (7) at Highland: Gosnell has beaten Highland 10 of the past 15 seasons. But numerous Pirates have been spent the past two weeks in quarantine, for them to cancel games against Osceola and Rison. Coach Lewis Earnest says Gosnell has been practicing and six sophomores will start this week, including QB Reid Shelton. Junior Travelle Anderson ran for 214 yards Week 0 at Brookland, but is scheduled for knee surgery next week and may not return until November. Highland junior QB Wyatt Goodman sparked a 36-34 win over Piggott two weeks ago by passing for 78 yards and a TD and running for a pair of TDs.
Trumann at JONESBORO WESTSIDE (3): Trumann has notched consecutive shutouts over Southside Batesville 27-0 and Paragould 35-0. Trumann rolled up almost 500 yards against Paragould, with senior Milton Lewis running 12 times for 198 yards and two TDs, and Gavin Morgan bulling in a pair of TDs. Jonesboro Westside is healthy after not playing Week 3. Warrior senior QB River Engle and two-way lineman Kaleb Porter have played well this fall.  

4-4A
Ozark at HARRISON (3): This non-conference game was added Tuesday afternoon after Dardanelle canceled against Ozark, and Farmington canceled against Harrison. Harrison senior QB Cole Keylon has completed 35 of 55 passes this year for 745 yards and eight TDs, and he has a team-best 52 carries for 363 yards and four TDs. Ozark has beaten Clarksville and Charleston the past two weeks by a combined 86-33. Senior QB Harper Faulkenberry continues to gain more confidence (broke leg in 2019 playoffs) each week. He completed four of seven passes for 59 yards and one TD, and he ran 19 times for 179 yards and four TDs against Charleston. Watch the extended game highlights HERE. Junior Ryker Martin (28 tackles) and senior Keystan Durning (26 tackles) pace the Ozark defense.
POTTSVILLE (1) at Lamar: After starting 2-0, Pottsville has lost consecutive games to Charleston and Clarksville by a combined 58-28. The Apaches outgained Clarksville 328-208 yards, but committed three turnovers. Lamar led Class 2A Carlisle 36-12 at halftime last week before cruising to a 54-18 decision. The Warriors ran for 271 yards, paced for senior Brady James' 154 yards and two TDs.
MENA (2) at Waldron: Mena has won 40 of the past 48 in the series, including 24 straight. But the Bearacts have dropped three straight games this year to Class 3A powers Harding Academy (44-20) and Booneville (43-12) and Class 5A Hot Springs (20-13 in overtime). Bearcat senior Max Montgomery has passed for 848 yards and nine TDs this year, while senior Gaven Hooper has 16 catches for 283 yards and three scores. Undefeated Waldron has beaten Gentry, Mansfield and Atkins by a combined 117-35. Senior Gabino Grano ran for 112 yards and three TDs and the D created five turnovers in last week's 32-6 triumph over Atkins.
Dover is open.

7-4A
H. Grove Haskell at ASHDOWN (10): Harmony Grove Haskell has won the only two meetings between Haskell by a combined 50 points. But the Cardinals are winless this fall and get outscored an average of 18 points weekly. Junior QB Hunter Williams completed two of three passes for 44 yards and a TD and ran for a TD in last week's 42-20 setback against Glen Rose. Undefeated Ashdown has beaten Hamburg, De Queen and Hope by an average of 35-13 this fall, while forcing nine turnovers. Middle linebacker Landon Rowe paced the Panthers Week 2 against Hope with 15 stops. 
Bauxite at MALVERN (7): Malvern led HS Lakeside 14-7 at halftime a week ago, but failed to score in the second half of a seven-point setback. Leopard sophomore QB Ced Simmons has passed for 489 yards and three TDs this season and rushed for 199 yards and a pair of TDs. Bauxite has lost consecutive games to Monticello and Newport by a combined 67-43. Sophomore QB Hunter Ferrell passed for 277 yards and a pair of TDs two weeks ago against Newport. 
Fountain Lake at JOE T. ROBINSON (25): Undefeated Fountain Lake runs for 328 yards weekly, paced by junior Caleb Lacy (26 carries, 363 yards and six TDs). Defending state champion Joe T. Robinson lost to Class 5A No. 1 Pulaski Academy in the opener, and throttled Class 5A Maumelle and Class 6A Marion the past two weeks by a combined  67-27. Senior QB Buddy Gaston has passed for 703 yards and eight TDs, while senior Hunter Smith has 36 carries for 235 yards and averages a mind-numbing 61 yards per kickoff return.
Arkadelphia at NASHVILLE (3): CANCELED. This game was canceled on Thursday. These teams have combined to win three of the past five state championships. Nashville has beaten the Badgers the past two seasons by a combined six points. The Scrappers lost to Texas power Pleasant Grove 55-14 in the opener, but have beaten De Queen and Hope the past two games by a combined 100-26. Senior tackles Dalton Brown (6-5, 275) and Hayden Clay (6-3, 270) anchor the offensive line. Senior QB Ty Gordon has completed 23 of 25 passes the past two games, with one of the incompletions hitting his target's face mask. Senior receiver Dontrelle Robinson "is our most dynamic guy," Coach Mike Volarvich says. Robinson has three rushing TDs the past two games. Senior cornerback L.D. Hendrix has three interceptions this fall, and senior safety Will Pope is the second-leading tackler. Senior noseguard Michael Hendrix (5-11, 320) has played well at noseguard. Undefeated Arkadelphia has beaten Class 5A Camden Fairview, Hot Springs and Greenbrier by a combined 100-62. Badger junior Jaishon Davis ran 24 times for 216 yards and three TDs and returned an interception for a TD two weeks ago in a seven-point win over Greenbrier. The Badger's start four sophomores on defense.

8-4A
DUMAS (1) at Helena: Dumas throttled Dollarway and Lake Village by a combined 51-0 in the opening  two games before losing to Class 3A McGehee 42-6. Senior Kylin James has rushed for 465 yards and four TDs this fall. Hard-luck Helena has losses to Earle and Forrest City by a combined six points. 
Monticello at STAR CITY (2): Star City has won five of the past eight in the series. The Bulldogs blasted Class 2A Hampton last week by 31 points. Senior QB Noah Noble threw a TD pass, while senior Cole Branson and sophomore Mason Turner each had a pair of TDs. Monticello junior QB Stran Smith has six TD passes and a TD run this fall. The Billies led Class 2A No. 1 Fordyce 22-17 in the fourth quarter last week 22-17 before allowing the winning TD.  
Warren at Crossett: Canceled.
Hamburg at DeWitt: Canceled.