Class 5A Week 4 Rankings, Notes & Picks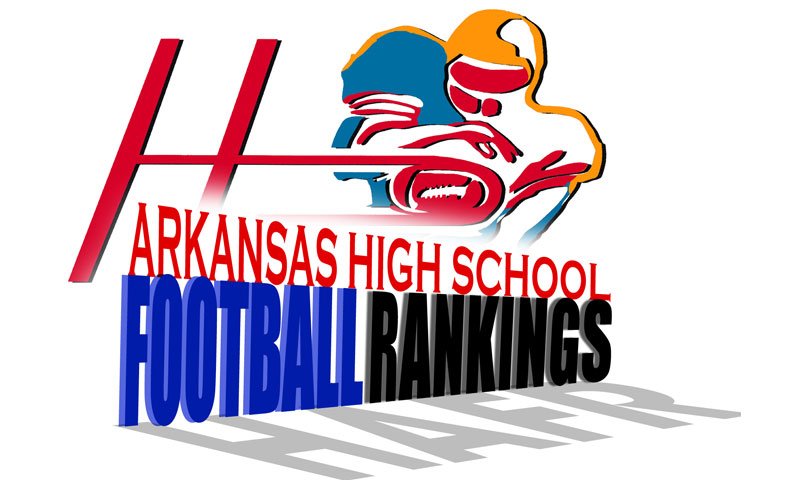 Hootens.com Rankings
Class 5A, Week 4, 2020
Copyright Hooten Publishing, Inc.
1. Pulaski Academy (3-0)
2. LR Christian (2-1)
3. Texarkana (1-0)
4. Wynne (3-0)
5. Maumelle (2-1)
6. Harrison (2-1)
7. White Hall (2-1)
8. Magnolia (3-1)
9. Watson Chapel (2-0)
10. Morrilton (1-2)
11. Camden Fairview (2-2)
12. Vilonia (2-1)
13. Hot Springs (1-2)
14. Batesville (1-2)
15. HS Lakeside (2-2)
16. Greenbrier (1-2)
17. Valley View (2-1)
18. Forrest City (1-1)
19. Farmington (2-1)
20. Nettleton (1-2)
21. Greene Co. Tech (2-1)
22. Alma (1-2)
23. Jacksonville (1-2)
24. Clarksville (1-1)
25. Pea Ridge (0-3)
26. Brookland (1-2)
27. LR Hall (1-2)
28. Hope (0-3)
29. Paragould (0-3)
30. Beebe (0-3)
31. De Queen (0-4)

HOOTENS.COM GAME OF THE WEEK
No. 2 LR Christian at No. 5 Maumelle
Little Rock Christian has won five of its eight games over Maumelle, including last season 34-7. The Warriors lost to Magnolia 52-49 two weeks ago when eight players were out with injuries, but most return this week, Coach Eric Cohu says. Senior Corey Platt, Jr., ran for 150 yards against Magnolia and "has been outstanding," Cohu says. Senior Isaiah Hankins hauled in two TD passes against Magnolia while senior defensive end Titus Colquitt returned a fumble 95 yards for a TD.  Maumelle sandwiched wins over Sylvan Hills and Vilonia around an eight-point loss to talented Class 4A No. 1 Joe T. Robinson. Junior lineman Andrew Chamblee (6-7, 300) and seniors Kelby Forte (5-10, 265) and Nathan Juhl (6-2, 250) anchor the offensive line, while senior end Jordan Scott and junior noseguard Nico Davillier (6-5, 280) form a wall on the defensive front. Davillier, playing a Wildcat QB, has three TD runs, while junior Jalen Waits paces the Hornet rushing attack with 5.5 yards per carry. 

LAST WEEK
Hootens.com correctly predicted 13 of 15 games (87 percent) last week. For the season, Hootens.com has predicted 67 of 80 games (84 percent). 

WEEK 4 PREDICTIONS (favored team in ALL CAPS)
5A CENTRAL
LR CHRISTIAN (7) at Maumelle: Hootens.com Class 5A Game of the Week.
LR HALL (1) at Beebe: Neither team played last week. Winless Beebe has been outscored this season 143-34, while LR Hall has been outscored 63-27. Senior safety Kavionne Rucker and lineman Darius Woodus have played well for the Warriors.
PULASKI ACADEMY (22) at Watson Chapel: A battle of unbeatens. Pulaski Academy took down highly-touted out of state opponents the past two weeks (Ravenwood, Tenn., and Life Christian Academy, Virginia) by a combined 68-49. Junior running back Joe Himon ran 15 times against Life Christian for 129 yards and a TD, and he converted a fourth-down in the final two minutes to seal the victory. Watson Chapel slipped past Camden Fairview a week ago when sophomore QB Jabrae Shaw threw three TD passes. Defensively, Shaw's interception with 17 seconds left sealed the victory. Senior Kris Richardson caught a TD pass, returned a kickoff 65 yards to set up a score and intercepted a pass at linebacker against Camden Fairview, while senior linebacker Eric Brown racked up 10 tackles, intercepted a pass and averaged 40 yards on five punts.
WHITE HALL (16) at Jacksonville: White Hall beat Sheridan (extended highlights HERE) and Warren by a combined 52-23 before losing to Class 6A LR Parkview two weeks ago. The Bulldog secondary, led by free safety Braylon Johnson and senior cornerback Kam Robinson, have played well this fall. Robinson also starts at receiver and returns kicks. Improved Jacksonville lost to Sheridan 36-18 a week ago, but the Titans committed three turnovers. Junior QB Deborius Cobbs threw a pair of TD passes and ran for another.

5A EAST
Nettleton at BATESVILLE (10): Batesville's 56-47 win over Nettleton last year snapped a two-game losing skid in the series. Nettleton lost at Mountain Home 41-7 Week 2, while Batesville lost at Mountain Home last week 49-45. Nettleton trailed Mountain Home 28-7 at halftime, while Batesville led Mountain Home 38-21 at intermission. Pioneer senior senior safety Tevin Whitaker intercepted two passes last week and senior QB Eli Livingston accounted for three TDs.
WYNNE (21) at Brookland: Improved Brookland beat Gosnell 36-32 in the opener, but lost consecutive games to Jonesboro Westside 28-21 and Rivercrest 40-23. Brookland sophomore Joseph Wright ran for a TD and threw a TD pass against Rivercrest. Undefeated Wynne has beaten Class 6A Marion and West Memphis and 5A West member Morrilton this fall by a combined 94-44. Yellowjacket senior QB Marterious Ross accounted for six TDs the past two games. Linebackers Cam'Ron Holmes, a senior, and Timmy Watson, a junior, paced the Yellowjacket D.
Forrest City at GREENE CO. TECH (2): Surprising Greene County Tech believes it can push for its first playoff spot since 2010. Senior running back David Williams paces the Eagles with 55 carries for 327 yards and four TDs, while senior Shad Vaughan has 10 catches for 166 yards and a pair of TDs. Forrest City rallied past Helena 24-20 last week. Mustang junior Quinton Cottrell ran for a TD and had another long run negated by penalty.
Paragould at VALLEY VIEW (24): Valley View begins its quest for a third consecutive 5A East title. Senior QB Zac Stracener completes 62 percent of his passes this fall for 403 yards and four TDs with two interceptions. Sophomore safety Jay Morman (13 tackles), junior linebacker Kannon Jones (11 tackles) and senior tackle Eli Lassiter (11 tackles, one blocked punt) pace the Blazer defense. Winless Paragould has been outscored this fall by a combined 126-32.

5A SOUTHWEST
HS Lakeside at CAMDEN FAIRVIEW (3): Camden Fairview has won 11 of the past 14 over the Rams since moving into the 5A South in 2006. The Cardinals committed four turnovers in last week's 22-17 loss at Watson Chapel.  Senior running back Reshard Clardy (96 yards) and junior Ja'Coriae Brown (88 yards) paced the Cardinal running attack, while senior Amari Pace collected 10 tackles. HS Lakeside upended Malvern last week 21-14, rallying from a 14-7 halftime deficit. The Rams intercepted two passes, recovered a fumble in the end zone for a TD and blocked a put to set up another TD.
HOPE (13) at De Queen: A battle of winless teams. Hope has lost this fall to LR Hall, Nashville and Ashdown by a combined 90-40, while De Queen has lost to Mena, Ashdown, Nashville and Centerpoint by a combined 165-15.
FS Southside at TEXARKANA (1): Texarkana senior RB Torie Blair ran for 166 yards and two TDs last week against Warren. Junior DE Christian Torres and senior NG Josh Gamble played well fo the Razorbacks. Class 7A FS Southside, which won at Class 6A Russellville 21-17 two weeks ago for its lone win, has played a difficult schedule.
Hot Springs is open. 

5A WEST
Pea Ridge at ALMA (2): Alma rallied past Class 7A Heritage last week with a late TD in regulation, then Dane Martin kicked the winning 20-yard field goal in overtime. Senior Logan Chronister ran 20 times for 121 yards, and scored the tying TD and two-point conversion in the fourth quarter. Winless Pea Ridge lost its opening two games to Shiloh Christian and Siloam Springs by a combined 102-38. But the Blackhawks almost took out Prairie Grove (35-33 loss) two weeks ago, but failed on a two-point conversion with 1:23 left. Junior Trevor Blair caught four TD passes against Prairie Grove. 
VILONIA (8) at Clarksville: Vilonia's two wins are by a combined seven points after the Eagles survived Russellville by five points a week ago. Junior QB Austin Myers threw a TD pass and ran for another. Clarksville senior Miles Castleman returned an interception 65 yards for a TD in last week's 37-14 triumph over Pottsville, the Panthers' first win since Week 6, 2019.
MORRILTON (1) at Greenbrier: Morrilton's two losses this fall were against rival Russellville by five points and at No. 4 Wynne by one point. The Panthers have won two straight over Greenbrier. Senior receiver Reggie Toney caught two second-half TDs two weeks ago against Wynne. Greenbrier lost consecutive games to Batesville and Arkadelphia without four starters, who should return this week. The Panthers put up 363 yards against Arkadelphia. 
Ozark at HARRISON (3): This non-conference game was added Tuesday afternoon after Dardanelle canceled against Ozark, and Farmington canceled against Harrison. Harrison senior QB Cole Keylon has completed 35 of 55 passes this year for 745 yards and eight TDs, and he has a team-best 52 carries for 363 yards and four TDs. Ozark has beaten Clarksville and Charleston the past two weeks by a combined 86-33. Senior QB Harper Faulkenberry continues to gain more confidence (broke leg in 2019 playoffs) each week. Watch the extended game highlights HERE. He completed four of seven passes for 59 yards and one TD, and he ran 19 times for 179 yards and four TDs against Charleston. Junior Ryker Martin (28 tackles) and senior Keystan Durning (26 tackles) pace the Ozark defense.