Class 7A Week 4 Rankings, Notes & Picks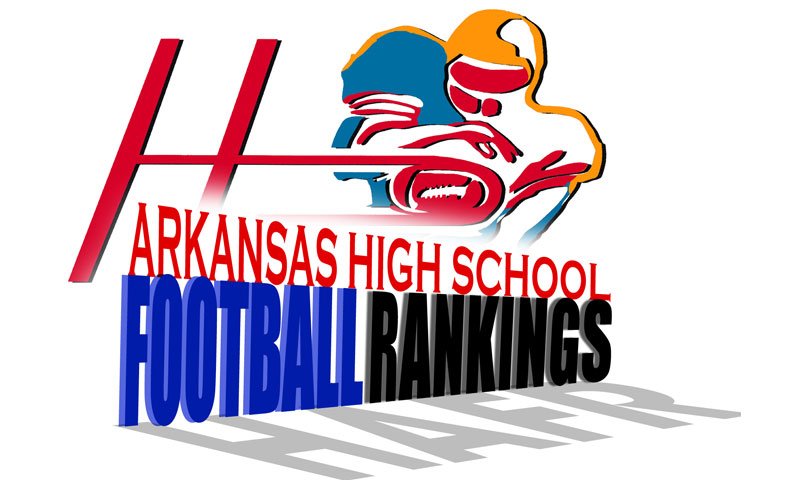 Hooten's Arkansas Football Rankings
Class 7A, Week 4, 2020
Copyright Hooten Publishing, Inc.
1. Bryant (3-0)
2. Bentonville (3-0)
3. North Little Rock (3-0)  
4. Conway (2-1)
5. Bentonville West (2-1)
6. Cabot (3-0)
7. LR Central (1-2)
8. Har-Ber (0-3)
9. LR Catholic (2-1)
10. Fayetteville (0-3)
11. FS Northside (2-0)
12. Rogers (3-0)
13. Springdale (1-2)
14. FS Southside (1-2)
15. LR Southwest (0-3)
16. Heritage (1-2)

HOOTENS.COM GAME OF THE WEEK
No. 8 Har-Ber at No. 2 Bentonville.
Undefeated Bentonville, playing at home for the first time in 2020, looks like the best in the West with wins at Conway (47-21), Kansas City Rockhurst (31-27) and defending Kansas state champion Mill Valley (35-28). The Tigers enter league play injury free and brimming with confidence. Har-Ber, considered one of Bentonville's top challengers before the season began, lost its three non-conference games by a combined 105-43, including a 33-0 gutting at Class 6A Greenwood. Har-Ber rushes for 161 yards and passes for 162 yards weekly, completing just 48 percent of its passes for two TDs and eight interceptions. Har-Ber's offensive line plays well and its linebackers are solid.

LAST WEEK
hootens.com correctly predicted six of seven winners in games involving Class 7A teams. For the season hootens.com is 32-8 (80 percent) in Class 7A.

7A CENTRAL
FS Northside at BRYANT (21): Bryant outlasted ultra-talented Trinity Christian, Texas 44-40 last Friday. FS Northside owns wins over FS Southside and Moore, Okla.
LR Catholic at CABOT (3): Undefeated Cabot outscores opponents 37.3 to 24.3 weekly. LR Catholic coming off big win at Class 6A power Benton (35-28). The Rockets lost Week 0 at Jonesboro 28-24 and a week later Cabot drove 80 yards in the final minutes to win at Jonesboro 36-32. LR Southwest, reacting to a virus, has canceled its game next Friday with Cabot.
LR Central at NORTH LR (9): Undefeated North LR mercy-ruled West Memphis 35-0 last Friday while LR Central had the week off, recovering from a 35-14 whopping from Bentonville West. LR Central's lone non-conference win came Week 1 against hapless LR Hall.
Conway at LR Southwest: Canceled

7A WEST
Har-Ber at BENTONVILLE (13): Game of the Week. 
Bentonville West at GREENWOOD (10): Greenwood downed Choctaw, Okla. 23-12 a week ago despite playing without senior QB L.D. Richmond and senior tailback Hunter Wilkinson after the first quarter. Sophomores Hunter Houston and Joe Trusty split reps for Richmond. Greenwood owns wins this season over Class 7A teams Fort Smith Southside (42-3) and Har-Ber (33-0). Greenwood must clean up its 16 penalties committed against Choctaw. Bentonville West senior QB Dalton McDonald has completed 60 of 102 passes for 677 yards and four TDs with three interceptions. Senior inside receiver Stephen Dyson caught 15 balls for 185 yards in the opening loss to Broken Arrow, Okla. Senior RB Carlos Hall paces the Wolverines with 183 rushing yards and three TDs.
Fayetteville is open after the covid-related cancellation of its game vs. Bentonville West.
FS Southside at TEXARKANA (1): Texarkana senior RB Torie Blair ran for 166 yards and two TDs last week against Warren. Junior DE Christian Torres and senior NG Josh Gamble played well fo the Razorbacks. FS Southside, which won at Class 6A Russellville 21-17 two weeks ago for its lone win, has played a difficult schedule.
Heritage at SPRINGDALE (8): Loser of this matchup most likely misses the playoffs. Heritage lost its season opener at Class 5A Farmington 24-6. Two weeks later Springdale lost at Farmington 14-7.