HOGS: O line faces major test vs UGA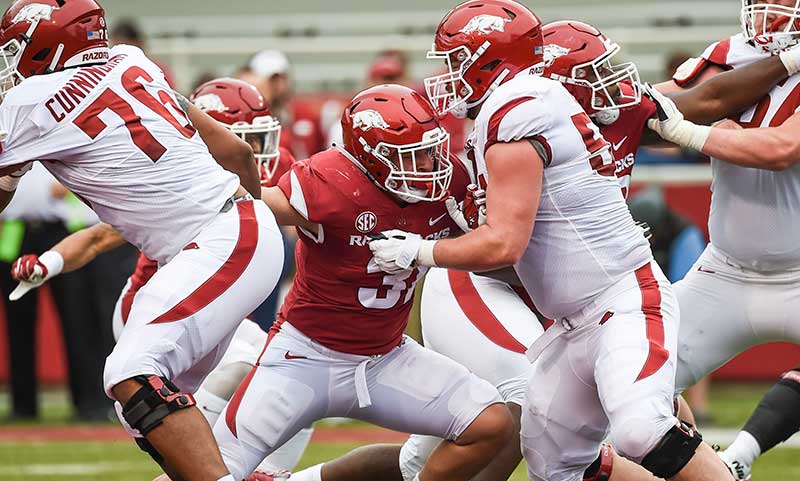 FAYETTEVILLE - Against what new Arkansas head coach and former Georgia offensive line coach Sam Pittman calls the best defense in the country, the Razorbacks start a young offensive line vs. Pittman's old team.
Georgia's Bulldogs rank No. 4 in the nation and likely would be No. 1, if defense were the only name in the football game.
It would seem a mismatch in the making at 3 p.m. Saturday at Reynolds Razorback Stadium.  The Razorbacks, off consecutive 2-10 seasons, start last year's true freshman starting guard at center and first-time starting redshirt freshmen guards. They'll either start a third-year sophomore (injured last season) or last year's incumbent at right tackle with the lone senior starter at left tackle. None made any of the AP's three All-SEC teams, which seven from Georgia's defense did.
GOT TO BELIEVE
Nevertheless, Arkansas senior offensive team captains Feleipe Franks, the graduate transfer QB from Florida, and Rakeem Boyd (1,133 rushing yards last year) believe this line will deliver.
Sophomore center Ricky Stromberg, guards Brady Latham and Beaux Limmer, left tackle Myron Cunningham and either Noah Gatlin, idled all 2019 by preseason knee surgery, or fourth-year junior Dalton Wagner are the linemen assigned to clear Boyd's paths and keep Franks upright.
"I have full confidence in those guys," said Franks, who behind a good Florida line quarterbacked the 2018 Gators to a 10-3 season and started in 2019 until breaking his ankle in the season's third game. "I think the whole offense can speak for this as well; we all have full confidence in those guys. We know the offense starts with those guys, and they've done a tremendous job. Coach (Brad)  Davis (Arkansas' offensive line coach) has done a great job of working with those guys and getting them prepared for Saturday."
BETTER WITH BIGGER
Under Pittman and Davis and strength coach Jamil Walker, Boyd sees a bigger, stronger more physical line than last year's.
"The young guys have been doing an amazing job," Boyd said. "I've been very proud of them, and all I can do is trust them."
And trust that regardless of what happens early, the Hogs will stay patient running the ball with Boyd, their lone entrant on the Coaches All-SEC teams on the second team.
That's quarterback Franks' intention.
"I think establishing the run game is important in the game of football in general," Franks said. "This Saturday we've got to establish the run game, and I think our guys up front are ready for that and ready for the challenge."
FRANKS IN RUNNING
Franks may factor some in that running game, too. He's known more for his arm than his legs, but he did rush for 350 yards and seven touchdowns in 2018, and according to Pittman is "a mobile quarterback."
"If the play breaks down, I want to be able to extend the play," Franks said. "I feel like I should be able to. And when I'm asked to run the ball, I need to do it with full effort."
Franks said his ankle has fully healed. He's waited since that Sept. 14, 2019 injury against Kentucky that sidelined him to be full-go for a game.
"Oh man, it's wonderful," Franks said of Game Day approaching. "It's been awhile. It's been over a year since I've gotten on a football field and played in a game. I'm excited just to get out there again. Now it's with a new team and now it's with a group of brothers that I've been grinding with since I've gotten here." 
HONORED CAPTAINS
They truly feel like brothers to Franks, electing him as captain along with Boyd and senior defensive captains Grant Morgan and Jonathan Marshall.
Franks has been in Fayetteville since January.
"Yeah, I was definitely touched by it," Franks said. "It's an honor. It's a big deal for them to think of me like that in a short period of time." 
Same for Boyd, the running back said. Boyd could have gotten that vote back in January when he announced he would not declare for the 2020 NFL draft.
"I can't do that to my team," Boyd said. "I came back to establish something, so opting out wasn't even in the talk. You know what I mean?"