HOGS-Aggies collide in Arlington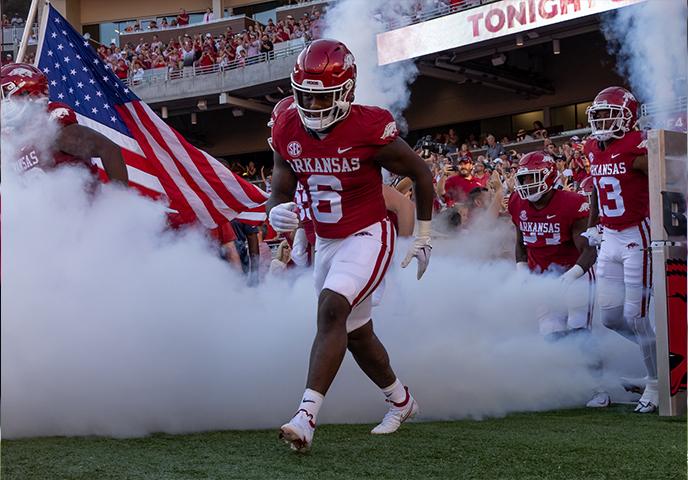 FAYETTEVILLE — Arkansas Coach Sam Pittman and Texas A&M Coach Jimbo Fisher will have more to talk about than the weather when they meet on the field before Saturday night's Southwest Classic at AT&T Stadium.
Kickoff for the matchup between the 10th-ranked Razorbacks (3-0; Tommy Land photo) and the No. 23 Aggies (2-1) is set for 6 p.m. and will be televised on ESPN.
Pittman and Fisher are more than casual acquaintances.
The friendship blossomed in 2017 when Fisher was looking to hire a new offensive line coach. Pittman, who was the offensive line coach at Georgia at the time, was one of many coaches interviewed by Fisher.
"Coach [Fisher] and I visited quite a bit whenever he had the job opening," Pittman said. "Since I've become a head coach, we've been able to talk more during the coaching meetings and a lot of that is because we have similar friends."
Since Pittman's hiring at Arkansas in 2019, both coaches have won a game against the other, with Fisher winning 42-31 in 2020 and Pittman winning 20-10 last season. This game will determine who will have the bragging rights for their friendly rivalry.
POOL EYES RECORD BOOKS
Senior inside linebacker Bumper Pool (6-2, 232; Lucas Texas) has been one of the faces of the Razorbacks football program for the past number of years and is looking to etch his name atop the tackling category in the record book.
Pool has been a constant starter at linebacker since 2019, and he has already established himself as one of the more accomplished inside linebackers the program has seen.
He was a second-team All-SEC second selection in 2020 and 2021 while being named to the 2022 Phil Steele preseason All-SEC first team and second-team All-American.
Pool is in line to break Arkansas' all-time tackle record of 408 set by Tony Bua, who played from 2000 to 2003. Pool (378 career tackles) sits at fourth on the all-time tackles list with a least nine games guaranteed and possibly more.
"It would mean everything to him if he could break that record," Pittman said. "I told him there's only one guy in the world who can say that they have the most tackles ever in the history of Arkansas football and there's not many of those things in life. I hope that he can get that record."
Pool has accounted for 29 tackles in three games this season, the third-highest in the SEC. He also has one sack on the season as well as two pass deflections.
HORNSBY'S USAGE
Backup quarterback Malik Hornsby (6-2, 186; Missouri City, Texas) has lined up all over the field for the Hogs, including at wide receiver and even in the backfield as a running back. But Hornsby has limited production — 2 rushes for 16 yards and 1 reception for 9 yards. Pittman said there plans to use Hornsby's raw athletic ability more often this season, commenting on Hornsby's non-involvement last week against Missouri State.
"We have several personal groupings with him in for this week," Pittman said. "It all depends on how the game is going and things of that nature, but we are certainly planning on using him in some formations."
 Hornsby's primary position is quarterback, and he has stepped up on occasions when KJ Jefferson has gone down with an injury. Hornsby came in for two series last season against the Aggies, completing 1 of 3 passes for 7 yards while rushing 6 times for 12 yards, while nearly leading a touchdown-scoring drive in the third quarter. Hornsby has thrown for 46 yards and rushed for 156 yards for his career as a Razorback.
MAKING THE RIVALRY COMPETITIVE
The Razorbacks ended a nine-game losing streak to the Aggies last season, and Pittman said the Hogs need to keep winning to make the series a two-sided rivalry.
"I think it's a big rivalry for us," Pittman said. "Any time you lose nine of the last ten games it probably means a lot more to us than to them. But it's a trophy game and as you well know, it's a big deal to us to win any of those trophy games."
2023 SCHEDULE RELEASED
The Arkansas Razorbacks are set to host seven in-state games during the 2023 season, six at Reynolds Razorback Stadium in Fayetteville and one game, the season opener against Western Carolina on Sept. 2, at War Memorial Stadium in Little Rock.
It marks the first time the Hogs have opened the schedule at War Memorial Stadium since a 2017 victory over Florida A&M.
The Razorbacks play their next two games in Fayetteville — against Kent State on Sept. 9 and BYU on Sept. 16. The Hogs and Cougars are set to meet for the first time later this season in Provo, Utah.
Five of the next six games will outside the state, starting with a trip to Baton Rouge, La. to take on LSU Sept. 23. That will be the earliest the Razorbacks and Tigers have ever played and the first time the two schools have met outside of November since the 1966 Cotton Bowl.
The Hogs' annual trip to Arlington, Texas to play Texas A&M is set for Sept. 30, followed by road games at Ole Miss (Oct. 7) and Alabama (Oct. 14).
Arkansas plays host to Mississippi State on Oct. 21 before an open date on Oct. 28. The Razorbacks finish with three of the team's last four games inside Razorback Stadium. The final stretch begins at Florida on Nov. 4. The Hogs will make back-to-back trips to The Swamp after playing at Florida in 2020.
Auburn starts a three-game home stand for the Razorbacks on Nov. 11 before a non conference matchup with Florida International on Nov. 18. The Panthers' trip to Fayetteville will be the second meeting between the two schools, Arkansas beat FIU 58-10 in 2007. The regular season concludes on Nov. 25 against Missouri.
2023 SCHEDULE
Sept. 2  WESTERN CAROLINA (LITTLE ROCK)
Sept. 9  KENT STATE
Sept. 16 BYU
Sept. 23 at LSU
Sept. 30 vs. Texas A&M (Arlington, Texas)
Oct. 7  at Ole Miss
Oct. 14  at Alabama
Oct. 21  MISSISSIPPI STATE
Oct. 28  OPEN
Nov. 4   at Florida
Nov. 11  AUBURN
Nov. 18  FLORIDA INTERNATIONAL
Nov. 25  MISSOURI