A&M makes it six straight over Hogs 50-43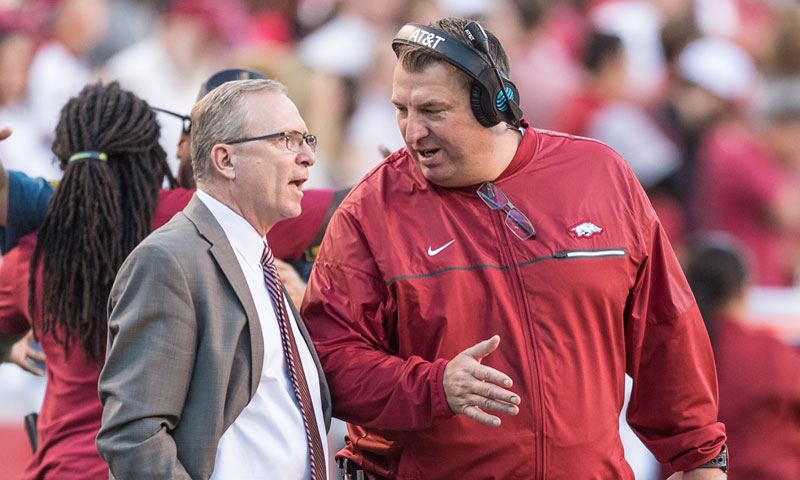 ARLINGTON, Texas — Texas A&M defeated Arkansas for the sixth year in a row Saturday in a wild SEC West shootout, 50-43 in overtime at the Dallas Cowboys' AT&T Stadium.

In the overtime, Texas A&M faced a third-and-9 when Arkansas cornerback Kamren Curl was called for a questionable pass interference. That gave the Aggies a first down at the 10 and on the next play quarterback Kellen Mond found wide receiver Christian Kirk for a game-winning 10-yard touchdown.

Arkansas' possession in overtime ended when an Austin Allen pass was intercepted in the A&M end zone by Armani Watts.

Arkansas (1-2, 0-1) couldn't put away the Aggies (3-1 overall, 1-0 in the SEC). The Allen interception on the last play was Arkansas' only turnover of the game.

"Obviously a tough day, a tough way to end," Arkansas coach Bret Bielema said.

Texas A&M coach Kevin Sumlin remained undefeated against the Hogs.

"I don't know," Sumlin said. "I mean, it's another game. And so, you know, it's a close game that we were able to win. So, with any team — young, old whatever that is — close games that you're able to win, they help you.

"It helps the feeling in the locker room. And it's our first SEC game, and a lot of those guys' first SEC game. We got another one next week."

Fifth-year senior quarterback Allen explained the interception in overtime.

"We were running off the Mike (linebacker)," Allen said. "We had two corner routes. The one to my left was taken so I figure the one to my right was taken. I just tried to throw it low and to only where my guy would get, and their guy made a good play. I thought we were going to get it."

The fourth quarter provided some of the more exciting football of the year for both teams. Regulation ended with the game tied 43-43. A&M place-kicker Daniel LaCamera forced overtime with a 27-yard field goal with four seconds left in regulation.

Texas A&M took a 33-28 lead in the fourth period on a 37-yard field goal by LaCamera and 44-yard run by Keith Ford. The try for two failed following Ford's run, and the Aggies led 33-28 with 8:46 remaining in regulation.

The Hogs reclaimed the lead on their next possession when Allen passed to Jonathan Nance for a 44-yard TD. Allen tossed the two-point conversion to tight end Jeremy Patton to give Arkansas a 36-33 lead with 5:21 left in game.

Disaster soon struck the Razorbacks. Kirk returned Connor Limpert's kickoff 100 yards for a touchdown by Kirk. That allowed the Aggies to regain the lead at 40-36 with 5:10 remaining.

But the Hogs weren't finished, either. Allen and the offense took over at their 25. On first down. Allen passed 31 yards to tight end Austin Cantrell to the Texas A&M 44. On second down and 15 from the Aggies 49, Allen found Nance for 45 yards to the A&M 4-yard line. On the next play, running back David Williams powered in for the TD and a 43-40 lead with 3:39 remaining in regulation.

Williams said losing another heartbreaker to A&M was "tough. We prepared so hard all week and we had the bye week going into the game, but we just made too many mental mistakes."
 
The Razorbacks jumped to a 21-7 lead in the second quarter. However the Aggies fought back and eventually took a 24-21 lead on a 23-yard run by Keith Ford with 8:48 remaining in the third quarter.

Arkansas hadn't scored in the second half against the past three FBS opponents. That changed Saturday with 1:53 remaining in the third quarter when Williams powered in from the 1 to put the Razorbacks up 28-24. Williams' touchdown was set up on the previous play when Allen passed to him for 26 yards. The touchdown capped a six-play, 71 yard drive.

The Razorback offense wasted little time getting it going after the defense limited the Aggies to one first down and then forced a punt on the game's opening series. Arkansas put together a seven-play, 65-yard drive that ended with Allen finding Jared Cornelius for a 6-yard TD with 9:04 left in the opening period. Cornelius, who later left the game with an ankle injury, had three catches for 35 yards in the game.

A&M faced a third-and-6 at its 19 when Mond threw a pass to Kirk who was running the Arkansas secondary. That tied the game at 7-7 with 8:02 left in the first quarter. It stayed that way until the second quarter.

The Hogs got on the scoreboard on the first play of the second quarter when quarterback Cole Kelley tossed a 2-yard TD pass to Williams. Following a Henre' Toliver interception of a Mond pass, the Hogs used runs of 24 and 6 yards by Chase Hayden to take a 21-7 lead with 10:21 remaining in the first half.

The Aggies cut the lead to 21-17 at halftime. A&M got a 27-yard field goal by Daniel LaCamera and an 18-yard TD run by Trayveon Williams.

For the game, Allen completed 12 of 25 passes for 229 yards, two TDs and one interception. Hayden led the rushing with 13 carries for 77 yards and one TD. Williams had 11 carries for 68 yards and two TDs. Nance finished with three receptions for 100 yards and a TD. Dre Greenlaw finished with nine tackles to lead the Hogs.

"I know this one hurt because we fought hard," Nance said. "We just fell a little short at the end."

Mond led A&M with 10 carries for 109 yards, while Ford rushed 14 times 102 yards and two TDs. Kirk finished with five receptions for 110 yards and two TDs.