Class 2A Week 4 Rankings, Notes & Picks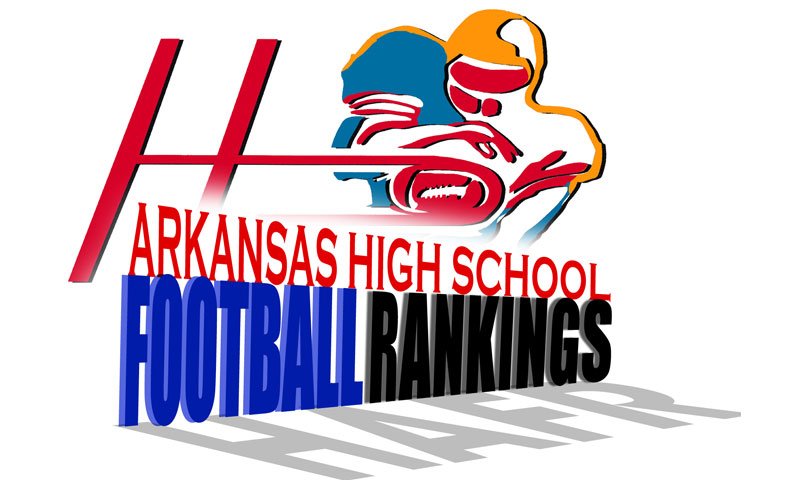 hootens.com Rankings
Class 2A, Week 4, 2019
Copyright Hooten Publishing, Inc.

1. Junction City (2-1)
2. Fordyce (3-0)
3. Hazen (3-0)
4. Foreman (3-0)
5. Earle (2-1)
6. Carlisle (3-1)
7. McCrory (3-1)
8. Magnet Cove (2-1)
9. E. Poinsett County (2-1)
10. Des Arc (1-2)
11. Gurdon (1-2)
12. Quitman (3-0)
13. Poyen (3-0)
14. Magazine (2-1)
15. Mineral Springs (1-1)
16. Conway Christian (1-2)
17. Salem (2-1)
18. Mountainburg (1-2)
19. Hampton (1-2)
20. Parkers Chapel (3-1)
21. Hackett (3-1)
22. Hector (1-2)
23. England (1-2)
24. Clarendon (1-2)
25. Murfreesboro (1-2)
26. Dierks (2-1)
27. Mountain Pine (0-3)
28. Rector (2-1)
29. Cutter M Star (2-1)
30. Bigelow (0-3)
31. Bearden (1-3)
32. Lavaca (0-3)
33. Cross County (0-3)
34. Mount Ida (0-3)
35. JC Westside (1-3)
36. Marked Tree (0-3)
37. Marianna (0-3)
38. Marvell (1-1)
39. Strong (0-3)
40. Lafayette County (0-3)
41. Spring Hill (0-3)
42. Midland (0-3)

GAME OF THE WEEK
No. 6 Carlisle at No. 3 Hazen
Just 10 miles separate these towns. Carlisle has dominated the series, winning 23 times since 1988, but Hazen has won four of the past five meetings and by an average of 41 points. Strength of schedule this fall favors Carlisle, which whipped Class 4A Lonoke 38-13, lost to Class 4A DeWitt 34-14 and beat Class 3A Baptist Prep 26-0. Hazen has dumped Cross County 48-6 (highlights HERE), Bearden 61-12 and Marked Tree 63-20. Those three 2A teams have combined for one victory (Bearden beat 0-3 Lafayette County). Neither of Hazen's senior running backs, Terrell Penn nor Ay'Jon Green, has totaled 20 carries this fall in blowouts wins. Junior LB Donovan Harris leads Hazen with 26 tackles, while senior tackle/end Blayne Toll averages three tackles for loss per game.  Carlisle produces 326 yards and allows 160 yards per game with senior tailback Kam'Ryn Taylor carrying for 453 yards (9.3 yards per carry) and eight touchdowns. Junior Collin Jinks has rushed 50 times for 310 yards and three TDs. A week ago, Carlisle stopped Class 3A Baptist Prep three times inside Carlisle's 15-yard line in the first half to lead 8-0 at halftime. Watch highlights of Carlisle's win over Lonoke HERE and win at Baptist Prep HERE.

LAST WEEK
Hootens.com correctly picked 21 of 26 (82 percent) games involving Class 2A teams. Hootens.com has picked 82 of 106 (77 percent) this season.

WEEK 4 PREDICTIONS (favored team in CAPS followed by point spread)
3-2A
E. POINSETT COUNTY (15) at Rector: Rector riding a two-game winning streak behind all-league RB Max Ford and QB Parker Buck. EPC junior QB Preston Rains returned for an injury last week to complete 19 of 35 passes for 287 yards and three TDs with on interceptions in a 56-29 win over Class 3A Corning. Senior RB Rayshon Gates rushed for 178 yards (12 yards per carry) and four TDs, while hauling in three passes for 76 yards and a TD. Rector has split two games this fall with Corning, losing the opener 30-8 but winning a week later 27-0.
Cross County at MARKED TREE (1): Common opponent Hazen beat Cross County 48-6 (highlights HERE) and Marked Tree 63-20. Cross County has won four of the past five meetings in the series, including 26-21 in 2018. MT allowed 10 yards per snap and a 76-yard kickoff return for a TD last week to Hazen.
Midland at MCCRORY (36): McCrory rallied past Clarendon last week 20-16 (extended highlights HERE) with sophomore QB Kade Campbell stepping up in the pocket and delivering a 9-yard TD pass with 20 second left to an open Sam Brown in the back of the end zone. McCrory rushed for 240 yards, paced by senior RB Daquan Hall's 160 yards and two TDs.   
SALEM is open.

4-2A
Magazine at HACKETT (2): Hackett went 2-0 vs. Oklahoma schools this year by defeating Pocola 36-0 Week 1 and Panama 34-27 last week. Hackett outscored Panama 28-13 in the second half with junior QB Avery Hester completing a 47-yard TD pass to sophomore Peyton Hester on 4th-and-11 on the the first possession of the second half. Avery Hester completed 13 passes for 294 yards and four TDs with Peyton Hester catching a team-high six balls for 152 yards and two TDs. Magazine just allowed 200 passing yards and four passing TDs in a 33-32 upset loss to Cutter Morning Star. Magazine senior FB Caleb Hyatt carried 20 times for 226 yards and four TDs in the loss.
J.C. Westside at LAVACA (6): Both teams struggling after playing demanding non-conference schedules, but J.C. Westside does own an (48-46) overtime win over Class 3A Two Rivers despite not running an offensive play in the third quarter of that game. Senior QB Kaw-Liga Brewer and senior lineman Zach Gann have been Lavaca's most consistent performers.
Lamar JV at MOUNTAINBURG (3) (Tue.): No. 18 Mountainburg finally plays its home opener. MHS senior Malachi West averages 100 rushing yards per game, while senior OL/DL Hunter Taylor averages five tackles per game.
HECTOR is open.

5-2A
MAGNET COVE (5) at England: England switched to the Double Wing offense, jumped to a 18-point lead two weeks ago at Clarendon and hung on for a 42-34 win. Senior Tamarous Dodson has moved from receiver to slotback. He and junior Darren McClinton are breakaway threats. McClinton raced 60 yards on the first play from scrimmage last year in a 12-10 win over Magnet Cove. MC counters this year with junior RB Landon Stone, who has rushed 48 times for 663 yards (14 YPC) and eight TDs. Senior LB Logan Walker (missed 2018 with a knee injury) has recorded 20 tackles (three TFL).
Bigelow at QUITMAN (8): Quitman has won three of the past four games in this series. Quitman junior QB Holden Martin working on consecutive all-league seasons. Martin has completed 68 percent of his passes for 345 yards and two TDs with two INTs. He has averaged almost 10 yards per carry and rushed for four TDs.
Cutter M. Star at MOUNTAIN PINE (6): Mountain Pine all-state QB Collin Smith has accounted for 508 and the Red Devils' 774 rushing yards. Cutter's Eagles are soaring after a 33-32 road upset of Magazine. CMS junior QB Sam Moore completed 10 of 15 passes for 197 yards and four TDs. All-5-2A athlete Matthew Cook hauled in three of those balls for 85 yards and two TDs.
Conway Christian at POYEN (4): Homecoming at Poyen, which seeks its first win in program history over Conway Christian. Junior Brandon Sanchez (629 rushing yards) continued his torrid pace last week with 243 yards and two TDs in a 34-21 win at Murfreesboro. Strength of schedule favors Conway Christian, which lost to Class 3A No. 5 McGehee 61-15 and to Class 3A No. 7 Clinton 48-6. Clinton forced four turnovers and held Conway Christian to 134 total yards. Watch highlights of Conway Christian's Week 2 loss to Class 3A Clinton HERE.    

6-2A
Carlisle at HAZEN (2): See Game of the Week.
Marvell at DES ARC (34): No. 10 Des Arc was idle last week after losing Week 2 to McCrory 28-21. DA all-state FB Jackson Morton paces the Eagles in rushing, and he pulled down a fourth-down pass for Des Arc's first score against McCrory.
Marianna at EARLE (36): No. 5 Earle seniors Jaylon Coopwood and Steve Smith recorded 14 tackles apiece last week in a 42-28 win over Cross County, and Smith added three sacks. Three different Bulldogs topped 100 yards rushing. Watch highlights of Marianna's 52-8 loss last week to Class 3A Barton HERE.
CLARENDON is open. Watch extended highlights of Clarendon's 20-16 loss last week to McCrory HERE.

7-2A
MURFREEESBORO (42) at Lafayette County: Murfreesboro scored first and pushed favored Poyen a week ago before losing 34-21. Murfreesboro freshman QB Sloan Perrin threw his first two interceptions of the season but completed five passes for 113 yards and a TD. Senior safety Jakob Allmon and junior LB Jase Kuykendall recorded 15 and 17 tackles, respectively, for Murfreesboro.  
Mount Ida at MINERAL SPRINGS (18): Mineral Springs was open last week while Mount Ida endured its third loss, 55-20 to Magnet Cove, despite  running the football with success in the first half. 
GURDON (5) at Dierks: Gurdon's defense, paced by consistent LB Armando Harper, held Class 3A Harmony Grove Haskell under 200 yards two weeks ago, and last week its first-team defense limited Bearden in the first half to minus-12 yards. Gurdon beat Bearden 36-6. Dierks counters with senior QB Chandler Lowrey and junior RB Austin Hanson.  
Spring Hill at FOREMAN (42): Foreman junior QB Keante Oglesby ran for 171 yards and two TDs last week and completed six passes for 97 yards and two TDs in a 36-0 blowout of Class 3A neighbor Horatio. Foreman's defense has forced 14 turnovers (five interceptions) in three wins. Watch highlights of Foreman's win Week 3 at Parkers Chapel HERE.

8-2A
Strong at JUNCTION CITY (45): Top-ranked Junction City has won 23 homecoming games in a row and leads the series with Strong 46-13-1. JC senior RB Jakiron Cook carried 16 times for 180 yards and four TDs last week in a 41-0 blowout of Louisiana small-school power Haynesville. Strong netted 8 yards and committed five turnovers in a 41-0 loss to Class 3A No. 2 Rison. Watching highlight's of Junction City's Week 0 loss to Camden Harmony Grove HERE.
Bearden at FORDYCE (38): No. 2 Fordyce mauled Class 4A Monticello last week 50-13. Fordyce's speedy defense boasts eight players with double-digit tackle totals this fall, led by junior LBs Gary Lewis and Josh Harrington with 18 apiece. Watch highlights of Fordyce's win Week 2 over Class 3A No. 1 C. Harmony Grove HERE.
Hampton at PARKERS CHAPEL (1): PC senior QB Caleb Jacobs putting up all-state numbers. He completed 19 of 25 passes a week ago for 266 yards and three TDs in a 48-28 victory over Class 3A Mayflower. Junior Trace Shoup returned a kickoff 71 yards for a TD, and senior LB Tyler Martin returned from an angle injury to lead the Trojans with nine tackles. Watch highlight's of Parkers Chapel loss Week 3 to Foreman HERE. Class 4A Star City shut out Hampton 35-0. Hampton relies on the junior pass-catch combination of QB Ashton Rice to WR Easton Welch. Hampton sophomore safety Jakob Strickland collected a team-high 11 tackles at Star City.