Class 5A Week 4 Rankings, Notes & Picks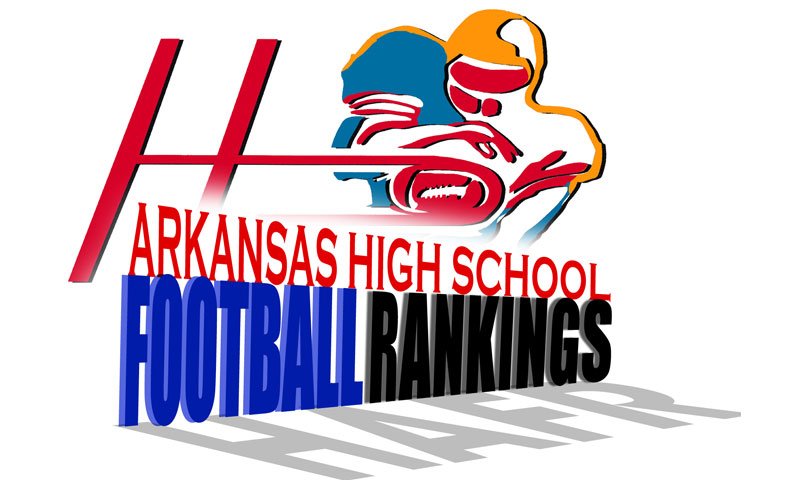 Hootens.com Rankings
Class 5A, Week 4, 2019
Copyright Hooten Publishing, Inc. 

1. Pulaski Academy (2-1)
2. Harrison (3-0)
3. LR Christian (3-0)
4. Morrilton (2-1)
5. Wynne (2-1)
6. LR McClellan (2-1)
7. LR Parkview (2-1)
8. Greenbrier (2-1)
9. Texarkana (1-1)
10. Camden Fairview (1-2)
11. Maumelle (3-0)
12. Valley View (3-0)
13. Watson Chapel (2-1)
14. White Hall (2-1)
15. Nettleton (3-0)
16. HS Lakeside (2-1)
17. Batesville (0-3)
18. Clarksville (3-0)
19. Alma (0-3)
20. Farmington (3-0)
21. Vilonia (1-2)
22. Magnolia (2-1)
23. Forrest City (2-1)
24. Hot Springs (1-2)
25. Blytheville (0-3)
26. Beebe (1-2)
27. Greene County Tech (1-2)
28. Paragould (0-3)
29. Huntsville (1-2)
30. Hope (0-3)
31. De Queen (0-3)
32. LR Fair (0-3)

HOOTENS.COM GAME OF THE WEEK
No. 4 Morrilton at No. 2 Harrison
Both of the teams advanced to the semifinals last year, and this game likely decides the 5A West title. Undefeated Harrison has won 10 of the past 18 in the series. The Goblins' three wins this fall are by an average of 39-8. Harrison alternates senior Ben Johnson and junior Cole Keylon at quarterback. Johnson completes 68 percent of his passes this year for 219 yards and four touchdowns, while Keylon completes 83 percent of his passes for 213 yards and a pair of TDs. Senior Gabe Huskey has 30 carries this year for 403 yards and eight TDs. "He's been the best player in Class 5A over the past three years," Morrilton coach Cody McNabb says. Senior linebacker Brooks Both paces Harrison's stingy defense with 37 tackles. The Goblins have forced five fumbles in three games.
Morrilton beat Russellville and LR Fair its past two games by a combined 70-25, and the Devil Dogs lost the opener to undefeated Searcy 44-42. Senior quarterback Jacolby Criswell didn't play Week 2 against LR Fair (leg injury) but should be healthy this week. Criswell, a North Carolina commit, has completed 37 of 60 passes (62 percent) this year for 455 yards and a pair of TDs, and his running ability baffles defenses (38 carries, 248 yards and four TDs). Junior Jackson Moll paces the Devil Dogs with 46 carries for 254 yards and six TDs, while senior Lamar Wofford has 16 receptions for 213 yards and a pair of TDs. Senior Xavier Clemmons was Morrilton's top rusher last season, but he switched to safety this fall "and has made our defense better," McNabb says.

LAST WEEK
Hootens.com correctly predicted 13 of 17 games (76 percent) last week, ailing the point spread of Joe T. Robinson by six over Camden Fairview. Hootens.com has picked 71 of 86 games (83 percent) this season.

WEEK 4 PREDICTIONS (favored team in ALL CAPS)
5A CENTRAL 
LR PARKVIEW (28) at Beebe: LR Parkview forced four turnovers in last week's 84-40 win over Class 7A Rogers. LR Parkview senior fullback Thomas McCauley ran for 242 yards and four TDs, while freshman Darien Bennett logged 17 carries for 144 yards. Beebe averages 298 yards and 27 ppg. Senior receiver Mikey Russell has 14 receptions this fall for 219 yards and one TD.
PULASKI ACADEMY (34) at LR Fair: Opposing coaches say LR Fair plays hard, but with fewer than 20 players run out of depth in the second half. They War Eagles have surrendered at least one special teams or defensive TD in two of three games this fall. Pulaski Academy beat Shreveport Evangel Christian last week by 23 points. The Bruins average a state-best 764 yards per game.
Watson Chapel at LR CHRISTIAN (21): LR Christian failed to score on its opening two possessions last week at Greenbrier, but that's about all the Warriors did wrong. They scored four straight TDs to close the first half and rolled to an easy 42-7 decision. Senior Kendal Givens ran nine times for 68 yards and three TDs. Senior Akeem Gilmore and junior Colin Cooper continue splitting snaps for the Warriors. Watch highlights HERE. Watson Chapel has beaten Monticello (highlights HERE) and Pine Bluff the past two games by a combined 88-43. Senior QB Devin Curry has passed for 390 yards and five TDs this fall, while running for 245 yards and four TDs.
MAUMELLE (3) at White Hall: This could decide a playoff spot. White Hall led Sheridan 14-0 at halftime last week, but lost 21-14 in a downpour. Senior Kam Robinson caught three passes for 39 yards and a TD. Watch highlights of White Hall's win Week 1 over Dumas HERE. Undefeated Maumelle led Mills 27-0 at halftime last week before cruising to a 47-8 decision. Maumelle's offense sparked when junior QB Jonathan Reyes took over at QB in the second quarter. Reyes threw three TD passes, including two to Zyon Slade, who also 17 yards for a TD. Maumelle hasn't trailed at any point this season. Senior Kadarius Akins has rushed for 499 yards and seven TDs this fall, while his junior QB brother Kendall Akins has thrown three TDs.

5A EAST
Greene County Tech at FORREST CITY (21): GCT didn't play last week, and two weeks ago the Eagles gave up 449 yards in a 43-14 loss to Newport. GCT junior David Williams has 27 carries for 150 yards and a pair of TDs this year, while senior Cody Miller averages 5.8 yards per carry and has ran for two TDs. Forrest City must recover from last week's loss to Helena, when the Cougars scored the winning TD in the fourth quarter. 
VALLEY VIEW (19) at Paragould: Paragould has lost its three games this year by an average of 35-14. The Rams rush for 244 yards per game and have completed only one pass this season. Junior Nick Ashby spearheads the rushing attack with 46 carries for 322 yards and three TDs. Undefeated Valley View gives up 10 points per game and hasn't given up a meaningful TD since the fourth quarter of the season opener against Osceola. Senior safety Carter Winters paces the D with 32 tackles.
Blytheville at WYNNE (11): Wynne rallied past Class 6A West Memphis last week 21-14, when senior QB Holden Parker threw the winning 15-yard TD pass on 3rd and 1 in the fourth quarter. Parker also ran for a two-point conversion, booted in a pair of field goals and put two kickoffs out of the end zone for touchbacks. Blytheville's big offensive line could present issues for an undersized Yellowjacket D that starts four sophomores. Blytheville led Class 6A Marion 14-0 in the first quarter Week 0 before allowing 44 straight points. The Chickasaws led West Memphis in Week 2 17-0 in the second quarter before losing 34-31.
Batesville at NETTLETON (2): Nettleton goes for its third straight in the series. The Raiders average 50 ppg this fall, and they were forced to rally in the second half two weeks ago for a two-point triumph over winless Mountain Home. Junior running back Nathan Young ran for 97 yards and three TDs against Mountain Home. He's rushed for almost 300 yards and three TDs this season. Nettleton has committed 27 penalties the past games. Batesville, 0-3 for the second straight season, gives up 50 ppg. The Pioneers have been outscored 120-27 in the first half, but the pass-first Pioneers can win if they connect on some deep passes.

5A SOUTH
Hot Springs at LR MCCLELLAN (2) (Thurs.): Hot Springs has lost two straight (to Mena by four and at Lake Hamilton by 42 points). Junior linebacker Devin Johnson paces the Trojans with 40 tackles. McClellan's only wins are over winless Dollarway and LR Fair. LR McClellan QB Joshua Brown accounted for four TDs in last week's 34 point win over LR Fair, while running back Michael Graydon scored twice in the fourth quarter.
DE QUEEN (1) at Hope: A battle of winless teams. De Queen has been outscored this year by a combined 130-28, while Hope has been outscored 168-38.
CAMDEN FAIRVIEW (3) at HS Lakeside: Camden Fairview has won 10 of the past 13 over the Rams since dropping to Class 5A in 2006. The Cardinals lost last week at Class 4A No. 4 Joe T. Robinson by six points and had a TD negated by penalty (watch highlights HERE). Camden Fairview junior Erik Hall has 62 carries this fall for 291 yards and three TDs. HS Lakeside junior QB Will Ross has passed for 677 yards and nine TDs this fall.
Magnolia at TEXARKANA (9): Texarkana hasn't played since losing to Texarkana, Texas 28-7 on Sept. 6. Magnolia has beaten winless Crossett and Monticello in its past two games. The Flexbone Panthers rush for 305 yards per game. Magnolia senior Braelyn Beasley has passed for 203 yards and four TDs this year and rushed for 157 yards and a pair of TDs. Watch highlights of Magnolia's loss to Warren in the Arkansas Blue Cross and Blue Shield Kickoff Classic HERE.

5A WEST
Morrilton at HARRISON (6): Hootens.com Class 5A Game of the Week.
Clarksville at FARMINGTON (6): A battle of unbeatens. Farmington forced six turnovers in last week's 17-point win over Pea Ridge, snapping a four-game losing streak in the series. Farmington has won its three games by an average of 33-11, while Clarksville has won by an average of 40-16.     . Farmington QB Marqwaveon Watson threw a pair of TD passes against Pea Ridge. Clarksville senior linebacker Eduardo Almarez has 32 tackles this season, including 4.5 sacks.
ALMA (4) at Vilonia: These teams enter this contest with identical records as last season when Alma won by 18 points. The Airedales have won 12 of the past 14 in the series. Alma senior receiver Grayson Bailey has eight receptions for 135 yards and a pair of TDs, while junior slot receiver Jacob Coursey has seven catches for 46 yards and two TDs. Vilonia gets big plays from senior Draven Smith, who ran for three TDs in the opener at LR Christian and five in the first half last week against Beebe. Smith averages a mind-boggling 15.4 yards per carry this year. 
Huntsville at GREENBRIER (28): Both of these teams must regroup from mercy-rule losses last week. Huntsville fell to Class 4A Elkins 35-0, while Greenbrier lost to LR Christian 42-7 (highlights HERE). Huntsville junior Slayter Watkins paces the Eagles this fall with five TDs. Greenbrier gave up 446 yards to LR Christian a week ago and trailed 42-0 in the third quarter. Greenbrier senior Peyton Long has 53 carries this year for 411 yards and seven TDs.