Class 2A Week 5 Rankings, Notes & Picks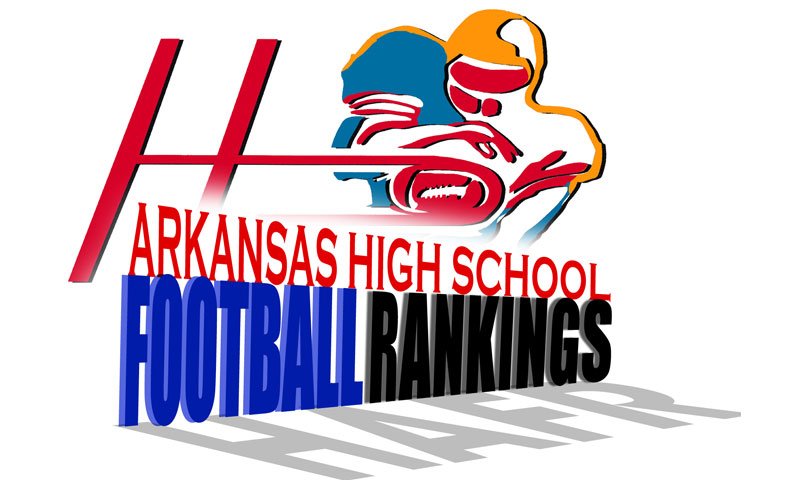 hootens.com Rankings
Class 2A, Week 5, 2018
Copyright Hooten Publishing, Inc.
1. Foreman (4-0)
2. Mount Ida (4-0)
3. Junction City (2-2)
4. Hazen (3-0)
5. Conway Christian (2-2)
6. Hampton (2-1)
7. Mineral Springs (3-1)
8. Fordyce (2-2)
9. Earle (3-1)
10. Hector (3-1)
11. Salem (2-1)
12. Gurdon (3-1)
13. Poyen (3-1)
14. Bearden (0-3)
15. Des Arc (2-2)
16. McCrory (4-0)
17. Quitman (4-0)
18. Mountainburg (2-1)
19. England (1-3)
20. Magnet Cove (1-3)
21. E. Poinsett County (3-1)
22. Cross County (2-2)
23. Bigelow (3-1)
24. Magazine (2-2)
25. Parkers Chapel (1-3)
26. Carlisle (0-3-1)
27. Mountain Pine (2-2)
28. Lavaca (2-2)
29. Murfreesboro (2-2)
30. Hackett (1-3)
31. Clarendon (1-2)
32. Marked Tree (0-4)
33. Strong (0-4)
34. Lafayette County (0-4)
35. Brinkley (1-3)
36. W. Yell County (2-2)
37. Marianna (0-3)
38. Cutter M. Star (1-3)
39. Rector (1-2)
40. Spring Hill (1-2)
41. Dierks (0-4)
42. J.C. Westside (1-3)
43. Midland (0-4)
44. Marvell (0-4)

HOOTENS.COM GAME OF THE WEEK
No. 6 Hampton at No. 3 Junction City
No pass completions. No passing yards. No problem for No. 6 Hampton, which held the ball for nine minutes with a 16-play drive Week 3 vs. Star City. Last week, Hampton amassed 325 yards (in the first half) and pounded Parkers Chapel 46-7 with senior QB Gauge Welch running for three TDs. Senior LB Tre Murhpy and DT Kade Pennington recorded three and two sacks, respectively, to pace a Hampton first-team defense that held PC to 21 yards. Junction City counters with junior RB Jakiron Cook (521 yards, five TDs) and senior RB Dhante Gibson (290 yards, five TDs). Senior LB Jvacye Cook (21 tackles) and DE Kyle Kidwell (22 tackles) pace a defense that features nine Dragons with double-digit tackles.

TV LAND
Hooten's Arkansas Football airs at 10:30 Saturday mornings on KATC (ABC Little Rock) Ch. 7, previewing the Razorbacks and their opponent.
LAST WEEK
Hootens.com correctly picked 19 of 23 games (83 percent) played last week. Hootens.com has picked 101 of 126 (81 percent) or the season. 

WEEK 5 PREDICTIONS (favored team in CAPS followed by point spread)
3-2A
Marked Tree at MCCRORY (10): McCrory senior QB Tarzan Alumbaugh rushed for 165 yards last week behind guards Timmy Taylor and Hagan Blackmon, tackles Will Cain and Travon DeWitt and center Tupelo Thompson. Marked Tree moved receiver Jack Brown to QB, and he sparked the Indians in a five-point loss.
Midland at EPC (21): EPC needed two big-play TDs in the fourth quarter last week to pull away from Rector. EPC senior safety Jonathan Gilmore returned a kickoff 91 yards for a TD, and junior RB Rayshon gates sprinted 77 yards for a TD.
SALEM (28) at Rector: No. 11 Salem senior RB Jordan Turner is among the state's leading rushers with 812 yards (13.3 ypc) and seven TDs. Rector gave up 196 yards and two TDs last week to EPC junior Rayshon Gates in a 32-19 loss.
BEARDEN (6) vs Cross County (non-conference game at Stuttgart): Cross County tries to mash opponents with its size up front and in the backfield, but it struggled last week to contain Marked Tree ATH Jack Brown. Bearden senior QB Cohen Word and junior RB Robert Miller have meshed well in Coach Trey Outlaw's ShowGun offense, while senior Garrett McWhorter has performed well at defensive end.   

4-2A
MOUNTAINBURG (15) at Lavaca: No. 18 Mountainburg offensive line has been solid, led by senior G Dalen Cagle and junior TE Hunter Taylor, but it wants better play from its interior defensive linemen. Lavaca senior ATH Tyler Armstead will test Mountainburg. He paces Lavaca with 466 rushing yards and six TDs.
JC Westside at HECTOR (42): Hector senior QB Cody Day putting together a super senior season. He's already passed for 595 yards and seven TD without an interception, while rushing for a team-high 435 yards and four TDs.
Western Yell at HACKETT (8): Hackett struggling to run the football or stop the run due to a lack of linemen and injuries. In a 18-12 OT loss last week at Magazne, Hackett senior QB Brady Hester was forced to scramble before passing to senior wingback Pacey McBride three times for 100 yards. WYC allowed 334 rushing and 132 passing yards in a 35-6 loss to Hector.
MAGAZINE is open.

5-2A
CONWAY CHRISTIAN (25) at Mountain Pine: No. 5 Conway Christian took a first step last week toward defending its 5-2A title by running over Poyen for 304 yards while forcing two turnovers in a 42-12 victory. Conway Christian held Poyen to less than 80 yards in the second half. Conway Christian all-state QB Jacob Wood is even better than a year ago, making next-level plays with his feet, and he can make every throw on the field. Mountian Pine thumped Cutter Morning Star 34-0 Monday night in a game that was postponed last week due to weather.
Magnet Cove at POYEN (3): Wet conditions hampered Poyen's passing attack last week when senior Jacob Farmer completed 12 of 33 passes for 200 yards and a TD in a 30-point loss to Conway Christian. Meanwhile, Magnet Cove fumbled the center-QB exchange seven times in the 12-10 loss to England. MC has won two straight in this series, holding Poyen to seven point both years. A week ago, Magnet Cove senior DE Ty Dawson recorded nine tackles, one TFL and two blocked punts, while senior Tyler McJunkins and senior Trenton Robinson played well at linebacker.
Bigelow at ENGLAND (2): England escaped Magnet Cove 12-10 last week despite allowing two blocked punts and another near miss. Bigelow led Quitman 14-0 in the first quarter, but committed seven turnovers and lost 19-16.
Cutter M. Star at QUITMAN (13): No. 17 Quitman rallied from a 14-point deficit in the first quarter last week to win 19-16 at Bigelow by recovering five fumbles and intercepting two passes. Quitman sophomore QB Holden Martin has completed 73 percent of his passes for 707 yards and five TDs with just one INT.

6-2A
HAZEN (36) at Brinkley: In its best offensive performance this fall, No. 4 Hazen crushed rival Carlisle 54-8 last week, rushing for 342 yards and five TDs. Hazen held the Bison to 37 passing yards and 75 rushing yards, with 34 of those rushing yards coming on a fourth-quarter drive.
Clarendon at EARLE (15): Earle hasn't really been tested since its Week 1 loss (38-18) to Class 4A No. 27 Helena, and it might not be pushed again until Week 8 when Hazen visits Earle.
Carlisle at DES ARC (6): Carlisle just lost to neighbor rival Hazen by 46 points, but the Bison love to get after Des Arc, losing to DA by eight points last year during a 2-8 season. Des Arc beat Carlisle 32-28 in 2016 and 28-24 in 2015. Carlisle defeated Des Arc 34-0 in 2014. Des Arc cannot afford the turnovers (12 this year) that have plagued it this season, including five last week at No. 44 Marvell.
Marvell at MARIANNA (1): Just 25 miles separate these Delta towns. Winless Marianna has scored 46 points this year while giving up 222 points. Winless Marvell has scored 192 points and allowed 64. Advantage home team.

7-2A
FOREMAN (38) at Dierks: Top-ranked Foreman stoned Spring Hill last week, holding SH to 44 yards and two first downs on 32 plays, while rushing for 339 yards on 30 snaps.
MOUNT IDA (29) at Murfreesboro: Second-ranked Mount Ida was not ultra sharp in the preseason, but the Lions manhandled Mineral Springs last week 34-6 in the conference opener. MI's first-team defense limited Mineral Springs to 10 plays and 26 yards in the first half and 83 total yards. MI seniors Oscar Pinedo, Kirklyn Sorrell, Ethan Winkley and Ty Abernathy frequently invaded the Mineral Springs backfield. Murfreesboro flashed its fangs, holding Lafayette County to 29 yards in a 20-0 win.
Gurdon at MINERAL SPRINGS (4): No. 7 Mineral Springs bounces back from a 28-point beatdown at Mount Ida where it scored late on an 89-yard TD pass against reserves to avoid a shutout. Youthful Gurdon (five sophomore starters on defense; four on offense) has won two straight games by limiting the turnovers that plagued it early this season. 
SPRING HILL (6) at Lafayette County: Lafayette County fumbled 11 times and lost six of them last week in a 20-0 loss at Murfreesboro. LC picked up three first downs and netted 29 total yards for the game.

8-2A
Hampton at JUNCTION CITY (2): See Game of the Week.
Strong at FORDYCE (35): No. 8 Fordyce defeated Bearden 27-8 Monday night after the game was postponed by weather last week. Fordyce's team speed and tenacity on defense proved too much for a Bearden team that fell to 0-3. Strong has lost six straight games, dating to Week 8, 2017 when it topped now 8-man Woodlawn.
BEARDEN (6) vs Cross County (non-conference game at Stuttgart): Cross County tries to mash opponents with its size up front and in the backfield, but it struggled last week to contain Marked Tree ATH Jack Brown. Bearden senior QB Cohen Word and junior RB Robert Miller have meshed well in Coach Trey Outlaw's ShowGun offense, while senior Garrett McWhorter has performed well at defensive end.
PARKERS CHAPEL is open.