Class 5A Week 5 Rankings, Notes & Picks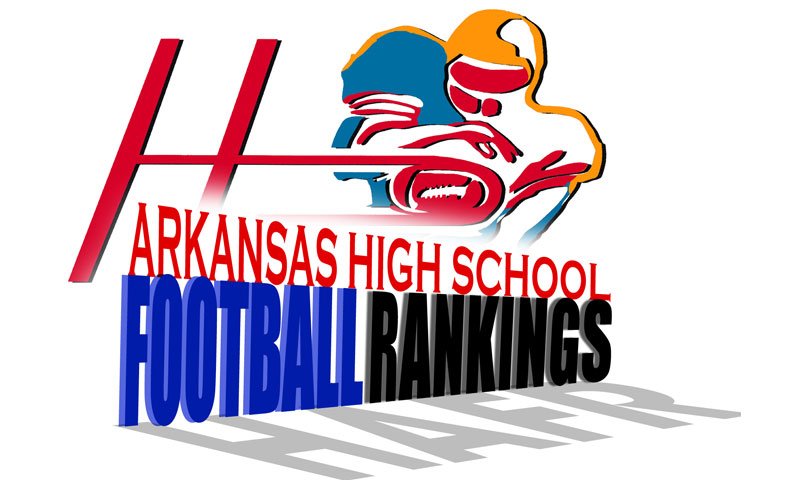 Hootens.com Rankings
Class 5A, Week 5, 2018
Copyright Hooten Publishing, Inc.

1. Pulaski Academy (3-1)
2. LR Christian (4-0)
3. Texarkana (3-1)
4. LR McClellan (4-0)
5. Harrison (4-0)
6. Nettleton (4-0)
7. Morrilton (1-3)
8. Greenbrier (3-1)
9. Watson Chapel (1-1-1)
10. Camden Fairview (2-2)
11. LR Parkview (1-3)
12. Valley View (3-1)
13. Alma (1-3)
14. White Hall (2-1)
15. Forrest City (2-2)
16. Farmington (3-1)
17. Maumelle (3-1)
18. Magnolia (3-1)
19. HS Lakeside (1-3)
20. Blytheville (2-2)
21. Wynne (1-3)
22. Batesville (0-4)
23. Vilonia (1-3)
24. Beebe (1-3)
25. Greene Co. Tech (2-2)
26. Huntsville (2-2)
27. Hot Springs (0-4)
28. De Queen (1-3)
29. Paragould (0-4)
30. Clarksville (1-3)
31. LR Fair (1-3)
32. Hope (0-4)

HOOTENS.COM GAME OF THE WEEK
No. 2 LR Christian at No. 1 Pulaski Academy
These teams expect to meet again for the state championship in December. Top-ranked Pulaski Academy lost at Bossier City (La.) Parkway by eight points two weeks ago, its first loss in more than two years. The Bruins haven't lost to an in-state opponent since 2013. They've won eight straight conference titles and four straight state championships. Pulaski Academy averages 510 yards per game this season. Junior quarterback Braden Bratcher has completed 86 of 129 passes (67 percent) for 1,255 yards and 13 touchdowns with four interceptions. Highly-recruited senior Hudson Henry paces PA with 29 receptions for 407 yards and three TDs. Senior linebacker Bennett Perkins spearheads a defense that shutout LR Fair a week ago. Perkins has 21 tackles this year, while sophomore Futa Shinkawa has 20 stops.
Little Rock Christian lost to the Bruins by 30 points last season and to Wynne by 14 points in the playoffs, prompting Coach Eric Cohu to revamp the defense. The Warriors hired Lance Clark from Alabama as defensive coordinator in the spring, and they've surrendered just one first half TD this season, while outscoring opponents 176-40. Clark's aggressive style relies on stunts and blitzes. Senior QB Justice Hill ran for a pair of TDs and threw for another in last week's 40-6 win at Watson Chapel, but pulled his hamstring in the second half and likely won't return until mid-October. Sophomore Colin Cooper took most of the second half snaps last week, throwing a TD pass.

TV SHOW
Hooten's Arkansas Football airs 10:30 a.m. Saturdays on KATV (ABC Little Rock) Channel 7, covering the Razorbacks, high school teams and players to watch.

LAST WEEK
Hootens.com correctly predicted 13 of 16 games (81 percent). For the season, Hootens.com has correctly predicted 82 of 100 games (82 percent).

WEEK 5 PREDICTIONS (favored team in ALL CAPS)
5A CENTRAL
LR Christian at PULASKI ACADEMY (6): Hootens.com Class 5A Game of the Week.
Maumelle at LR PARKVIEW (1): These teams haven't played since Maumelle was known as Oak Grove. Maumelle lost its first game of 2018 last week to White Hall, trailing by three TDs at halftime. LR Parkview beat Beebe 21-0 last week, a game that started Friday and resumed Saturday afternoon.
WATSON CHAPEL (10) at Beebe: It's homecoming in Beebe, and the 1-4 Badgers need a win to stay in playoff contention. Beebe hasn't won since beating Lonoke Week 2, the same week that Watson Chapel whipped Monticello for its only win. Watson Chapel junior QB Devin Curry threw a first half TD pass last week against LR Christian, the first TD LR Christian allowed in the first half this season.
WHITE HALL (24) at LR Fair: White Hall has improved the past two games, scoring seven TDs against Sheridan Week 3 and winning last week at previously unbeaten Maumelle. LR Fair hasn't scored the past two weeks, losing to LR McClellan and Pulaski Academy by a combined 87-0.

5A EAST
Blytheville at NETTLETON (7): Both teams coming off impressive wins last week, Nettleton beat Batesville 17-3 while Blytheville whipped Wynne 37-7. Blytheville senior QB Jaheim Carter threw three TD passes against Wynne and Jeremel Woods ran for 172 yards and a TD, while Nettleton's Nathan Young ran for two TDs at Batesville. Young has rushed 73 times for 533 yards and four TDs this fall, while Jarquavious Cain has 19 receptions for 275 yards and three TDs.
VALLEY VIEW (4) at Forrest City: Valley View's 23-point win last year over Forrest City was its first in the series. The pounded Paragould last week with a strong running attack. Forrest City led Greene County Tech 42-0 at halftime a week ago. Mustang senior QB Randal Moore has passed for almost 600 yards and six TDs this season.
BATESVILLE (6) at Paragould: A battle of winless teams. Batesville hasn't lost to the Rams since 1994, when Paragould was known as Ridgecrest. Batesville has been outscored 141-32 this year, while Paragould has been outscored 155-59. Ram sophomore David Williams has rushed in four TDs this fall.
Greene County Tech at WYNNE (10): Wynne has won six straight over Greene County Tech by a combined 278-64. But the Yellowjackets were stonewalled last week at Blytheville 37-7, turning the ball over three times and giving up more than 300 yards. GCT rushes for more than 300 yards per game.

5A SOUTH
HOT SPRINGS (4) at Hope: Hope has won five of the past nine over Hot Springs, but both teams are winless this fall. Hope hasn't won since the first round of the 2015 playoffs. Hot Springs has scored just two TDs this fall.
Magnolia at HS LAKESIDE (1): These teams have split the past 14 meetings, with the Rams winning three in a row, including 43-35 a year ago. HS Lakeside senior QB Taylor Gillham has passed for 969 yards and four TDs this fall, including a pair of TD passes last week at Camden Fairview. The Rams had six starters miss last week's game with injuries, and Coach Jared McBride hopes three can return this week. Magnolia senior running back Kadyn Roach (committed to ULM) dislocated his shoulder on the first play of last week's 41-7 loss to Texarkana.
De Queen at LR MCCLELLAN (21): The Crimson Lions play their first on-campus game in almost two years. LR McClellan's stingy D has allowed just three TDs this fall. De Queen beat Hope by seven points in overtime last week.
Camden Fairview at TEXARKANA (11): Texarkana has won four of the past seven in this rivalry. The Razorbacks overcame a sloppy first half and disposed of Magnolia last week. Texarkana returned two kickoffs for TDs. Camden Fairview led HS Lakeside by 21 points at halftime last week.

5A WEST
ALMA (4) at Farmington: Alma has won the past two over Farmington, including last year by 24 points. But the Airedales have struggled this season before "playing old school football" last week against Vilonia, Coach Doug Loughridge says. The Airedales ran for more than 200 yards and played tough D in the 34-16 triumph. Farmington senior Reid Turner scored three TDs in last week's win at Clarksville.
Morrilton at GREENBRIER (1): Morrilton continues to play well up front, but the Devil Dogs couldn't muster much offense in last week's 12-point loss to Harrison. Greenbrier averages 370 yards per game and the Panthers are unbeaten this year when senior Andrew Johnson starts at QB (he missed Week 3 at LR Christian with a concussion).
Clarksville at HARRISON (28): Undefeated Harrison gives up just nine points weekly. Junior Gabe Huskey has rushed for 611 yards and nine TDs this fall, and caught 14 passes for 360 yards and four TDs. Clarksville has lost three straight games and scored just 26 points in the past two games. Junior QB Nicholas Buckner has thrown two TD passes and rushed for 366 yards and a pair of TDs.
Huntsville at VILONIA (3): Vilonia has won six straight over Huntsville. Vilonia allows 44 ppg this season. Senior QB Jordan Britton has completed 57 of 101 passes this year for 753 yards and eight TDs with four interceptions. Huntsville has dropped consecutive games to Elkins and Greenbrier after starting the season 2-0.