No. 16 HOGS vs No. 7 A&M preview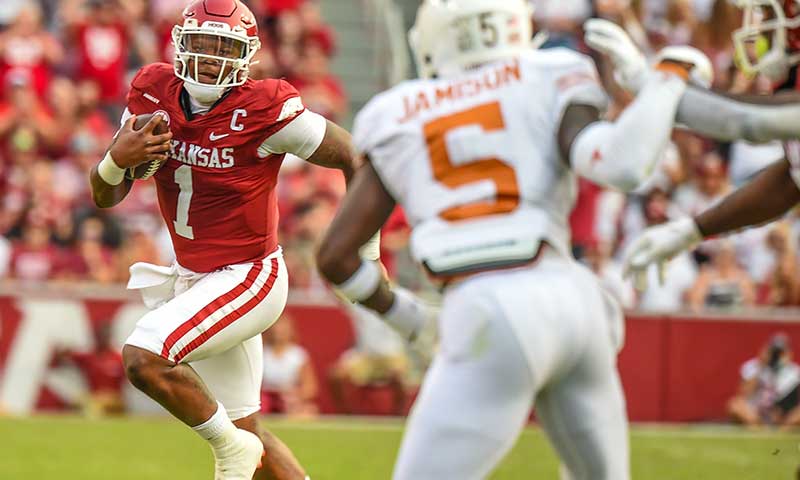 FAYETTEVILLE - Only two among the Division 1 college football games this weekend match nationally ranked teams.
The No. 16 Arkansas Razorbacks play in one of them.
Arkansas takes on No. 7  Texas A&M at 2:30 p.m. Saturday on CBS at the Dallas Cowboys AT&T Stadium in Arlington, Texas. The game   marks Saturday's lone Top 25 matchup other than No. 12 Notre Dame vs. No. 18 Wisconsin. A&M has beaten Arkansas nine years in a row.
Only Arkansas vs. A&M, both 3-0, is a Top 25 matchup of undefeated teams.
It's a huge step for second-year Arkansas coach Sam Pittman. The Razorbacks wallowed 4-8, 2-10, 2-10 overall and 1-7, 0-8, 0-8 in the SEC from 2017-2019. Pittman progressed Arkansas to 3-7 in last year's all-SEC schedule. Two weeks ago, his Hogs trounced then No. 15 Texas 40-21.
"There's not a lot of time to really think about it because we still have (nationally ranked) 1, 2, 6, 13 and 22 on the schedule," Pittman said, referring to SEC games with Alabama, Georgia, A&M (No. 5 in the coaches poll and No. 7 by AP) Ole Miss and Auburn). "I think it'd be wasted time if I did. We've got a really good A&M team to play."
Really good. Coach Jimbo Fisher's Aggies, 9-1 last year and beaten only by national champion Alabama, were omitted from the four teams selected to play for the 2020 national championship.
At least that's how AP voters saw it. They ranked A&M fourth, ahead of playoff selected Notre Dame, in AP's final poll after all games were played.
A&M's defense might be better than last year's. The Aggies have yielded but 17 points for three games and none for the last seven quarters. They blanked New Mexico 34-0 last week after yielding only a first-quarter TD in the previous week's 10-7 victory at Colorado.
Offensively, the Aggies had to break in their backup quarterback, Zach Calzada. Starter Haynes King broke his leg during the first quarter at Colorado.
Calzada struggled early off the bench but eventually threw the game-winning TD pass at Colorado. He blossomed against New Mexico with 275 yards passing and three TDs.
"He's playing with more confidence," Pittman said. "He's more accurate with the ball. They're protecting him better. Seems like the routes are crisper. I think he's got belief. The wide receivers and tight end have belief in him."
Calzada sure has cause to believe in his tight end.
Preseason All-SEC tight end Jalen Wydermyer returns after vexing Arkansas last year with six catches for 92 yards and two TDs in A&M's 42-31 victory.
He's got one of the nation's premier running backs in Isaiah Spiller, a powerful 6-1, 215-pounder with track speed. Spiller, who rushed for 117 yards against New Mexico, scored a TD last fall  against Arkansas.
The Aggies also sport the dangerously versatile Ainias Smith, who ran for a TD and caught a TD last year while amassing 98 total yards against Arkansas.
However, Smith and offensive guard Layden Robinson (6-4, 320) are questionable for Saturday's game while recovering from injuries, Fisher said.
Arkansas has two question marks of its own. Junior center Ricky Stromberg, named SEC Co-offensive Lineman of the Week after last Saturday's 45-10 victory over Georgia Southern, and right tackle Dalton Wagner both exited the game injured.
Arkansas finished fine without them, but starting without them  against A&M is a different than finishing off Georgia Southern.
While Pittman understandably lauds A&M, Fisher talks up Arkansas.
"Arkansas is playing as good as anybody," Fisher said. "They've been dominant. They are extremely physical on both lines of scrimmage."
Arkansas so dominated Texas that UA linebackers Hayden Henry and Grant Morgan were honored nationally.
Offensively, 245-poundQB KJ Jefferson and running backs Trelon Smith, Raheim "Rocket" Sanders, Dominique Johnson and AJ Green respectively average 7.5, 5.1, 5.5, 8.8 and 7.4 yards per carry and have combined for 10 rushing TDs.
Jefferson passed for 366 yards against Georgia Southern. Treylon Burks of Warren caught three balls for 127 yards, one a 91-yard TD.
Helena native Tyson Morris has had at least one big-play catch early in every game among his six catches for 147 yards and two TDs.
"I think they are playing great," Fisher said. "So we have to play great."